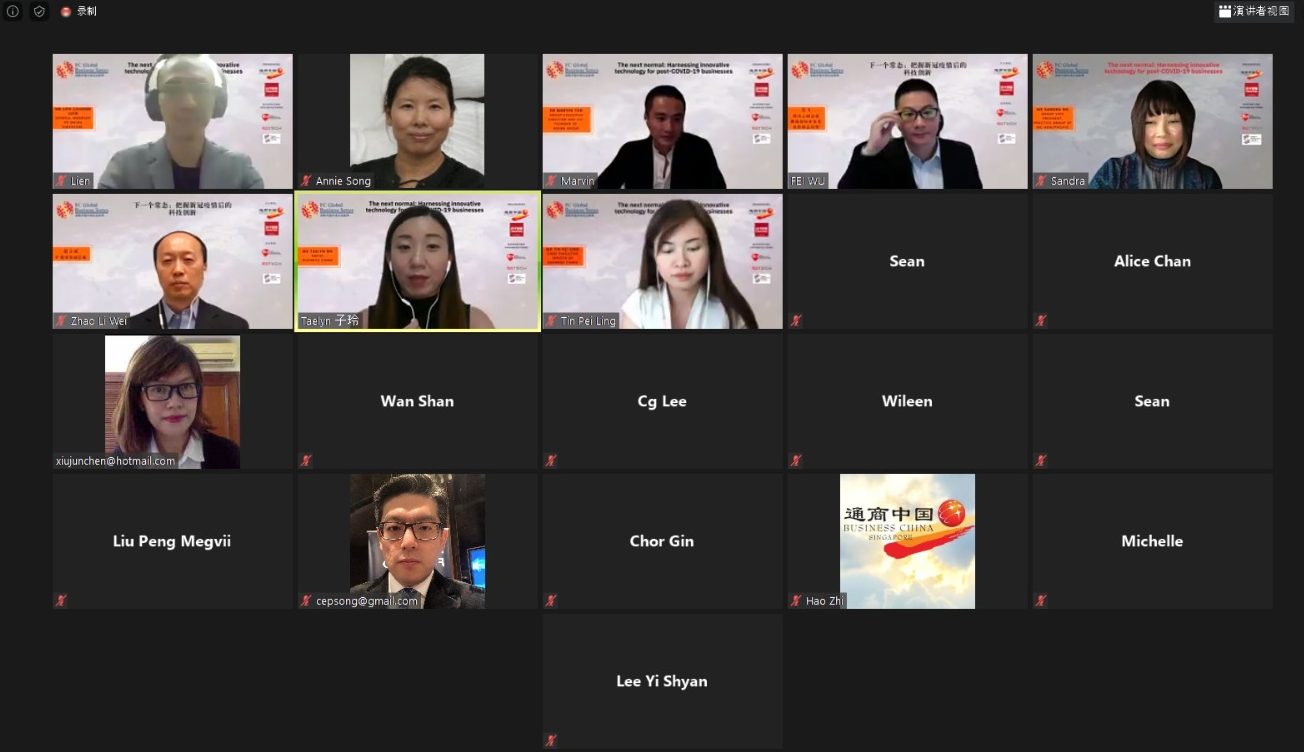 (Singapore, May 21, 2020) The coronavirus pandemic will accelerate the digital transformation, but the key to success is to build new trust between the businesses and the consumers, several regional business leaders said today in a webinar co-organized by Business China and Fortune Times.
During the 90-minute online sharing on "The next normal: Harnessing innovative technology for post-COVID-19 businesses", business leaders from Singapore, China, the US, and Indonesia addressed key issues such as "What industry will be worst disrupted by Covid-19?" and "Will online channels replace off-line channels completely?"
"In the pandemic, we accelerate the digitalization… but trust is the No.1 for sharing economy," said Ms. Sandra Ng, Group Vice President, Practice Group, IDC Asia/Pacific, one of the four panelists.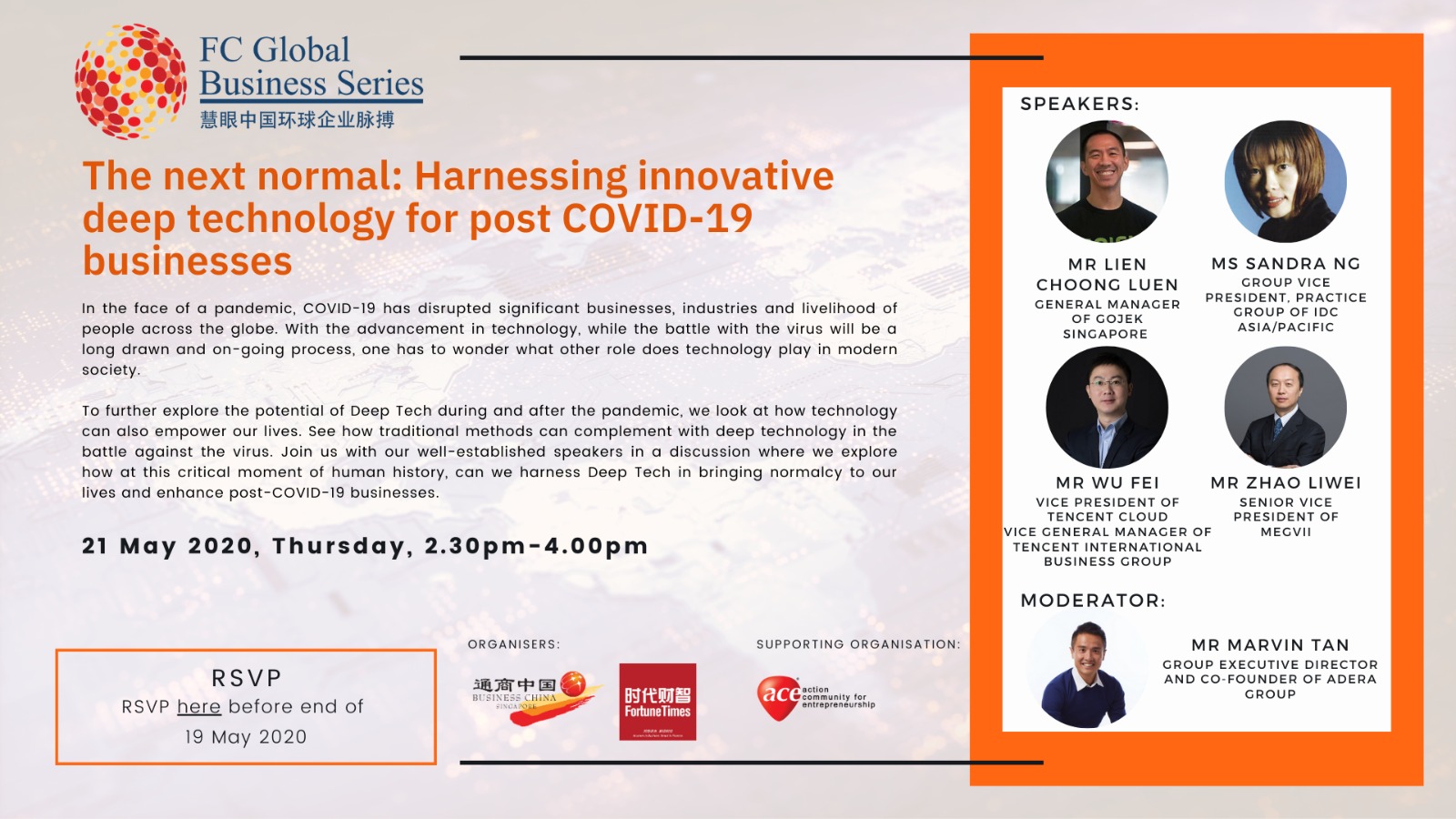 She said during the pre-COVID-19 period, only 40% of the businesses in Southeast Asia embraced digital transformation, and some 2/3 SMEs used technologies to their customers.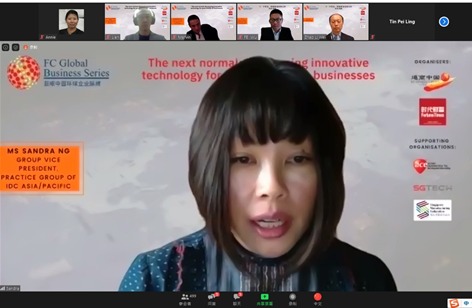 "By 2025, 25% of people will be working from home… Companies begin to understand the productivity level of working from home," said Ms Ng, noting that those with the digital investment will be more resilient, and all industries, even construction and automaking, will be disrupted in the new norm.
Her viewpoints were echoed by Lien Choong Luen, General Manager of Gojek Singapore, who highlighted the significance of building new trust in the post-coronavirus era.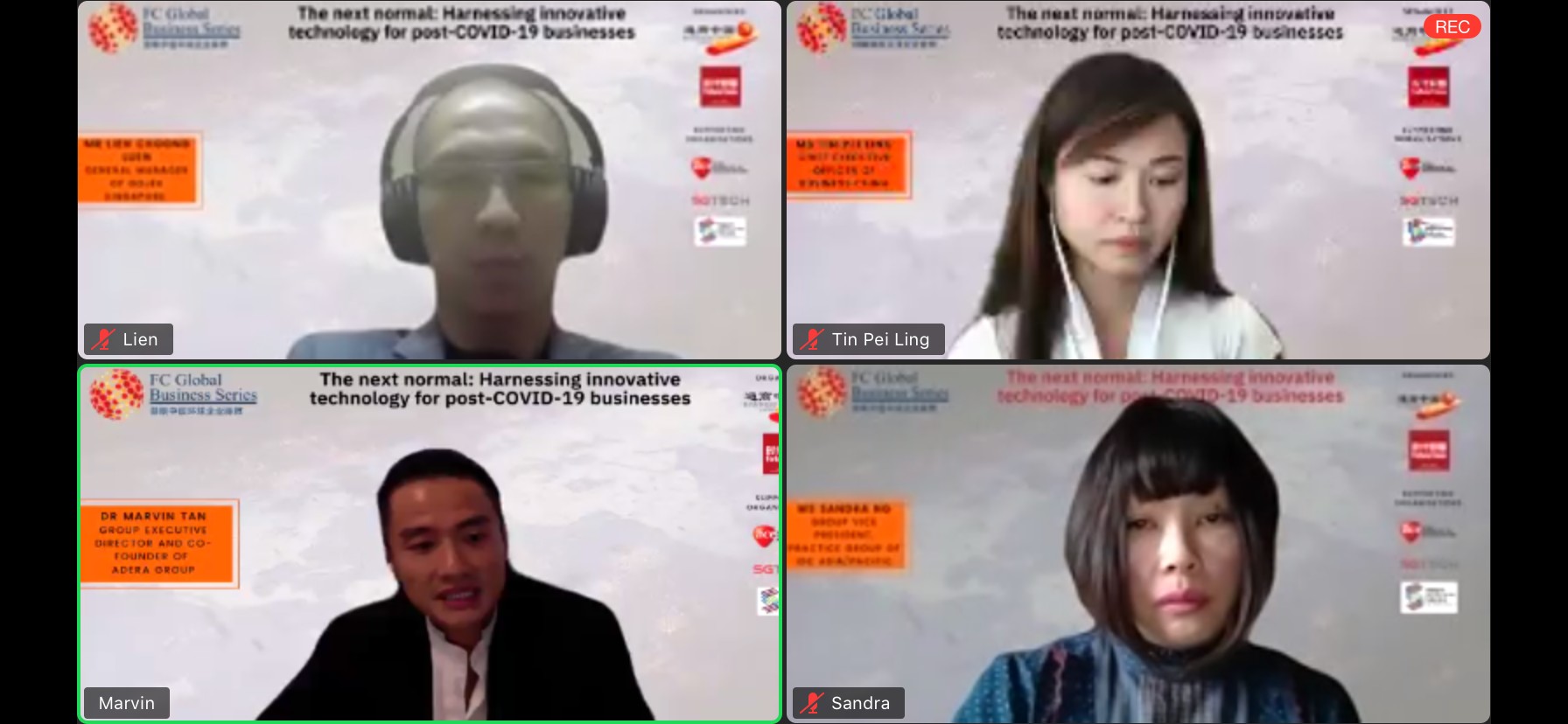 "To bring back the trust is the key," said Mr. Lien, adding that he noticed that even toilets during the COVID-19 period are cleaned more regularly to win the users' trust.
He said that some 74% of consumers continue to use sharing services, such as ride-hailing and hotel booking, during the pandemic. In China, online businesses such as Meituan have been running well since the onset of the pandemic.
"It is not the millennials but the elderly that are forced to use Zoom and (other digital devices)," said Mr. Lien, noting that the pandemic requires businesses to meet the demand of consumers of more age groups.
Wu Fei, Vice General Manager of Tencent International Business Group, and Zhao Liwei, Senior Vice President of Megvii, China, also updated the audiences on how China used AI and big data to serve social distancing, healthcare, and e-learning during the pandemic.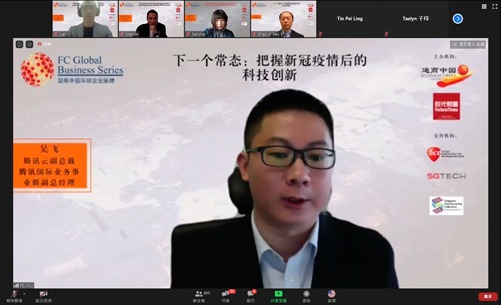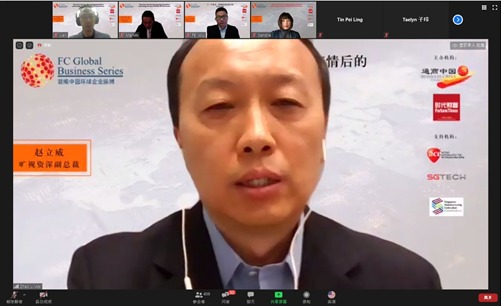 The webinar was chaired by Dr. Marvin Tan, Co-founder and Group Executive Director, Adera Group.
More than 500 people attended the webinar, which is the first of a series of FC Global Business Forum. The next one will be held on May 28 when Dr. Mochtar Riady, Founder and Chairman of Lippo Group, will share his insights on the challenges and opportunities during the post-coronavirus era.