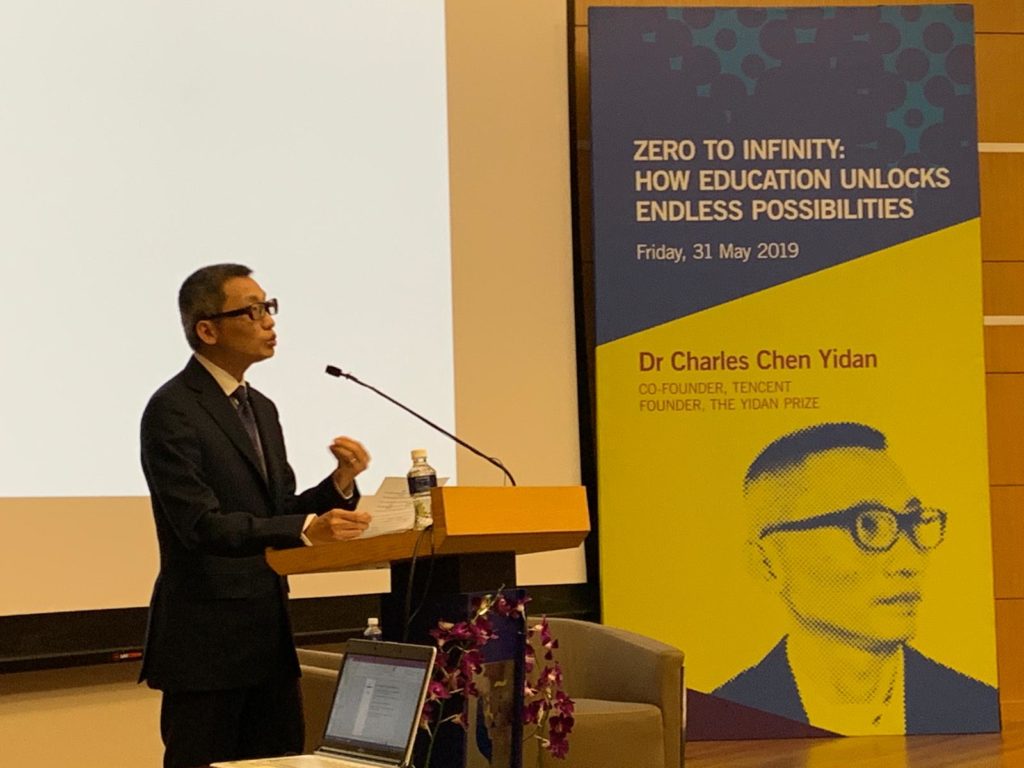 SINGAPORE (May 31): Good skills and professional knowledge won't be enough for the future talents,Tencent's Co-Founder Dr. Charles Chen Yidan said at Singapore Management University today.
In his speech called "Zero to Infinity: How Education Unlocks Endless Possibilities", he said that the future education system must target the inter-disciplinary and project-based study according to the industry's need.
"We need to create a pipeline of young people who are ready to take the lead in an increasingly interconnected world," said Chen who was invited by SMU's Lee Kong Chian School of Business as the inaugural speaker of its Visionary Series.
He said that as the world enters the fourth industrial revolution, it's crucial to prepare future-proof talents.
"Great innovation does not take place within one field of expertise but is the product of cross partnerships between different domains," he said, noting that we need to increase cross-pollination between industry, academia and the public and third sectors.
He said Stanford University and the Silicon Valley is a perfect example. Stanford has been described as the "farm system" for Silicon Valley. Its Office of Technology Licensing has licensed 8,000 campus-inspired inventions.
Some believe that as many as 5,000 companies can be somehow traced back to Stanford faculty and students, including household names such as Hewlett-Packard, Yahoo, Cisco Systems, Sun Microsystems, eBay, Netflix, and LinkedIn, he said.
He said an entrepreneurial spirit allowed Stanford to forge a symbiotic loop with the tech sector of Silicon Valley, nurturing a diverse body of students, encouraging learning for the sake of learning, risk-taking, trying new things and discovering unknown terrains.
"We can look to these as the key inputs that will cultivate an innovative education ecosystem. "
Besides multi-disciplinary skills, he also emphasized the significance of life-long learning.
"People's ability of lifelong learning is a key element to keep them relevant to the era, " said Chen, who was ranked by Forbes as China's top philanthropist in 2017 and is the founder of Yidan Prize, the world's largest education prize which seeks to create a better world through education.
He noted that mid-way through his life, he experienced a profound change where he left the technology sector and devoted his energy and effort in philanthropy and education.
He explained that such a change stemmed from his belief that education is the foundation of modern civilization, and that it is also the power that propels tech innovation, social progression, proper values, and equality and justice.
Chen's lecture drew an audience of more than 300 people, including SMU President Professor Lily Kong, Dean of SMU Lee Kong Chian School of Business Professor Gerry George, SMU faculty, staff, and students, as well as representatives from the public and private sectors.