(Singapore Nov 18, 2022) The US House Speaker Nancy Pelosi said she won't seek to remain Democratic leader after her party lost control of the House in the midterms.
A Wall Street Journal report said this will "end a two-decade run as one of the nation's most powerful political figures" although she will remain in US Congress as a representative.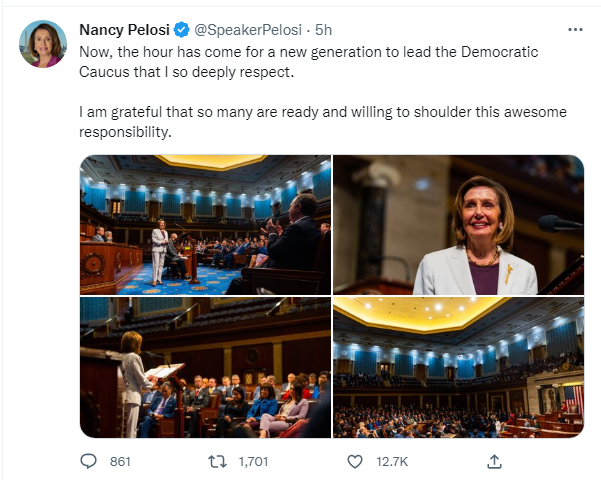 In the US politics, the 82-year-old Pelosi, the first woman to be named speaker, has been known recently to have played a key role in the passage of the Affordable Care Act, the opposition to former US President Donald Trump and the response to the Covid-19 pandemic.
Globally, she became the center of world attention after her visit to Taiwan in early August which triggered stark opposition from Beijing as well as an even worse tension between the US and China.
"For me, the hour's come for a new generation to lead the Democratic caucus that I so deeply respect," she said in a speech on the House floor.
Pelosi was a housewife before getting involved in politics after moving to San Francisco. In 1987, she first won election to Congress.
A New York Times report says that her decision represented a transformative moment for House Democrats, and it set off a rapid and long-anticipated shift in the top ranks of Democratic leadership — now dominated by a trio of octogenarians — toward a younger group that has been waiting in the wings.
The Wall Street Journal report says that Pelosi's announcement came as Washington braces for divided government. Republicans late Wednesday clinched a narrow majority of seats in the House with a victory in California, even as Democrats won more races than many nonpartisan analysts had predicted. The Republican takeover of the House will end two years of Democratic control of both chambers of Congress and the White House. Democrats will continue to control the Senate.
New York Rep. Hakeem Jeffries, 52, is favored by many members to succeed her as the top Democrat when the party holds its leadership election Nov. 30. He would be the first Black leader of a major party, according to the WSJ report.