Seven out of 10 local Small- and Medium-sized Enterprises (SMEs) are ready to embark on a digital transformation journey, according to a survey whose results were released today.
The survey, called 2018 SME Development (SMED) Survey, was conducted by business intelligence and credit analytics company DP Information Group (DP Info) which works under the Experian Group.
The annual survey, which started in 2003 and is currently in its 16th edition, is the definitive research on Singapore's SME community. A total of 2557 SMEs took part in this year's project.
Some 70% of the respondents said they intend to embark on digital transformation, with a core focus in Business Operations (37%), Customer Service (29%) and Marketing of Products & Services (29%).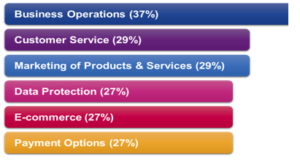 A third of respondents (31%) have already adopted at least one digital solution, mostly in the areas of Digital Ordering & Payment Systems (11%), E-commerce (10%) and Workforce Management & Reporting (10%).
James Gothard, General Manager, Credit Services & Strategy SEA of Experian, said: "Singapore SMEs are responding to business headwinds proactively and are looking at transforming their business as a whole. They see a need to increase productivity with changes to their business and manpower processes, and they see ICT as a key enabler in these efforts."
Also, the 2018 survey showed that two in three SMEs (64%) are intent on driving productivity, focusing on Fine-Tuning Business Practices (53%), Optimising the Use of Manpower (49%), Introducing Automation (27%) and Implementing More Information Communications Technology, or ICT (24%).
Cashflow concerns continue to be a vital issue for Singapore SMEs. A third of SMEs (34%) are noted to be facing external finance-related challenges, of which their top concern being Delayed Payments from Customers (84%).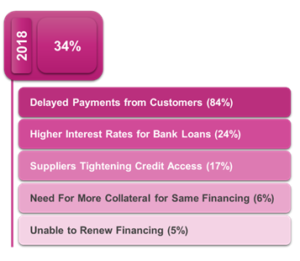 According to Experian, SMEs make up almost 99% of the total of more than 600,000 companies in Singapore, contributing nearly half of Singapore's GDP and employing 65% of the workforce in the island country.