Written by Chu Xin
(Singapore, 26 Feb 2021) Having the Chinese New Year in 2021 looking different from the previous years, the safety measures of preventing the pandemic is still continuing. Yet the NEW YEAR|NEW NORMAL art exhibition by American Neo-Pop artist Jan Larsen uses his art to bring a ray of light for a youth with special needs, providing an opportunity to showcase her works. The artist creations are displayed in Jan Larsen's gallery.
American Neo-Pop artist Jan Larsen unveiled his latest exhibit NEW YEAR|NEW NORMAL, in conjunction with new business and charitable entities in Nov 2020, that attests to the arrival of what he sees as an exciting stage in human society, spurred on by the COVID-19 pandemic.
Larsen and his team started running the NEW NORMAL-themed year-long series of exhibitions, along with charity auctions, and retail activations. It is designed to express his view towards our new normal – an era of multi-faceted dynamism and positive social progress expressed through his Dada-esque, Beuys-esque, and experiential-sculptural societal lens.
This first installment, which has closed on 20 December 2020, presenting 39 paintings, prints, and sculptures Larsen and his team produced from their studios and production facilities in Singapore, United States, and China from August to November last year – often under challenging situations as people around the world grappled with disruptions from the pandemic.
Larsen says: "NEW NORMAL reflects on how the global public health crisis brought on by COVID-19 has accelerated our progress towards becoming what I call a "fully distributed society", where opportunity and innovation is more fully distributed across multiple layers of society, and thanks to communications and data-sharing technology, where progress is achieved on multiple fronts simultaneously."
Larsen was born in the United States in 1967 and is a well-known neo-pop artist. His works have a strong generation vibe, and his multimedia creations are full of fun and entertainment. The Dada style, the Beuys style, and the social perspective of experimental sculpture (Experiential-sculptural) can all be displayed in Jan Larsen's work. Through the "NEW NORMAL" art exhibition, he tried to convey the view: an era full of diversified vitality, an aggressive society.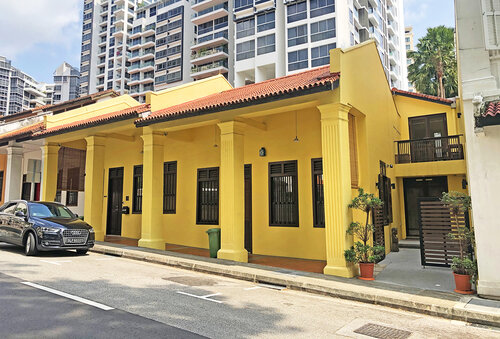 We visited Jan Larsen's studio, which is also his gallery, Robertson House before the eve of Chinese new year. Upon entering into the gallery decorated by the artist himself, the yellow and gold painted walls filled the room with festive Chinese new year spirit. The bald and lanky artist who is standing in front of us is Jan Larsen. Wearing a Chinese Tang suit, he is also very knowledgeable and humble.
The United States is the place where Larsen stayed most throughout his life. He moved to New York City in 1997 and completed what he calls "an inquiry into the character, history, and living, breathing, Beuys-style experiential-sculpture professional practice of fine art."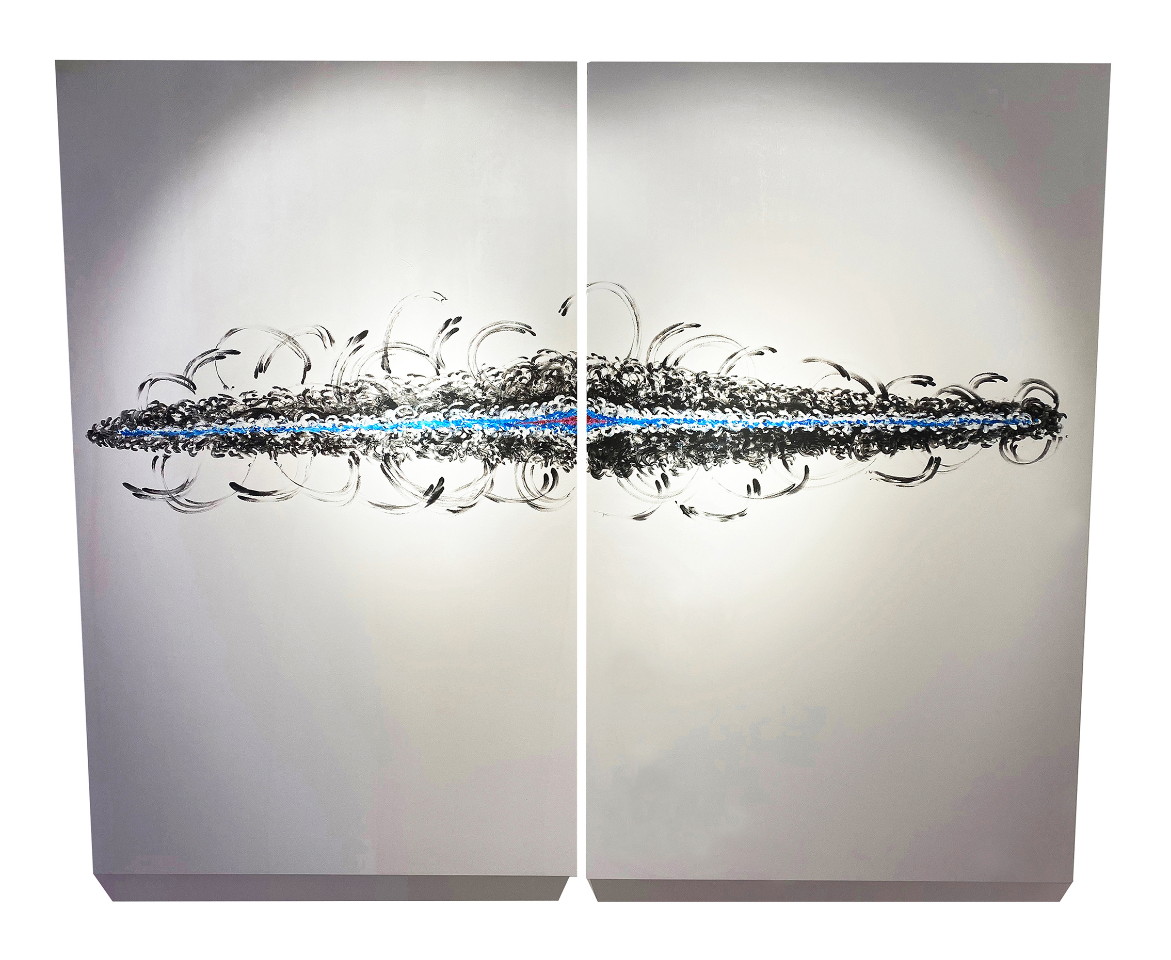 Entering the door of Robertson House, a black-and-white work is brought into view. The first painting is a presentation of the artist's reflection towards his native-land, United States. The entire art piece is made up of 4 colours, white, blue, black and red. The strong and powerful black strokes represent many individuals and groups going separately in different direction towards their goals in life. They are all of unique thoughts and characters entering and exiting the society which is represented by white and blue. Lastly, the brightest colour-red representing humanity is surrounded by the many stokes and shades of the other colours suggesting that humanity is the society's core.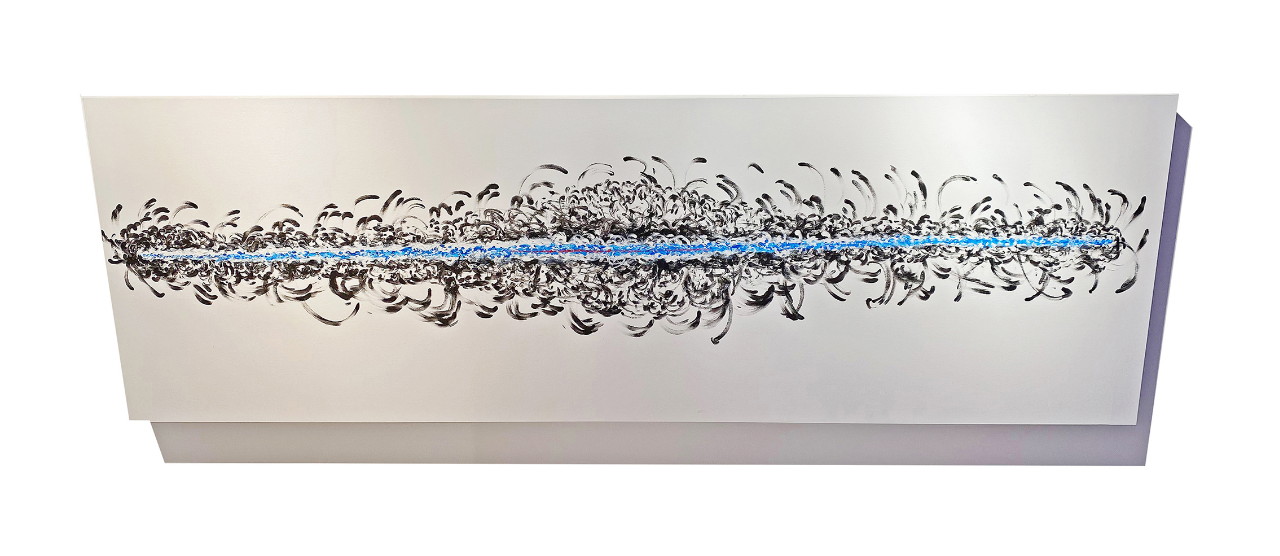 The second painting is in reference of his second "home" – Singapore and related to the first of painting. The art piece is made up of white red and black resembling the colours of the country flag. The colours represent mostly the same definitions but the only difference being the black strokes being packed closer together. This is spoken from the artist's personal experience. He felt that in Singapore, People work closer to the society and with close and relevant ideas to build up the country. Whereas America is filled with people of more idealistic and individual idea and often with strong voices popping out from the society.
Larsen said: "The new normal reflects the global spread of the pandemic and the impact of the public health crisis on us. In my opinion. This is a development process of a 'completely distributed society' with opportunities and innovations more widely distributed in society. At all levels, communication and data sharing technologies have enabled multiple aspects to make progress at the same time."
Larsen can be called an art intellectual, with a bachelor's degree from Harvard University and a master's degree in business management from Oxford University in the United Kingdom. He enjoys learning which includes self-studied art history, and also learned art trading tools, and at the same time he is constantly improving his understanding towards contemporary art and the market.
Larsen has built four galleries under his name in New York City within 2000 to 2015. In 2019, he settled down in Singapore and started his production studio in Asia located on Kim Yam Road, naming the gallery as Robertson House. He not only collaborates with collectors, artists and for-profit artists, but also with charities and government agencies in the United States, Europe, Africa and Asia.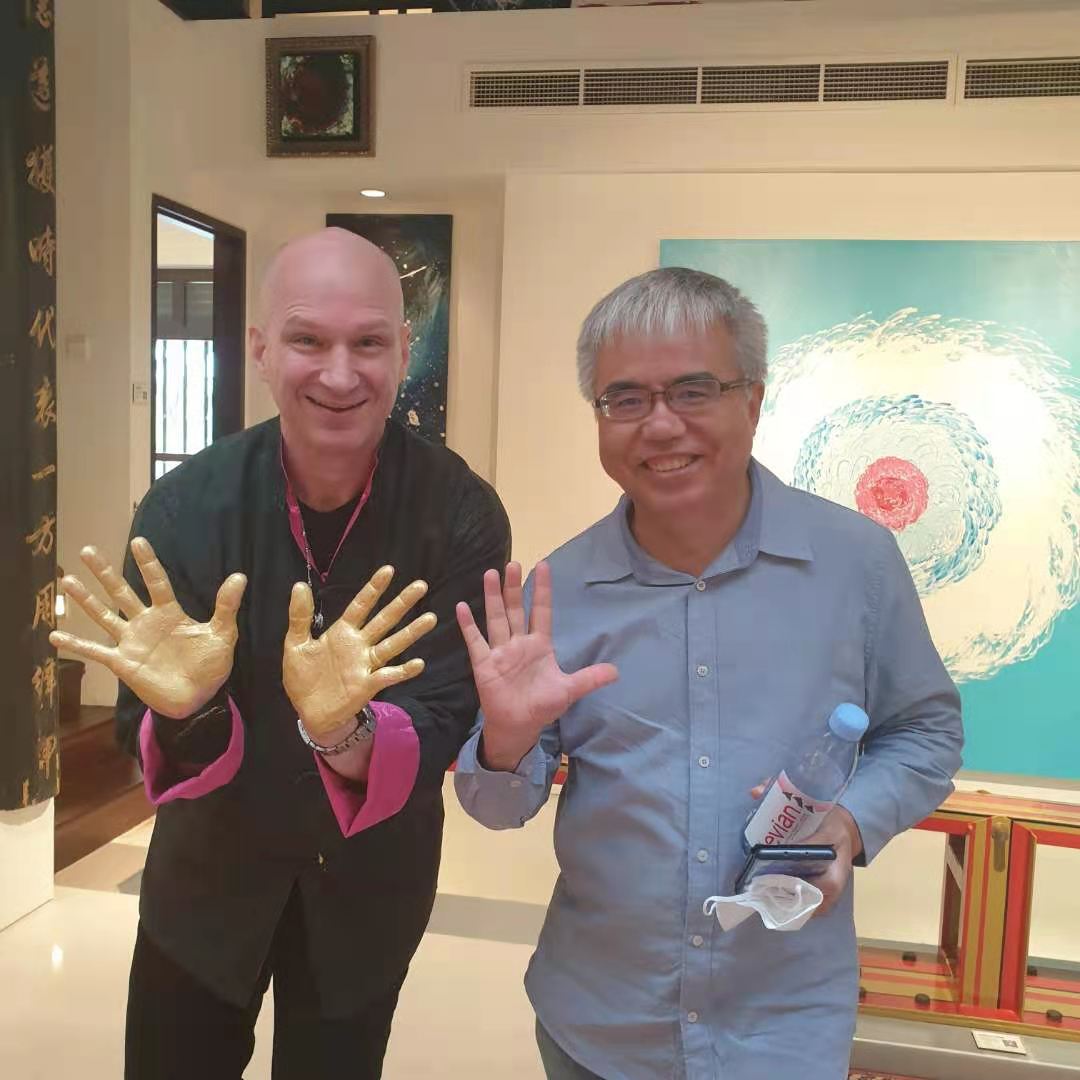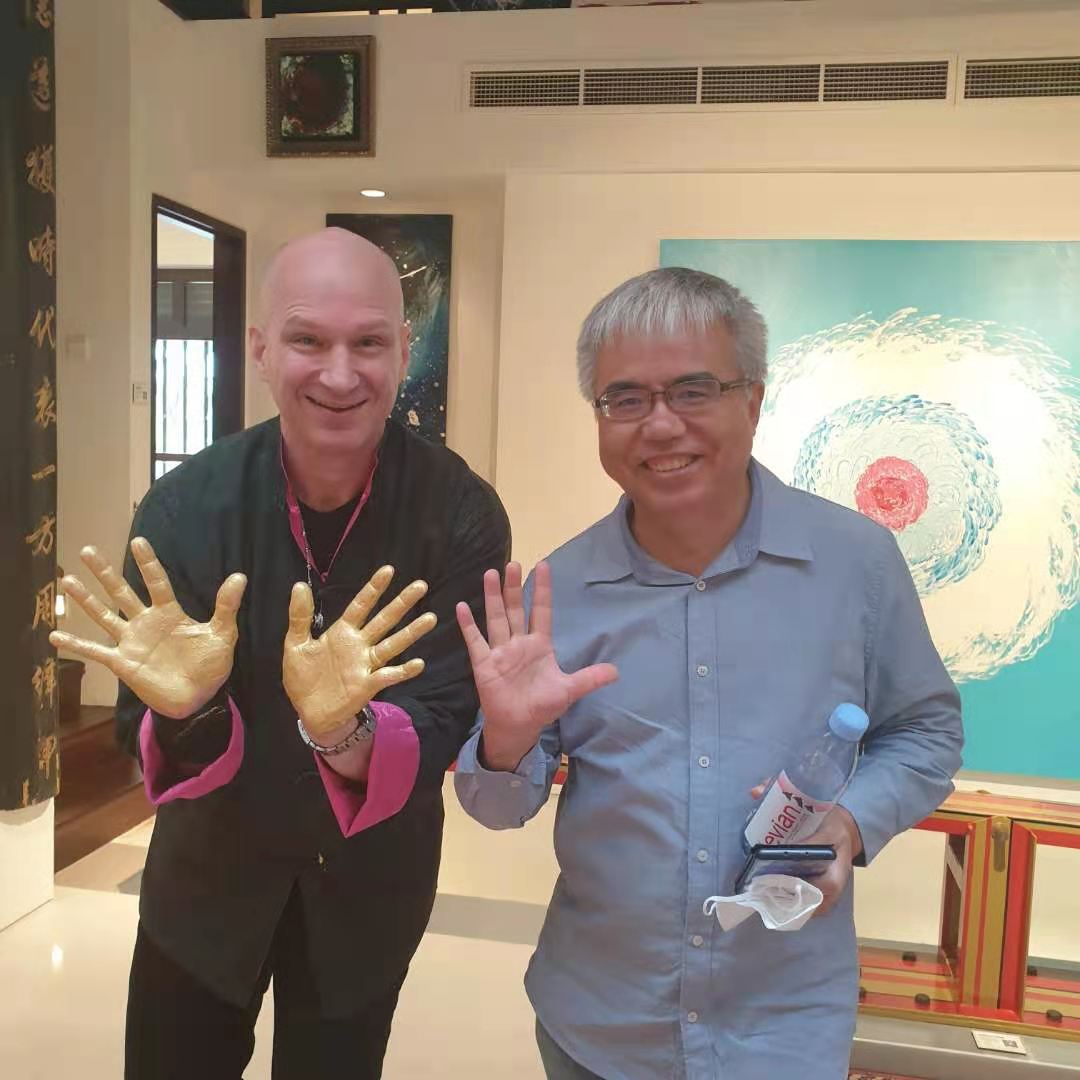 Extra•Ordinary People is the beneficiary charity that the NEW YEAR | NEW NORMAL art exhibition is fundraising for. Larsen hopes that the changes brought about by the COVID-19 pandemic will not leave a detrimental impact on children with special needs and is donating half of all proceeds from the auctioned works of the NEW YEAR | NEW NORMAL exhibition to Extra•Ordinary People to support the special needs community.
Extra•Ordinary People is a registered charity and Institute of Public Character in Singapore, established in 2017, with the goal of supporting children and youth with special needs, as well as their parents and caregivers through community-supported initiatives.
Genine Tham, a client of Extra•Ordinary People, was given the opportunity to display her artwork for the first time alongside Larsen's at the NEW YEAR | NEW NORMAL art exhibition. A teenager with special needs, Genine began receiving art therapy at Extra•Ordinary People a few years ago. After several sessions, the shy, conservative girl who avoided eye contact with others gradually began to communicate comfortably with her art therapists. She made breakthroughs, not only in her paintings, but also in her behaviour. During her eighth art therapy session, Genine spoke her first sentence – "I want to choose", verbalising her desire to choose the colours for her painting. Genine's utterance filled her mother with so much joy and excitement, almost to the point of tears. This sentence may be easy for most people, but for individuals with special needs, this milestone was certainly worth celebrating!
We also learned from Genine's art therapist that art therapy uses visual art and creative art production as tools, allowing individuals to express and communicate their inner thoughts and feelings in a therapeutic environment. Genine's progress in language expression and artistic creation demonstrates one of many functions that art plays, in this case, to develop expression and encourage progress.
Extra•Ordinary People is located in Beach Road. The one-stop centre serving the special needs community provides integrated therapy services, performing arts classes, inclusive employment opportunities and caregiver support.
You are welcome to visit the NEW YEAR | NEW NORMAL art exhibition, where you can experience the artist's interpretation of the present and future of society.
Exhibition Address: 61 Kim Yam Road, River Valley, Singapore 239362
Exhibition period: November 2020 ~ November 2021