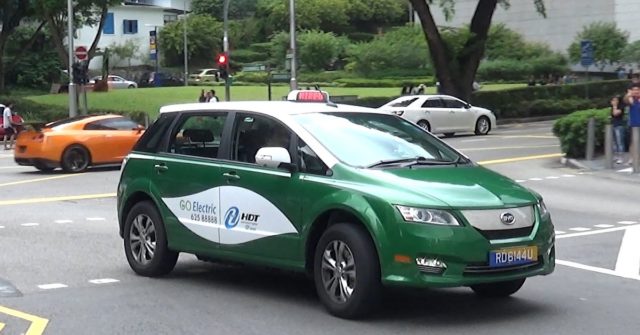 Singapore, 15 Jan 2018 – The taxi population has been shrinking due to stiff competition from ride-hailing services but, HDT Singapore Taxi, is looking to expand its fleet which now operates 100 electric-powered cabs, applied to the Land Transport Authority (LTA) earlier this month to add another 800 electric taxis.
As of last November, the total taxi population was 23,439, down 15% from 27,495 over the same period in 2016.
One of the biggest market shareholders, ComfortDelGro, to date – owns 14,000 taxis on road. And according to LTA Taxis statistics as of 28 Aug 2017: Transcab – 4303, SMRT – 3158, Premier – 1891, Prime – 702 and YellowTop – 89.
In the first 10 months of last year, about 10.3% of taxis sat idle. The average un-hired rate was significantly lower at 6.2 per cent in 2016, and 4.2 per cent in 2015.
The firm is seeking to obtain a full Taxi Service Operator Licence (TSOL) from the regulator. It was granted a temporary TSOL in 2016 with the rights to operate 100 cabs, as part of an eight-year government-supported trial to explore the feasibility of fleet-based electric vehicles in Singapore.
Investments include in building charging stations around the island to support operations and scaling up to a fleet size of more than 400 taxis will generate sufficient revenue for the company to break even. Electric taxis have lower life-cycle costs, while maintenance costs are about half those of petrol or diesel models.
There is already status of various financial institutions who are keen to provide loans and investment.
HDT offers a basic monthly salary plus bonuses for hitting revenue targets unlike other companies. Drivers get a starting monthly pay of $1,900, inclusive of Central Provident Fund (CPF) contributions. This can grow to a gross salary of $3,200 if a revenue target of $7,250 is reached.
However, not all are convinced by the employment model or the use of electric taxis, which have to be charged for a few hours each day.
HDT's current electric taxis, which are made by Shenzhen-based BYD, can run for 350km on a full charge, which takes two hours.