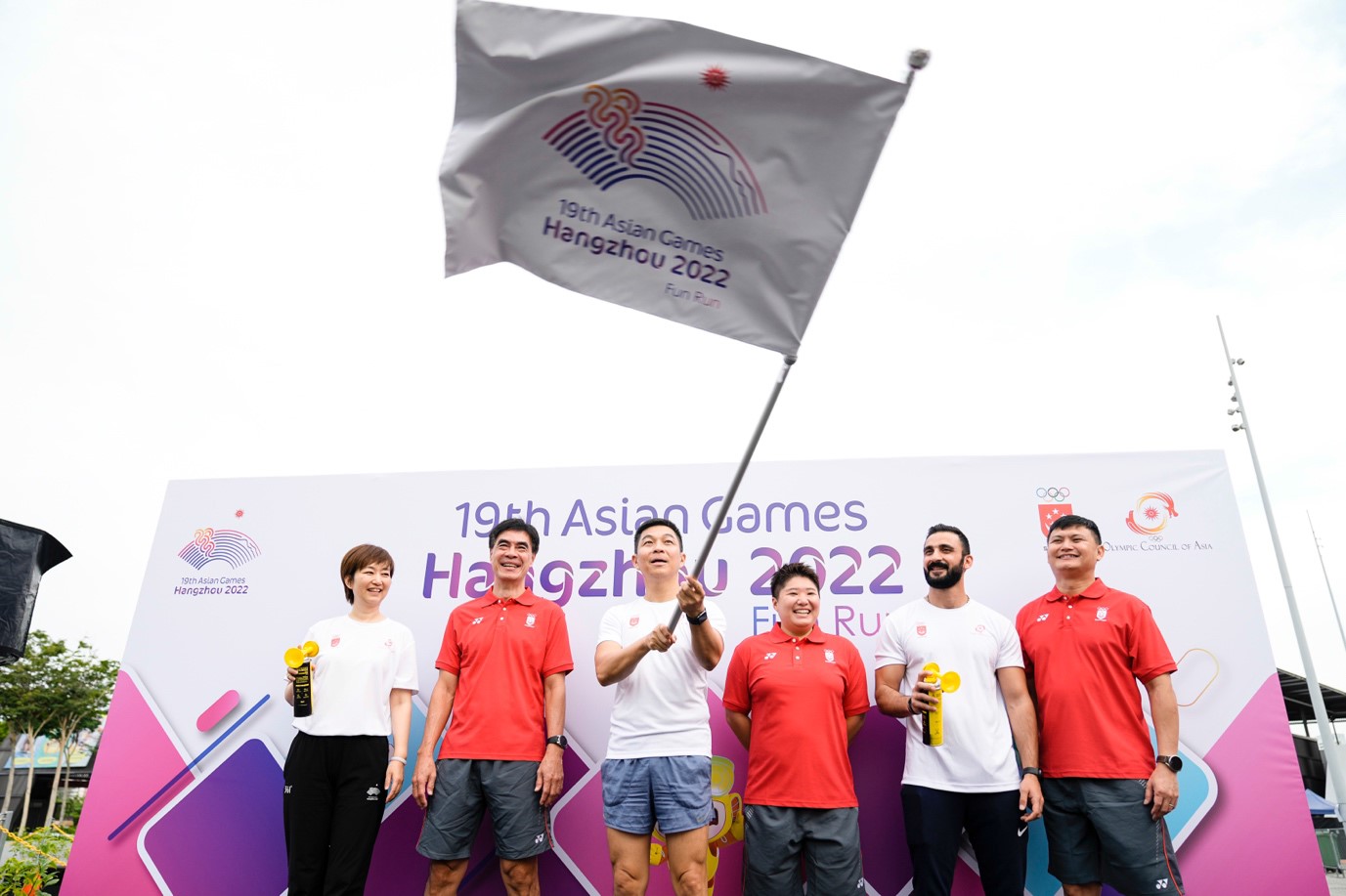 (Singapore, 25 February 2023)More than 150 Asian Games-bound athletes joined the community on a run around the vicinity of the Singapore Sports Hub at the Singapore edition of the Hangzhou Fun Run organized by the Olympic Council of Asia (OCA) and the Singapore National Olympic Council (SNOC) earlier today.
Since 2004, the OCA has been organising a series of fun runs in different Asian cities to promote the Asian Games prior to the upcoming edition. Besides Singapore,the Hangzhou Fun Run has also visited communities in Uzbekistan, Thailand, Kuwait and Saudi Arabia and will continue to Maldives, Sri Lanka, Bhutan and Qatar.
Participants from the ActiveSG Academies, Team Nila and community walking groups joined Team Singapore athletes from 12 sports including archery, baseball/softball, sailing, contract bridge in a 3km run flagged off by Mr Tan Chuan-Jin, President of the SNOC.
Team Singapore sailor and double Asian Games bronze medalist (2010, 2018) Ryan Lo is currently training toward a successful outing in Hangzhou and has his sights on qualifying for his second Olympic Games. He said, "My teammates and I are looking forward to competing in Hangzhou. The sailing conditions won't be easy and the level of sailing will be very competitive. Nonetheless, we are all putting in our best efforts to prepare for a successful campaign, and I am certain that Hangzhou will present an impressive edition of the Asian Games."
The crowd was also introduced to Team Singapore's newly-appointed chefs de mission. Dr Koh Koon Teck will lead the contingent in Hangzhou and will be assisted by Olympians Tao Li and Koh Seng Leong.
Dr Koh is currently the President of the Basketball Association of Singapore and also serves as a member on the SNOC Executive Committee. The physical education and sports science educator was team manager to the men's basketball team at the 2013 and 2015 Southeast Asian Games when they captured a bronze medal to end a 34-year drought.
Double Olympians – swimmer Tao Li and sailor Koh Seng Leong – will serve as assistant chefs de mission to Dr Koh. The Asiad will be Tao Li's second assignment as a contingent leader. In 2018, she led Team Singapore's Youth Olympic Games contingent to Buenos Aires as chef de mission. The 33-year-old was also the champion in the women's 50m butterfly event at the 2006 and 2010 Asian Games, and remains the only Singaporean woman to make an Olympic swimming final at the Beijing 2008 Olympic Games.
At the 2006 Asian Games, sailor Koh Seng Leong nailed a silver medal in the Laser Radial Open event after returning to competitive sailing following a motorbike accident in 2005 which caused him to miss the year's SEA Games. After retiring from competitive sailing in 2010, the 39-year-old returned to sports in 2021 when he was elected as vice-president to Olympians Singapore, an association representing Olympians in Singapore.
"Since the Covid-19 pandemic, our athletes have been taking the challenges posed in good stride. Even with postponements of competitions and major Games, they continue to train and keep themselves in good shape physically and mentally. I am heartened to see such resolve and enthusiasm by our athletes as they put their best foot forward to represent Singapore at the Asian Games. I am confident with the support of Tao Li and Seng Leong – both who competed at the elite level as high-performance athletes – that Team Singapore will have a fruitful outing in Hangzhou," said Dr Koh.
Singapore is set its largest contingent to the Asiad with 382 athletes selected in 29 sports by the SNOC at the selection meeting last year. More are expected to join the team as athletes who have yet to meet the qualifying mark have till May 2023 for the Appeals Committee to consider their nominations.
Hangzhou Fun Run (Singapore edition)
The 19th Asian Games were originally scheduled to take place in 2022 but was postponed to 23 September to 8 October 2023 due to the Covid-19 pandemic. There will be 482 events competed in 40 sports. At the 18th Asian Games in Indonesia in 2018, Team Singapore's contingent of 264 athletes came home with 4 gold, 4 silver and 14 bronze medals.
The Olympic Council of Asia (OCA) launched the Asian Games Fun Run in 2004 to promote
the Asian Games in Doha two years later. Since then, it has grown from strength to strength and has expanded the range of activities beyond the traditional fun run to include sports demonstrations and exhibitions, cultural performances and family festivals.
The Games will take place from 23 September to 8 October 2023 and, to date, all of the preparations are well on track to be completed in Hangzhou.
First,  inspections of the 56 competition venues and 31 training venues have been carried out. The Asian Games Village and the five (5) Sub-villages are essentially ready to begin operations.
Second, the 40 sports, 61 disciplines and 484 events that will be held at the Games have been finalized. The Competition Schedule (Version 2.0) and Sports Technical Handbooks (Version 2.0) have been published. More than 1,300 international technical officials have been appointed. All 56 competition venues have been accepted by the corresponding Technical Delegates. 22 test events have been successfully held.
Third, 41 competition venue teams, 30 non-competition venue teams and 21 teams, that will be on duty at standalone training venues, have been assembled. The volunteer recruitment programme received the full support of the general public and college students. 38,000 volunteers in total will be recruited for the Games.
Fourth, a draft of the athletes' menu has been prepared. Six (6) OCA Family Hotels and 78 official hotels have been selected and designated. A logistics center with an area of 25,000 square meters has begun operations. Preparations for medical services have been completed. We will ensure transport during the Games will be easy to use and convenient.
Fifth, the promotional activities including the one-year countdown have been successfully held. A number of songs written for the Games have been released. The development and production of movies, TV series, documentary, promotional video and other projects about the Asian Games continue to gain pace. The "Asian Games 10 Cities Tour with  Geely" has traveled through Beijing, Shanghai, Guangzhou and other cities around China.
Correspondent: Lin Feng