SINGAPORE – The Asian stock market plunged up to 7.38 per cent on Monday (May 6), after U.S. President Donald Trump announced to hike tariffs on US$200 billion of Chinese goods late this week.
The Straits Times Index (STI) skidded 3 per cent or 101.67 points to close at 3,290.62, marking it the third time since 2014 that the index has plunged 3 per cent or more in a single session. The previous times were in August 2015 and January 2016.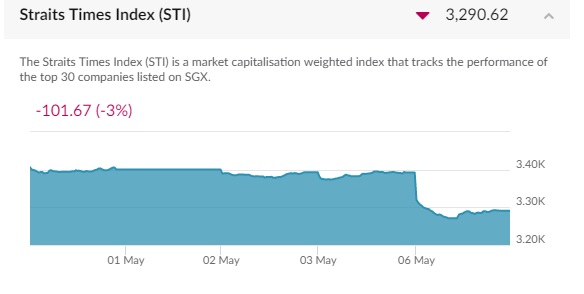 China's stock market suffered the worst in the region. The benchmark Shanghai Composite Index sank 5.58 per cent by the close, its steepest single-day drop since February 2016. The Shenzhen Composite Index, which tracks stocks on China's second exchange also plummeted 7.38 per cent.
The Hang Seng Index in Hong Kong plummeted more than 1100 points in the morning session, and ended down 2.9 per cent, or 871.73 points, to close at 29,209.82, regaining some lost ground in the late afternoon session.
Tokyo and Seoul were closed for holidays.
Singapore neighbouring countries Thailand and Malaysia were only declined slightly. SET Index dropped 0.12 points or 0.01%, ending at 1,679.05 and FTSE Bursa Malaysia Kuala Lumpur Composite Index down 4.5 points or 0.27% to 1,632.80.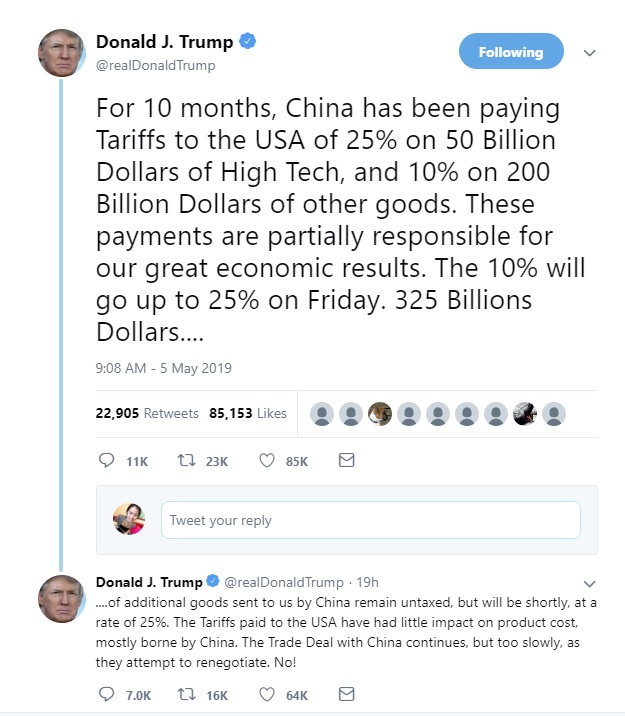 "For 10 months, China has been paying Tariffs to the USA of 25% on 50 Billion Dollars of High Tech, and 10% on 200 Billion Dollars of other goods. These payments are partially responsible for our great economic results, "Trump tweeted Sunday night.
"The 10% will go up to 25% on Friday. 325 Billions Dollars of additional goods sent to us by China remain untaxed, but will be shortly, at a rate of 25%. The Tariffs paid to the USA have had little impact on product cost, mostly borne by China. "
He added: "The Trade Deal with China continues, but too slowly, as they attempt to renegotiate. No!"
Chinese Vice-Premier Liu He was scheduled to arrive in Washington on Wednesday with a delegation of about 100 people, but now China is considering delaying that trip, according to people familiar with the matter.