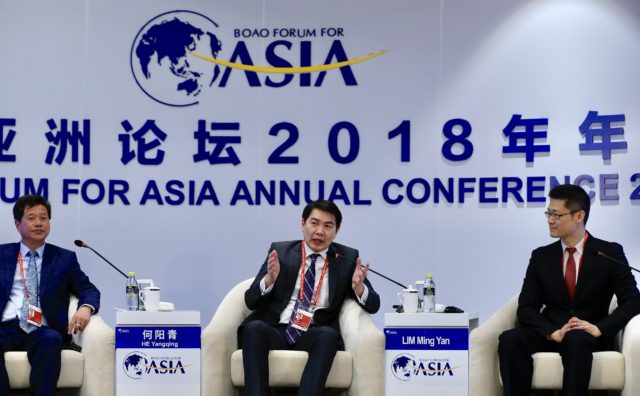 Singapore, 12 April 2018 – Mr Lim Ming Yan, President & Group CEO of CapitaLand Group, participated in "The New Retail: New Concept, or New Trend" (新零售:新概念,还是新趋势) panel at Bo'ao Forum For Asia (BFA) 2018 yesterday (11 April 2018).  This is CapitaLand's first participation in the annual event – popularly known as Asia's Davos – where heads of governments and business leaders from around the world converge in Hainan, China, to exchange views on pertinent issues affecting the future of Asia and the rest of the world.  
Mr Lim said: "New Retail is not just a concept or trend, it is the new reality.  New Retail, or as how I see it 'omni-channel retail' (全渠道零售), is a reality challenging all industry players to integrate online, offline, logistics and data across a single value chain.  Every company in the retail sector whether born online or offline, is moving to seamlessly integrate the two.  Companies from both sides of the line, be it Alibaba, Amazon or Walmart, are clear that neither an offline-only nor online-only business model will work; it is in the combination of offline and online (O&O) where long-term success can be found."
The theme for this year's BFA is "An Open and Innovative Asia for a World of Greater Prosperity".  The New Retail panel this morning formed part of the forum's Innovation module, which discussed the model of "innovation-driven development" as a viable option for Asian and emerging economies to leapfrog developed nations.  Mr Lim was joined at the panel by Mr Hans-Paul Burkner, Chairman of Boston Consulting Group; Mr Yi Qing, CEO of China e-commerce portal operator OSell; Mr He Yangqing, Chairman of Gome Retail, one of China's biggest home appliances retailers; and Ms Zhu Yueyi, CEO and Founder of Reflower, an e-commerce platform for fresh flowers.  The panel was moderated by Mr Wu Bofan, a well-known commentator in China and co-host of popular finance radio programme, the Dong-Wu Talk Show. 
Mr Lim added: "As the world leader in New Retail, China leads the world in online sales, setting the record of single day transactions of over RMB168 billion during Singles' Day in 2017.  With the continued advancement of logistics and technology, there is no doubt that China and its companies would continue to lead the way in the quest to integrate online with offline and vice versa.  This is a good development as continued breakthroughs translate to better opportunities for all players in the retail industry.  CapitaLand stands ever ready to embrace the challenges and opportunities provided by New Retail to create a better shopping experience for all."
As consumption and innovation become China's major growth drivers, CapitaLand is riding on this new wave of growth by leveraging digital tools and partnering leading disruptors to future proof its real estate business.  This was the impetus behind CapitaLand's string of partnerships with leading online players.  In Singapore, CapitaLand has launched an official store on Lazada, Southeast Asia's largest e-commerce marketplace.  Shoppers can collect their online purchases at the click-and-collect lounges in CapitaLand malls.  In China, CapitaLand is working with Alibaba to manage the e-commerce conglomerate's new Shanghai headquarters, Alibaba Shanghai Center.  CapitaLand is also bringing its retailers on board its digitalisation drive by developing digital tools to help them in their interaction with shoppers in the areas of transactions, rewards and operations – powered by data analytics.  A key plank of this strategy is CapitaStar, the Group's loyalty programme with more than 5.7 million members across Asia.  To support retailers' omni-channel retail strategy, CapitaLand has enabled ePayments to take place on the CapitaStar app.  This enables retailers to have a singular customer view, whether customers buy online or offline. 
Even as new technologies disrupt traditional business models, Mr Lim was clear that real estate remains an important part of a holistic customer journey, as affirmed by leading digital players seeking to gain a foothold in the physical space.  He reiterated CapitaLand's strengths lie in its extensive experience in developing and managing best-in-class operating platforms; as well as its strong relationships with shoppers and retailers.  With multiple customer touchpoints in its integrated physical spaces, across work, live and play, CapitaLand is very well positioned to offer Real Estate as a Service by converging offline and online experiences.  In 2017, CapitaLand malls attracted some 1.1 billion shoppers who spent a total of S$12.2 billion.  As at end 2017, CapitaLand's industry-leading network of retailers comprised more than 18,000 leases.
CapitaLand is the largest foreign real estate developers in China with business presence in 39 cities.  Its portfolio in China comprises eight Raffles City developments, 49 shopping malls, 20,000 serviced residence units and more than 110,000 residential units.