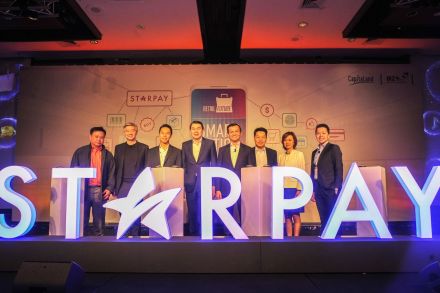 Singapore, 6 April 2018 – CapitaLand is partnering leading e-payment players to launch an all-in-one e-payment service – dubbed StarPay – that will cover over 2,500 stores in 17 malls across Singapore.
The partnerships announced on Thursday will integrate five e-payment modes in StarPay: GrabPay, NETSPay, DBS PayLah!, American Express and Alipay.
This marks the first time a mall operator is offering such an all-in-one e-payment service in Singapore, said CapitaLand. It will enable shoppers to pay using different e-payment modes, including debit and credit cards, QR codes and local and international payment apps.
StarPay will be rolled out across participating malls, starting with Raffles City Singapore and American Express on April 18.
It will be offered as an in-app feature on CapitaStar, the company's app-based rewards programme. Once shoppers register relevant details on the CapitaStar app, they can scan a QR code at a participating retailer's smart terminal, select the e-payment mode and the transaction will be processed.
Smart terminals will be provided to participating retailers at no cost by the end of the year.
Ooi Huey Tyng, managing director of GrabPay Singapore, Malaysia, Philippines, said: "By integrating GrabPay and StarPay, we can reach more consumers and merchants, while enabling Grab users to pay conveniently via GrabPay at more locations."
Through StarPay, shoppers will also be able to earn STAR$ – reward points that can be exchanged for CapitaLand vouchers and deals – from their purchases automatically without having to scan their receipts, as long as they spend a minimum of S$1.
Lim Ming Yan, president and group chief executive officer of CapitaLand said: "Ultimately, we want to create a seamless experience where it is easier for our shoppers to find what they want, pay for the item in any preferred mode of payment, be rewarded instantly with STAR$ and enjoy better customer service round the clock."
CapitaLand also pointed out that the data from the all-in-one service can provide insights and knowledge for retailers.
"For CapitaLand retailers, we strive to translate insights into business outcomes – whether that be increased productivity, improved sales or better customer service," Mr Lim added.
More e-payment modes can be expected to come onboard by the end of the year, said CapitaLand.
BT