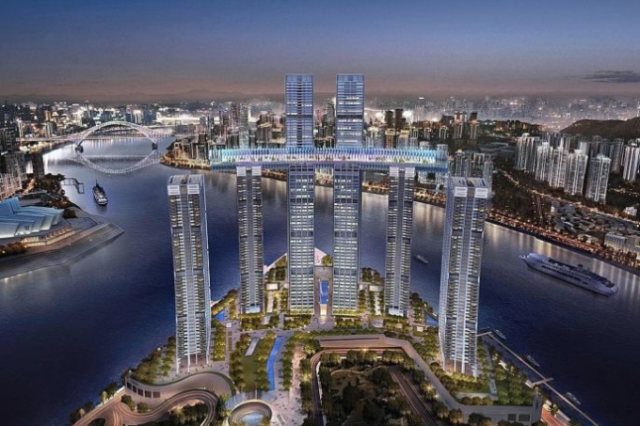 Singapore, 25 Feb 2018 – The Conservatory will be highest sky bridge linking the most number of towers (four) in the world. The completed structure – part of the property developer's Raffles City Chongqing development – will also include a range of lifestyle developments such as a viewing deck, sky gardens, swimming pools, restaurants and drinking establishments.
The sky bridge will link four 250-metre towers together and may span up to 300 metres in length, 30 metres in width and 22.5 metres in height.
With the process of erecting the 300-metre platform underway, it is expected to be completed by the middle of 2018.
The 24 billion yuan (S$5 billion) development by CapitaLand and Ascendas-Singbridge will open in phases next year. It will comprise of eight towers located on Chongqing's Chaotianmen riverfront with a total construction floor area of 1.12 million square metres and contain a shopping mall, residences, offices and a hotel.
Raffles City Chongqing was designed by architect Moshe Safdie, who also designed Singapore's Marina Bay Sands.