(Singapore 22 May 2023)Despite multiple diplomatic efforts from Singapore, China hasn't restored its pre-pandemic arrangement for Singapore citizens to visit China without a visa for up to 15 days.
Deputy Prime Minister Lawrence Wong, after concluding his official visit to China last week, told reporters at Singapore's embassy in Beijing on Wednesday that Singapore expressed its hopes that China will restore a pre-pandemic arrangement for Singapore citizens to visit without a visa for up to 15 days.
However, the 15-day visa-free facility has not yet been restored despite the fact that the Chinese Embassy in Singapore resumed issuing visas for foreigners on March 15 and China reopened its borders on January 8.
The policy was initiated by China in July of 2003. Although it was suspended during the Beijing Olympic period in 2008, it has never been suspended for such a long time — more than three years — during the past two decades.
Last Friday, Fortune Times published a Chinese story that analyzes potential reasons for China's not restoring the 15-day free visa policy to Singaporeans. However, WeChat, a social media company under Tencent, prohibits us posting that story on Fortune Times' official WeChat account.
In that story, we reported that lengthy queues of Singaporeans, some overnight, have been spotted at the Chinese visa application center on Robinson Road. We also reported the complicacy of visa application that involves detailed information from the applicants' family members.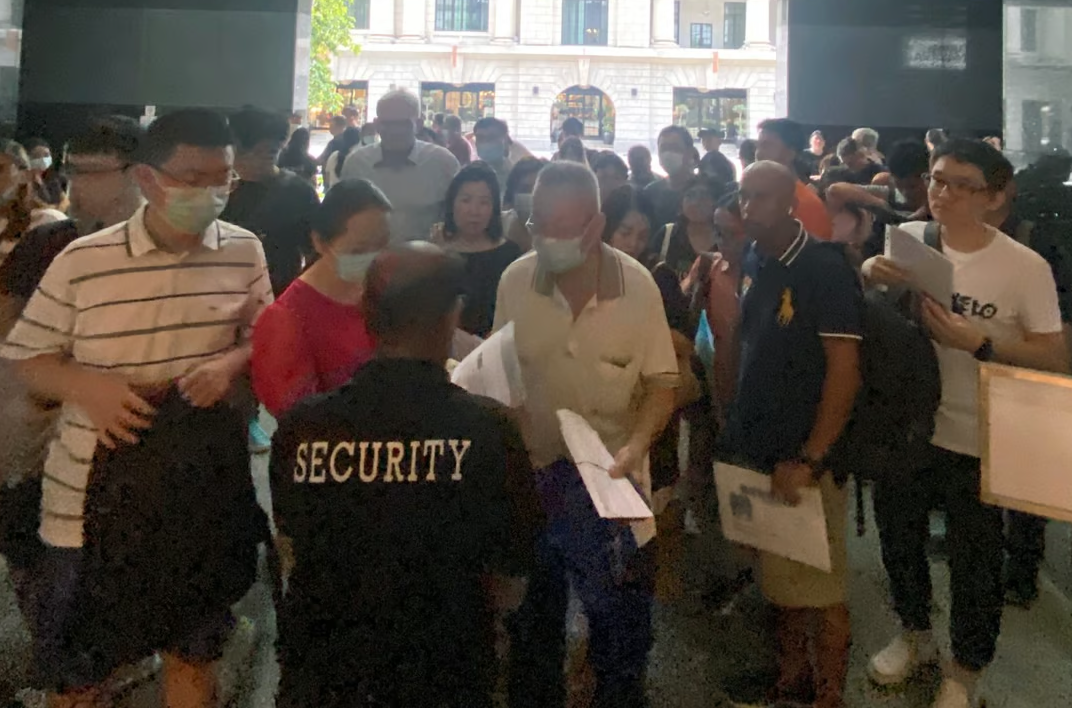 When a Fortune Times reporter tried to call the Chinese visa application center during its work hours last Friday, no one answered the phone for 20 minutes.
In a subsequent interview with Dr Oh Ei Sun, Principal Adviser for Pacific Research Center of Malaysia and an expert of China issues, he told Fortune Times that China is cautiously reopening its borders to visitors as the pandemic subsides.
"Full-scale flights and visa-free travels will gradually resume, as the pandemic is perceived by China to have been conclusively suppressed, and as demands for such travels, for both tourists and business purposes, mount over time," he said.
However, the restoration of the free visa policy doesn't look like just a matter of time.
In February, Singapore's foreign minister Vivian Balakrishnan, during his visit in China, told his Chinese counterpart that now that both Singapore and China have emerged from the shadows of Covid-19, priorities are to quickly restore life, business, and exchanges to what they were before.
Obviously, the 15-day visa-free facility was a key policy that made the pre-covid life, business, and exchanges smooth.
In April, while Singapore's Prime Minister Lee Hsien Loong visited China, Singapore and China jointly announced an "All‑Round High‑Quality Future‑Oriented Partnership", upgrading the ties between both sides. However, the 15-day visa-free policy was not restored.
One possible reason is that China has been negotiating with Singapore on a bilateral visa-free travel arrangement.
The Chinese ambassador to Singapore Sun Haiyan wrote in a Facebook post on April 12 in both Chinese and English: "The Chinese side has proposed to the Singaporean side discussions on measures to facilitate people-to-people exchanges such as mutual visa exemption arrangement. Hope that the competent authorities of the two sides can achieve positive results as soon as possible."
On May 8, Reuters published a story called "After opening borders, China presses Singapore for visa-free travel deal".
The story reports "China is hammering out details with Singapore on a bilateral visa-free travel arrangement".
There were 3.6 million Chinese visitors to Singapore in 2019, more than any other country, who spent a combined S$4.1 billion ($3.09 billion).
In recent years especially since the outbreak of Covid, many Chinese have been keen to invest, move assets or relocate to Singapore.
Chinese travelers are always required to apply for visas to visit Singapore although the procedure is generally straightforward.
It is not sure whether the two countries will be able to reach the consensus of mutual visa exemption as well as whether China will restore the 15-day free-visa policy to Singaporeans.
According to the latest Henley Passport Index, the Singapore passport remains the second-most powerful in the world – only after Japan – which allows visa-free entry to 192 destinations, including most developed countries including the US, UK, Germany, France, and Japan.
However, China's passport is only ranked No.62, between Saudi Arabia and Belarus, allowing visa-free access to only 81 destinations, few of them developed countries.