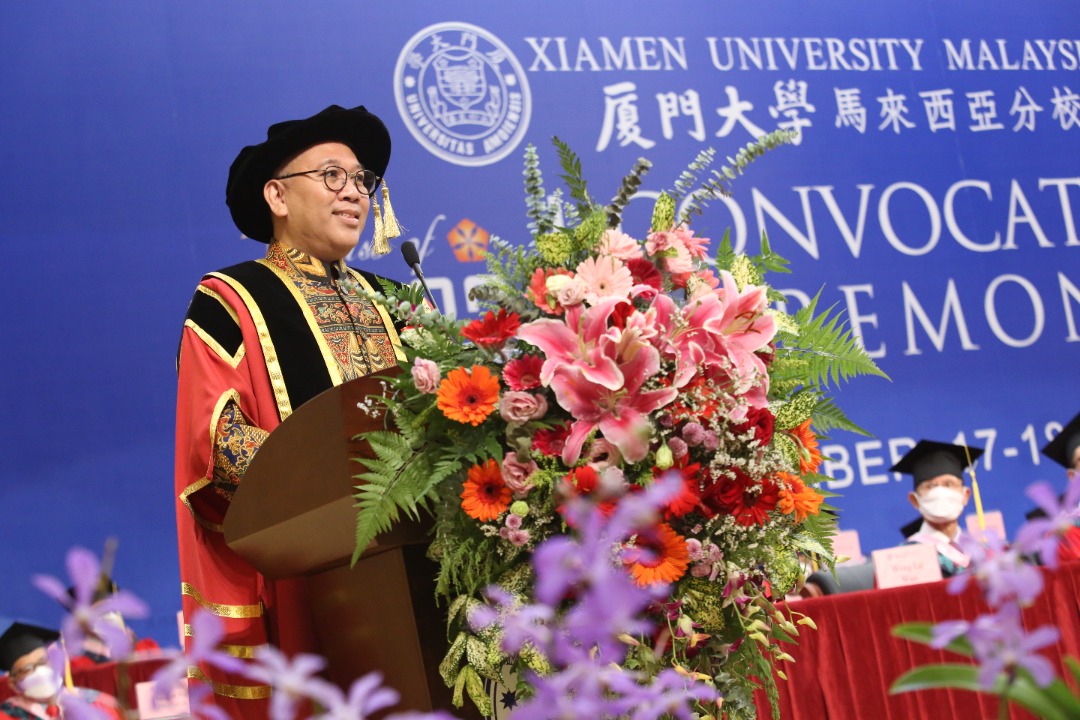 (Singapore, 18 December 2022) Xiamen University Malaysia (XMUM) held its Fourth Convocation Ceremony in 4 sessions on 17 and 18 Dec.
Daryl Tan, the great-grandson of Mr Tan Kah Kee, the founder of Xiamen University, represented his father, Tan Dib Jin attended the third session of the ceremony on 18 Dec morning and gave an inspiring speech to the graduands.
"I am particularly glad to learn that Xiamen University Malaysia is committed to upholding Mr. Tan Kah Kee's spirit of selfless dedication to the noble cause of education, building the branch campus into a non-profit institution with the honourable intention of giving back to society", said Daryl Tan.
Daryl Tan said XMUM has announced to the public that any surplus in the future will not be channelled back to China but will be reinvested in the Malaysian branch campus for student scholarships, research funding and the further development of XMUM.
"I am confident that in the future, this university will nurture a large number of high-quality talents who would make contribution to the prosperity and social progress of Malaysia, China and the region," Daryl Tan said.
While, Daryl Tan wishes all the graduands to find out their strengths, talents and interests when entering into the new phase of life.
"As the Chinese old saying goes, "嗜之越笃, 技巧越工", the more passionate you are about your job, the more skillful you will be. This coincides with the concept of Steve Jobs, who once said, 'The only way to do great work is to love what you do. If you haven't found it, keep looking, don't settle.'"
Daryl also encourage graduands to always stay true to yourself, as it would lead to independence, confidence, happiness, and an ability to navigate through life more effectively, leading to a sense of fulfillment.
"It is always easy to just accept status quo or become resigned to mediocrity. However, if you persist in holding on to your principles and values, and what you have set out to do, the chances of success to reach your goals will be multiplied."
Although COVID pandemic has caused many negative impacts to the society, but Daryl quoted Chinese Philosopher Lao Tzu's words, "祸兮福之所倚,福兮祸之所伏" (calamity has its roots in prosperity, prosperity has its roots in calamity) and reminds the graduands to face challenges bravely.
"Instead of solely focusing on the misfortune brought about by the pandemic, we can reflect on
what lessons we can learn during this difficult time. In this way, we can more easily adapt to changes in life and make the best of it."
XMUM's class of 2022 has a total of 1,200 graduands from 15 bachelor's degree programmes and 2 master's programmes, including 696 local Malaysian students and 504 international students. Despite all the challenges brought by the COVID pandemic, the graduating class of 2022 has demonstrated outstanding employment prospect, with many of them joining industry-leading companies, such as Deloitte, KPMG, UOB Bank, OCBC Bank, Intel, Huawei, Tencent, Bytedance, Microsoft and Shopee.
On the other hand, many graduands have received offers for postgraduate study from world-renowned universities, such as London School of Economics, University of Edinburgh, University of Manchester, from UK; Cornell University, University of Pennsylvania, from US; National University of Singapore, Nanyang Technological University, from Singapore; as well as Peking University, Fudan University, University of Hong Kong, among many others.
About Xiamen University Malaysia
Xiamen University Malaysia (XMUM) is the first overseas campus set up by a renowned Chinese university and the first Chinese university branch campus in Malaysia. Its 150-acre campus in Sepang, Selangor has a planned floor space of 470,000 m2 with a total investment of RM 1.3 billion. Located along "the 21st Century Maritime Silk Road" of the "Belt and Road", XMUM is deemed to be the pearl of the Educational Silk Road.
Xiamen University (XMU), founded by the Malaysian Chinese, Mr. Tan Kah Kee in 1921, is the first Chinese university to be founded by an overseas Chinese and is now well-known as "Strength of the South" in China. It enjoys the privileged support from Ministry of Education China for participation in "Project 211", "Project 985" and "Double First-Class Initiative". It is ranked 41st in Asia and 247th globally in the "2022 Best Global Universities Ranking" published by US News and World Report.