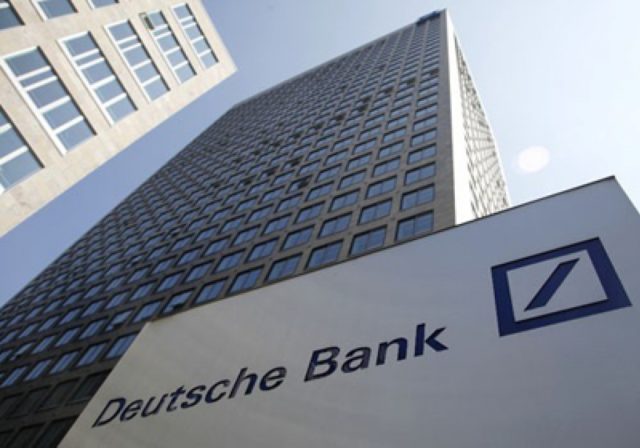 DWS shares expected to be offered at a price of between EUR 30.00 to 

EUR 36.00 per share

Placement of 20 percent of existing DWS shares (plus greenshoe) held by 

Deutsche Bank

Ability to upsize transaction to up to 25 percent (including greenshoe) 

possible

Nippon Life Insurance Company to acquire a 5.0 percent stake in DWS in 

the IPO and enter strategic partnership

Deutsche Bank AG ("Deutsche Bank") has set the price range for shares offered in the planned Initial Public Offering ("IPO") of DWS Group GmbH & Co. KGaA ("DWS") between EUR 30.00 to EUR 36.00 per share.
The base offering consists of 40 million existing ordinary bearer shares held by DWS's sole shareholder, DB Beteiligungs-Holding GmbH, a 100% subsidiary of Deutsche Bank and corresponds to 20 percent of DWS's existing share capital. In addition, Deutsche Bank reserves the right to offer up to 4,782,600 shares (2.4 percent of the share capital) from its indirect holdings in the event of particularly strong demand (upsize option). Moreover, up to 5,217,400 shares (2.6 percent of the share capital) from Deutsche Bank's indirect holdings can be placed to cover potential over-allotments (in connection with a greenshoe option).
Nippon Life Insurance Company (Nippon Life) has agreed to acquire a 5.0 percent stake in DWS in the IPO with the commitment being valid across the price range. The shares will be allocated preferentially to Nippon Life at the IPO issue price.
In this context, DWS and Nippon Life have also agreed on a strategic partnership, which will include a contribution of assets under management to DWS, opportunities for distribution, and joint product development for an initial term of five years. To underpin the partnership it was also agreed that a representative of Nippon Life will be appointed as a member of DWS's Supervisory Board.
Nicolas Moreau, Member of the Management Board of Deutsche Bank and Chief Executive Officer of DWS, said: "We are very pleased to have Nippon Life as a cornerstone investor. Our strategic alliance is consistent with, and will help accelerate, our focus on growing in the Asia region. Investors in general have responded very positively to our business model and strategy."
Alexander Prout, Head of Deutsche Asset Management for Asia Pacific at Deutsche Bank: "We are very pleased to join forces with Nippon Life Insurance Company, one of the leading financial institutions in Japan. The strategic alliance we will form demonstrates Nippon Life's recognition of the quality of Deutsche Asset Management (DWS)'s franchise and the strategic importance we place on growing in the Asia Pacific region. We are especially excited about the joint products we will develop as well as the distribution opportunities we will be able to unlock through this partnership."
"In today's financial markets, innovative solutions to global problems tailored to local needs are critical for the investment success of both clients and asset managers. We are confident that by combining Nippon Life's leading position and intimate knowledge of the Asian market with our investment expertise, we will be able to develop an even more compelling offering for clients across the region."
Depending on the final issue price, Deutsche Bank could receive gross proceeds between EUR 1.20 billion to EUR 1.44 billion if all existing shares under the base offering are placed with additional potential gross proceeds between EUR 143 million to EUR 172 million if the upsize option is fully exercised and additional potential gross proceeds of between EUR 157 million to EUR 188 million if the greenshoe option is exercised in full.
Based on the price range, DWS's market capitalization would be between EUR 6.0 billion to EUR 7.2 billion. Deutsche Bank will remain DWS's majority shareholder post IPO, holding between 75 percent and 80 percent of DWS's shares depending on the exercise of the upsize and greenshoe options.
Following the approval and passporting of a prospectus by the German Federal Financial Supervisory Authority (Bundesanstalt für Finanzdienstleistungsaufsicht, BaFin), DWS will offer shares to the public in Germany and Luxembourg. In addition, private placements with investors outside these countries are envisaged. The offer price will be set on the basis of a bookbuilding process. Retail investors in Germany and Luxembourg and institutional investors will be able to submit purchase orders for DWS shares during the offer period, which will be included in the prospectus. DWS shares are planned to be listed on the regulated market of the Frankfurt Stock Exchange (Prime Standard) and the first day of trading is expected on the 23rd of March.
Deutsche Bank is acting as Sole Global Coordinator and Bookrunner in the transaction. Barclays, Citigroup, Credit Suisse, BNP Paribas, ING, Morgan Stanley, UBS and UniCredit are acting as Joint Bookrunners. Commerzbank, Daiwa, Banca IMI, Nordea and Santander have been appointed as Co-Lead Managers.
DWS