(Singapore, June 19, 2020) Singapore's Prime Minister Lee Hsien Loong is calling locals not to go overboard celebrating Phase 2 of the island country's reopening.
He delivers the message in a Facebook post as the Republic's Phase 2 of post-circuit breaker measures begin today.
"I am sure all of us have been eagerly looking forward to this day for a long time!… But please don't go overboard celebrating," said Lee.
In Phase 2, precautionary rules such as mask-wearing and safe distancing are still essential, though this will be the closest thing to normalcy for most people since the circuit breaker began in April, he said.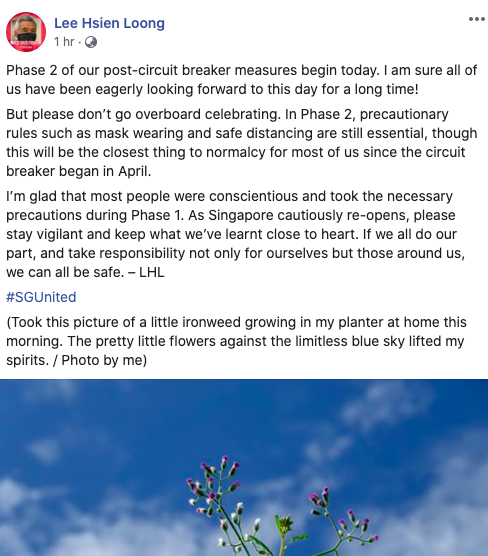 "As Singapore cautiously re-opens, please stay vigilant and keep what we've learned close to heart. If we all do our part and take responsibility not only for ourselves but those around us, we can all be safe," he added, noting that he was glad that most people were conscientious and took the necessary precautions during Phase 1.
As announced by the Multi-Ministry Taskforce, Singapore will embark on a three-phased approach to resume activities safely, post-circuit breaker.
In Phase Two which is also called "safe transition", almost the entire economy will re-open, subject to safe management measures being in place. More activities will resume.
However, for higher-risk activities, such as religious services and large-scale events, the Government will be engaging businesses and organizations on how and when they may resume safely, with the necessary safe management measures and safeguards.
Depending on the COVID-19 situation and the Government's risk assessment, the measures will continue to be eased gradually until the city-state reaches a new normal in Phase Three — a "new normal" for Singapore before an effective vaccine or treatment for COVID-19 is developed.
According to a report of the Straits Times, while many shoppers may be cautious about heading out today, shopping malls and their operators are going all out to ensure that everything is safe and ready should the crowds return.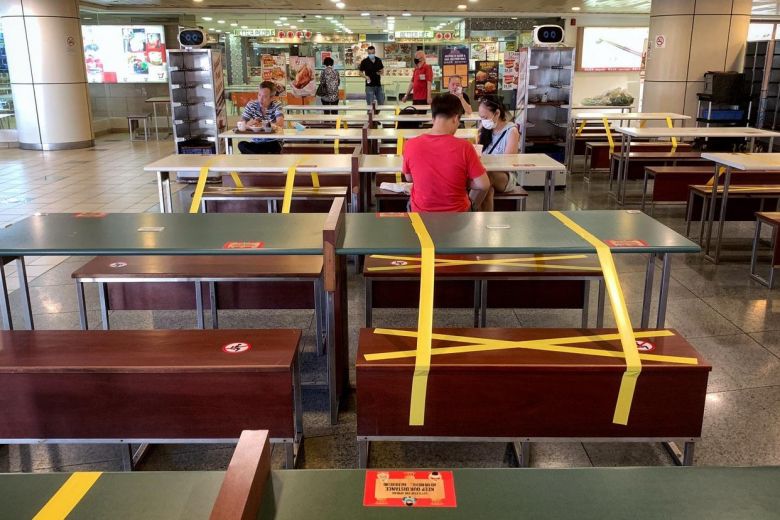 At CapitaLand malls, such as Ion Orchard and Bukit Panjang Plaza, directional signs for shoppers coming from the train stations are up, while floor markings and poles for queues are being set up at entrances to manage human traffic and space out the queues, the report says.
At Nex, more employees will be deployed at entrances to manage the anticipated increase in shoppers and ensure that those in line to enter the mall stay at least 1m apart.