In a market where financial tools are planner-focused and may be overwhelming, FinAlly is the first financial planning platform in Singapore to launch a series of user focused tools that provide personalised recommendations based on their needs and budget; Finally! With over 60 products and 5 Discretionary Investment Fund Portfolio, it provides the most unbiased and comprehensive range of insurance plans and fund solutions.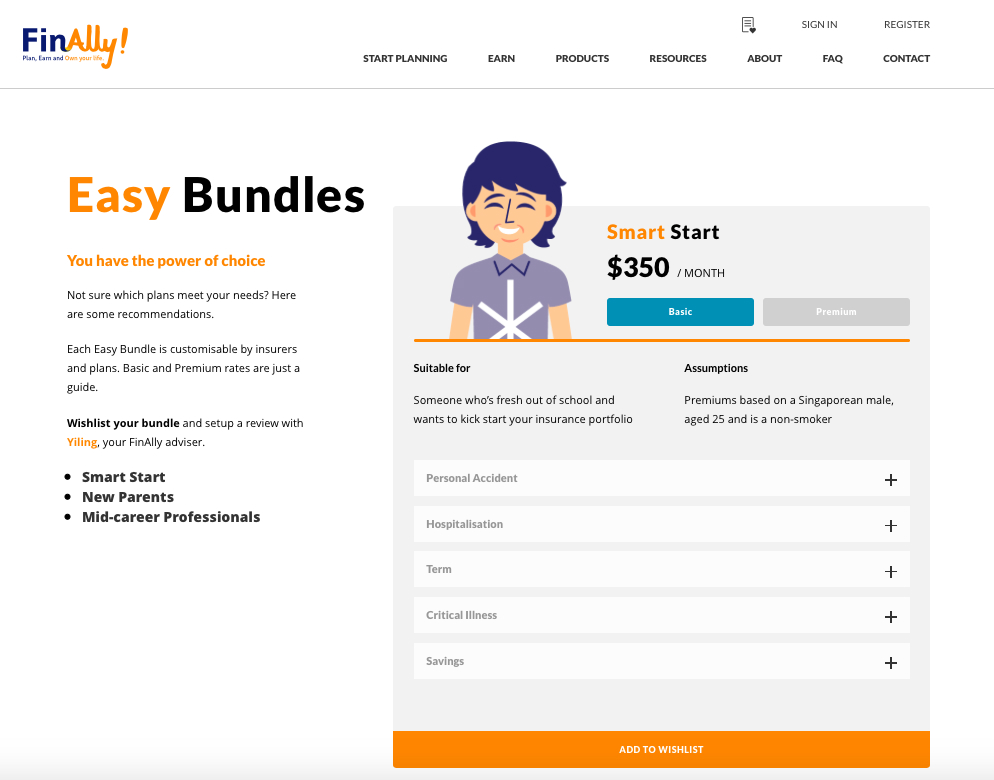 With Easy Bundles and Personalised Calculators, FinAlly aims to empower users to make informed financial choices with confidence as their financial goals evolve. Easy Bundles are designed for users who are either new to financial planning or have recently crossed a major milestone. It offers easy-to-understand financial plans to help consumers kick start their financial journey. Personalised Calculators provide various personalised plans that best suit the user's needs and allow for optimisation in the future. There are three options to choose from – Protection, Tertiary Education and Retirement. By entering basic users' details, the tool is able to offer solutions that include both insurance plans and discretionary investment funds.
Once a user has shortlisted the plans that best suit their current needs, an experienced FinAlly financial adviser will complete the financial planning process. Throughout this process, the adviser will provide recommendations and advice to help users get the most cost-effective or the highest-yielding solution according to their goals and right-sized to their current lifestyle.
With this platform, the client prospecting process is shortened. As such, FinAlly is able to pass the cost savings to clients. These cost savings will come in the form of rebates on adviser's commission. These financial tools were developed based on research from more than 120 customer interviews. More than 90% of the customers desire a tool that provides unbiased financial recommendations suited to their needs and they are highly aware that they need different plans as they enter a new stage in life. In addition, more than 75% of the customers are willing to do their own planning online if there are incentives involved.
Kang Beng Hui, CEO at RAF Holdings said, "FinAlly believes that achieving your future aspirations starts with a simple action of knowing your essential financial basics and cultivating good habits. Financial health is like physical health; besides consulting an expert, it is important to be proactive about selfcare and having a regime suited to your current situation and future goals.