( Singapore, 10 November 2020)Fortune Times has launched the E.Y.E. (Explore Young Entrepreneurism) contest with the Department of Materials Science Engineering (MSE) in NUS. This contest is initiated from a new module titled "Innovation and New Product Development" (MLE4213) for MSE year-4 students. It aims to help students gain more understanding about the entire product development and operation process as well as cultivate students' entrepreneurism.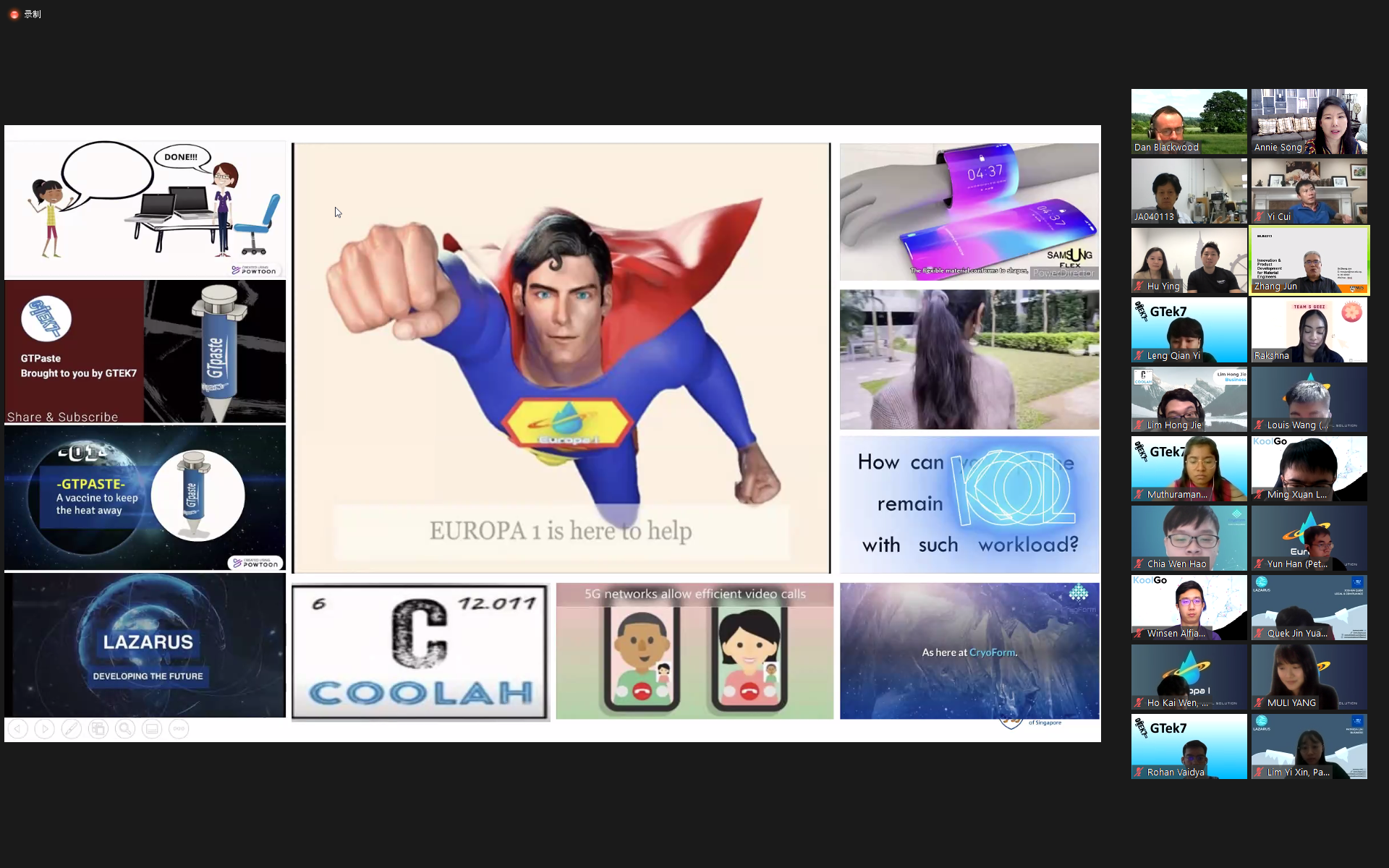 The final year students of NUS MSE faculty are invited to participate in the E.Y.E contest. They will submit a one-minute-clip to elaborate on the creation or unique selling point of product design and to attract more "Like" on Facebook for their video. In the video, the product design or concept can be presented in any type of format such as storytelling, music, movie, speech, storyboard, or silent display.
Combining the number of the FB "Like" and judgement of judge panel, the final results will come out after one month's posting on Facebook from 9 Oct to 8 Nov.  There are 3 award categories, here are three team winners and the video clip:
-​ Most Popular Design Award
Team: 5HEAD
Video title: The story of CryoForm!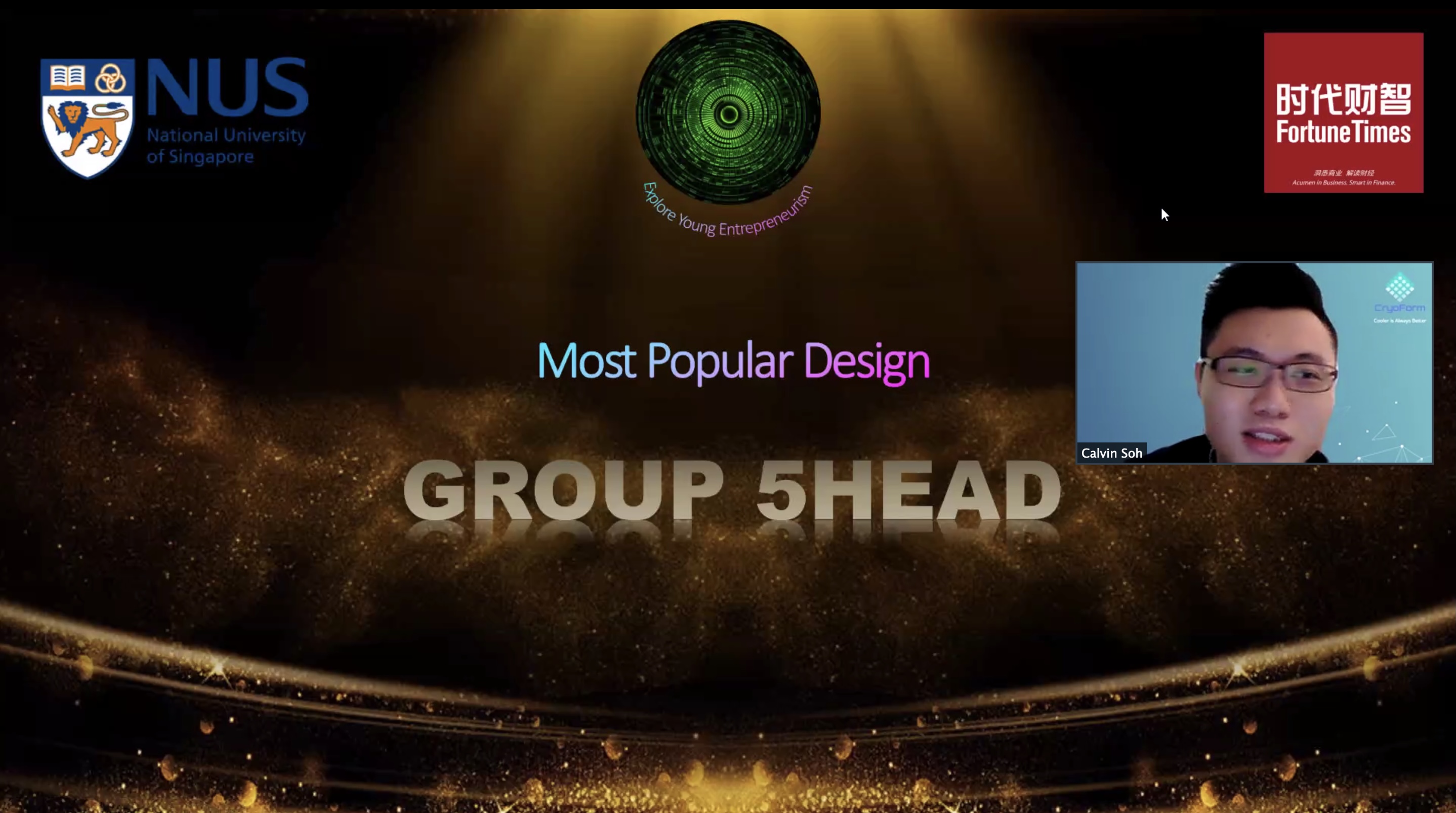 -​ Best Idea Award
Team: Tasty Potatoes
Video title: 5G brings many advantages but it has drawbacks too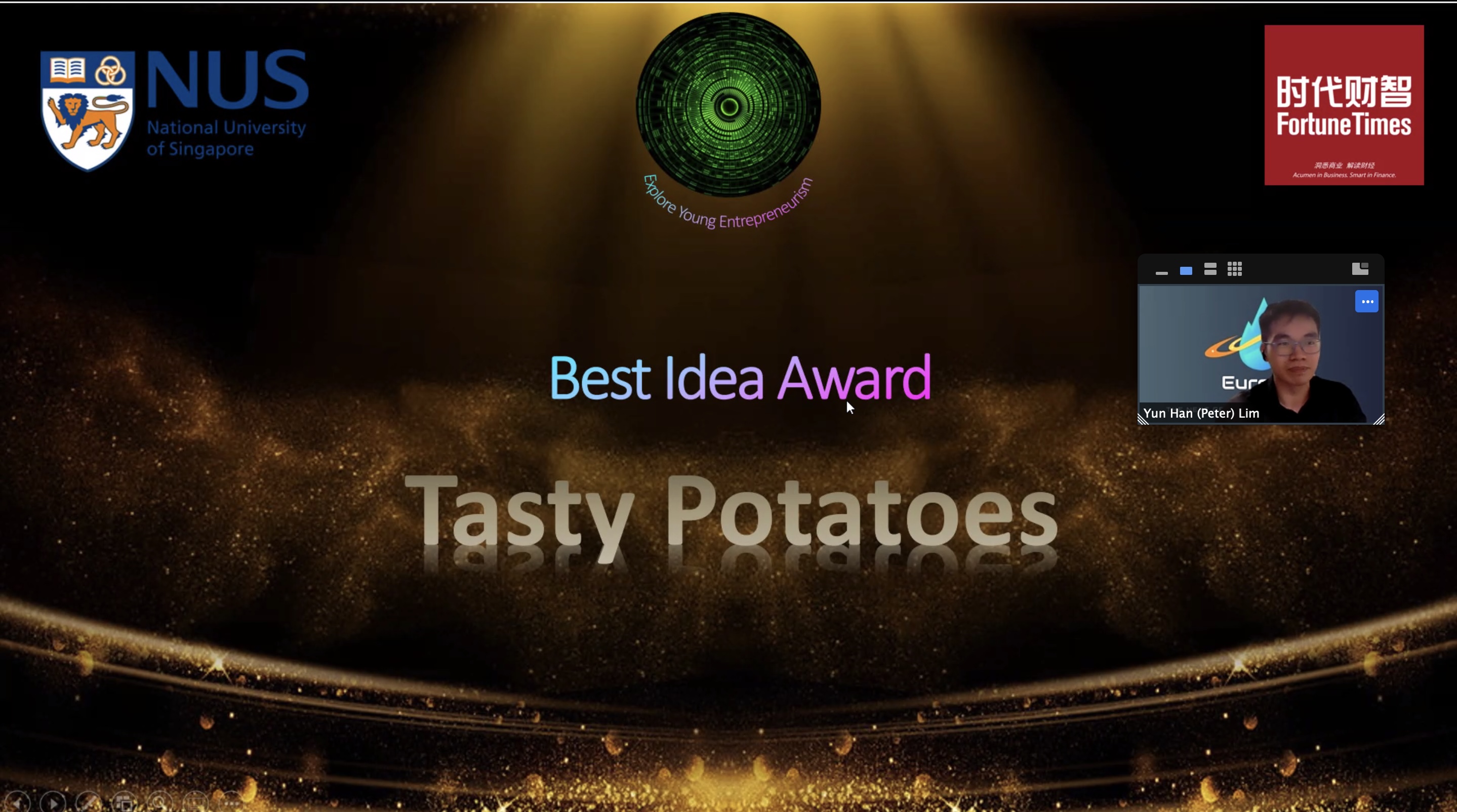 -​ Best Design Award
Team: Lazarus
Video title: Chill Fill Liquid Coolant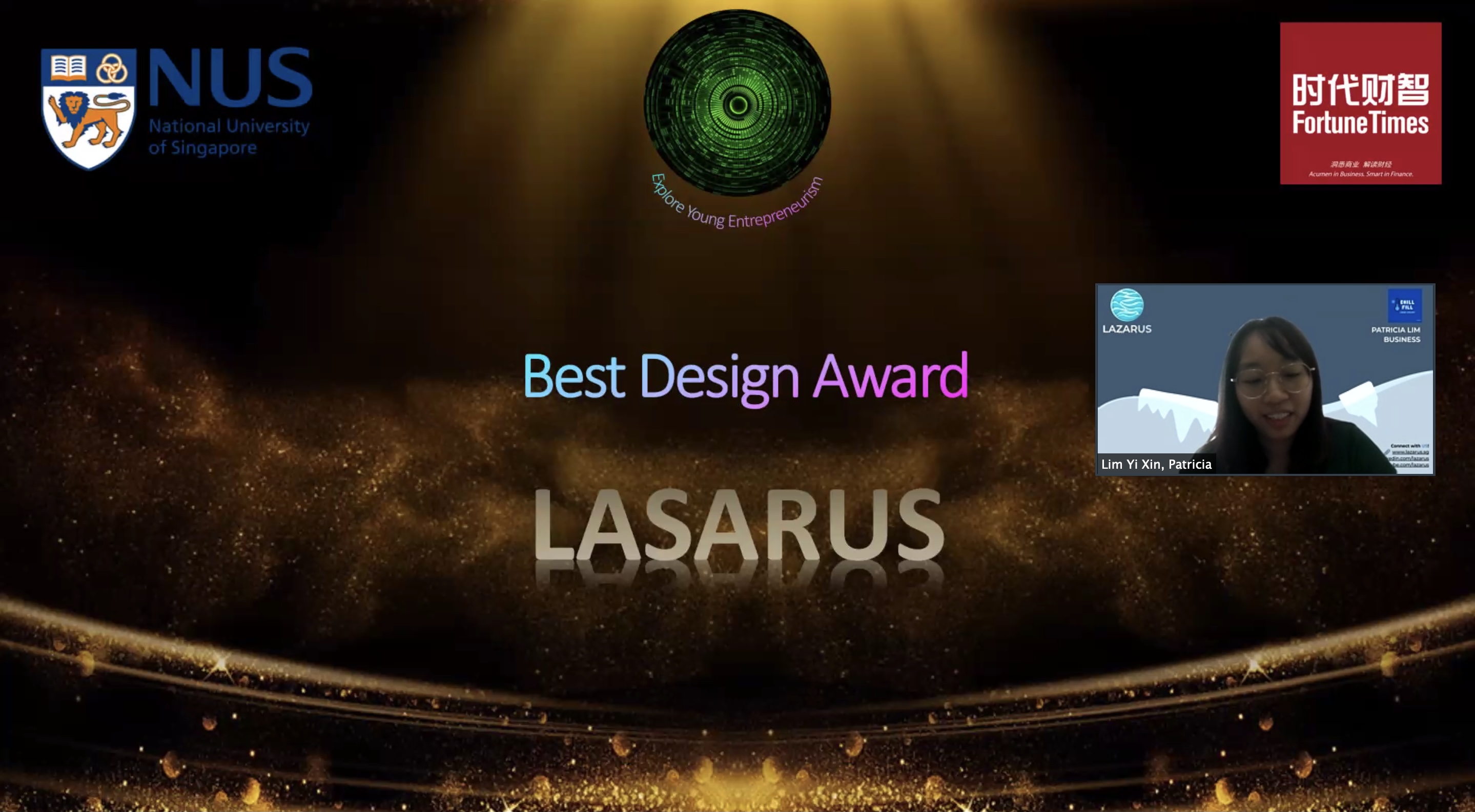 MLE4213 is the new module opened for final year students in Jan, 2020. The module adopts the innovative teaching method to the class where the home-based learning is applied during Covid-19. From conceptualization to commercialization of a product, the industrial experts are invited to join the class and give a half hour sharing on what and how to innovate the new product development other than topics in R&D, business, financial, compliance, manufacturing and IP protection.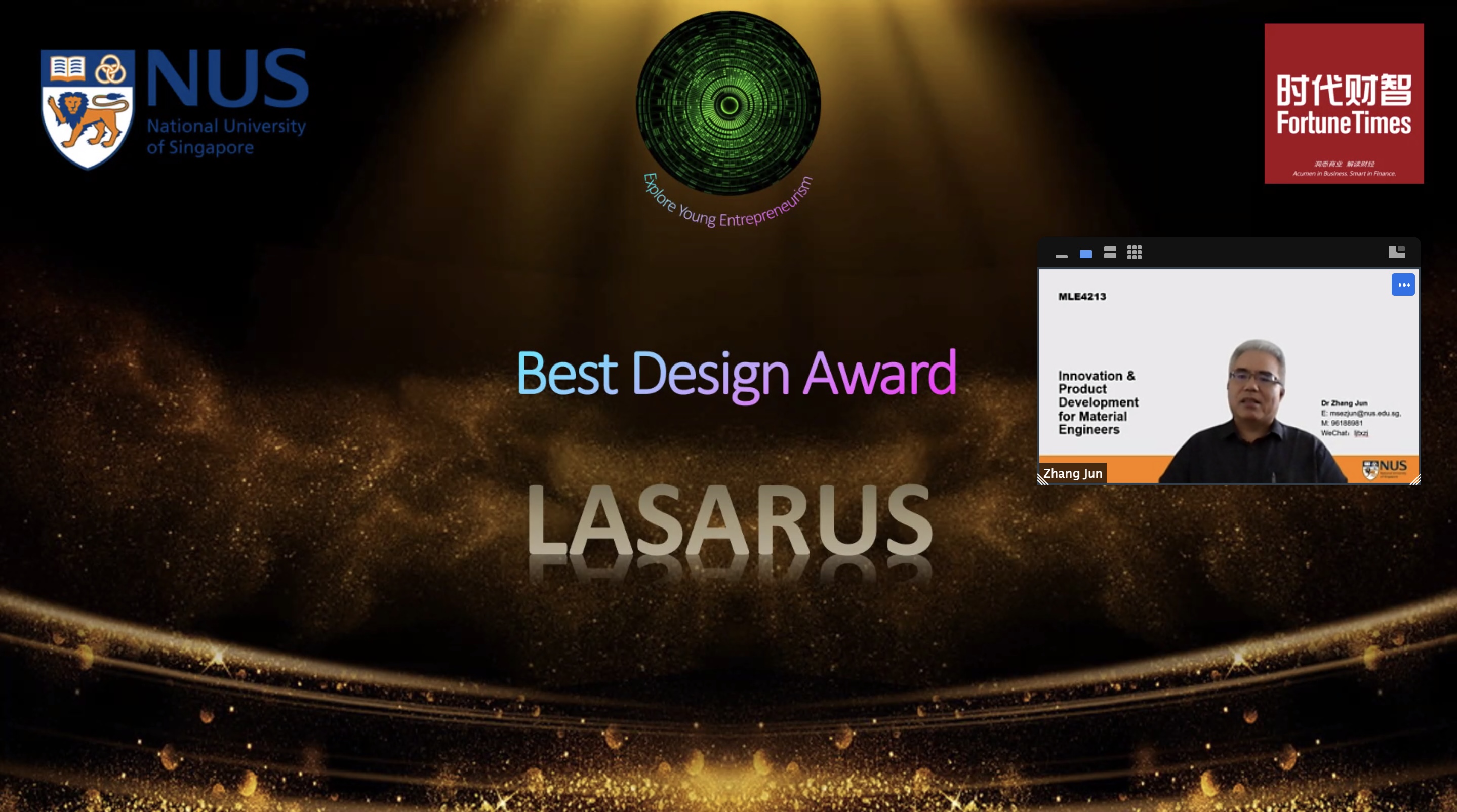 Dr Zhang Jun, lecturer of MLE4213 module said, "The industrial experts are professional, entrepreneur, senior researchers from MNC and tech companies, the students gain completely innovative thoughts from their sharing. Focusing on the needs of future technological development, the students need to interact with the market particularly via the online media platform and gain more ground experience."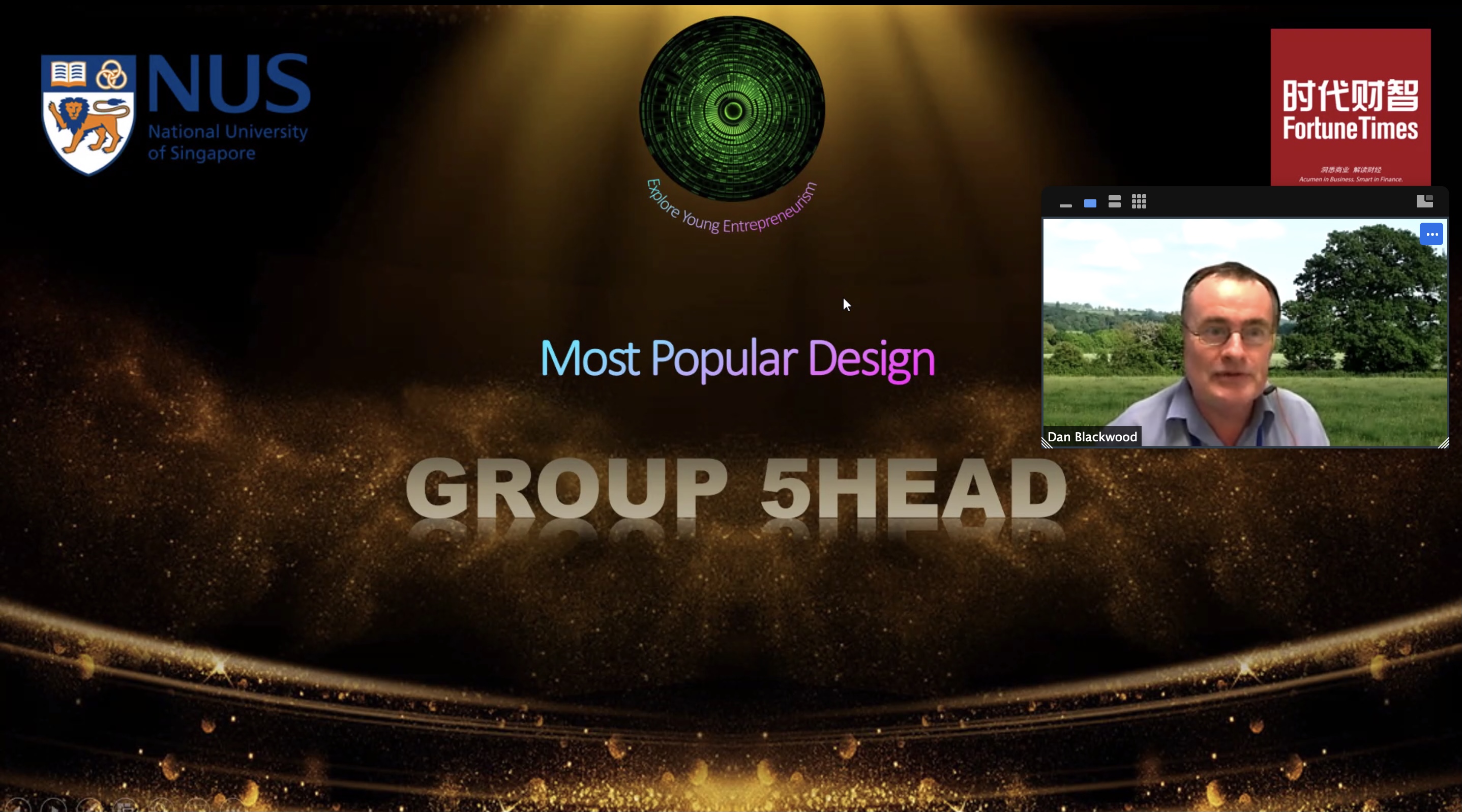 Prof Daniel John Blackwood, deputy head for Education of NUS MSE said, "With the advent of artificial intelligence and the approach of Industry 4.0 materials engineers need to work in multidisciplinary teams. We aim to train our graduates not just to participate in such teams, but to take on leadership roles in the conception, design and operation of innovative technologies. To achieve this it is vital that our graduates have an understanding of all aspects of the commercialization process. "
The team Group 5Head, their video titled as "The Story of CryoForm" posted in Facebook and won the Most Popular Award with 23,000 like in one month. The team spent about 3 weeks to conceptualise the product and finally decided to design a thermal interface material to cater specifically to gamers.
Calvin Soh, the team leader shared the method of utilising content marketing that they posted their Facebook video to various sites where gamers often congregate such as reddit. They also engaged technology blogs to do write ups in order to attract more traffic to the Facebook video. Soh said, "Current economy outlook is in recession. In order to be successful in any industry, knowledge of the subject is not sufficient. Good communication skills and interactive presentations should also be a part of classes."
As a leading Chinese business media group in Southeast Asia and with a 16-year history, Fortune Times is pleased to provide the opportunity of digital platform, E.Y.E for the young talents, not only for practice but also excise the entrepreneurism in the future. To improve the confidence of young talents in facing upcoming challenging in future, it is also one of the corporate social responsibilities of Fortune Times.