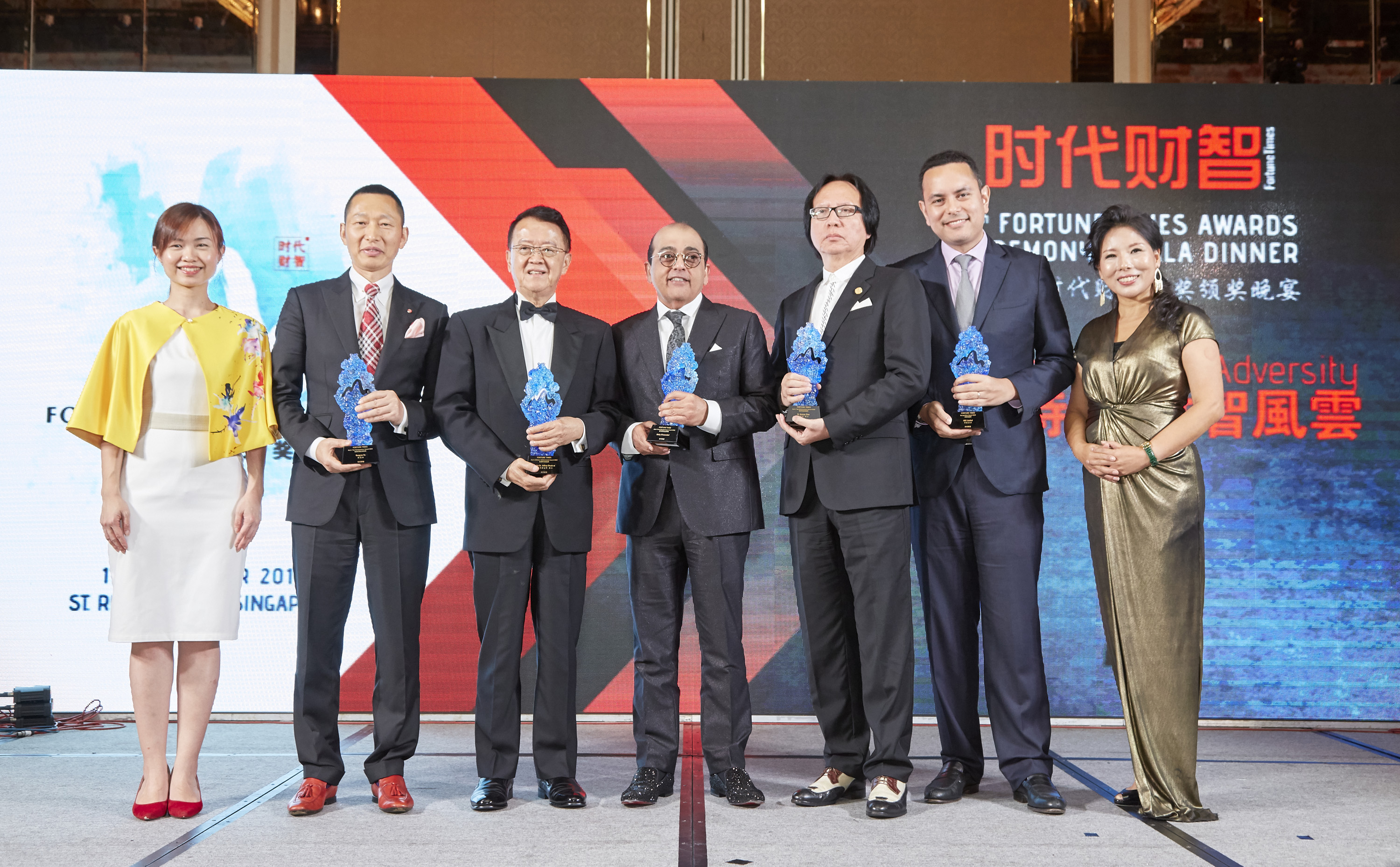 (Singapore, 11 Dec 2019) Fortune Times, a leading Singapore-based Chinese business magazine in Southeast Asia, has conferred its annual awards to four outstanding Asian entrepreneurs and OUE Ltd at its 5th Fortune Times Awards (时代财智大奖) Ceremony and Gala Dinner at St. Regis Hotel Singapore on 11 Dec, 2019.
The theme of this year's awarding ceremony is "Living in Times of Adversity", which is echoed by a panel discussion on "Outlook for 2020" in the beginning.
The four winning entrepreneurs are Tan Sri Dr. Jeffrey Cheah, Founder, and Chairman of Sunway Group; Mr. Xu Rongcan, Founder & Chairman of Sasseur Group; Mr. Bobby Hiranandani, Co-Chairman of Royal Group of Companies; Dr. George Zhou, Managing Director of TENWIT Consultants Pte Ltd.
The winners are honored for their outstanding performance and contributions to business, society, education, and charities in Singapore and Asia.
As the Guest of Honor, Ms. Tin Pei Ling, Member of Parliament and CEO of Business China, recognised in her speech the role of Fortune Times as a Chinese media in Singapore. (Please click here for Ms. Tin Pei Ling's speech)
The panel discussion was joined by Dr. Liu Thai-Ker, Singapore's Master Planner and Chairman of Morrow Architects & Planners, and Prof. Michael Goutama, Chairman of the Indonesian Chamber of Commerce and Industry, Singapore Committee and Ms. Tan Su Shan, Group Head of Institutional Banking at DBS.
The three panelists shared their insights for next year, focusing on the issues of global climate change, the US-China trade tension and next year's economic growth.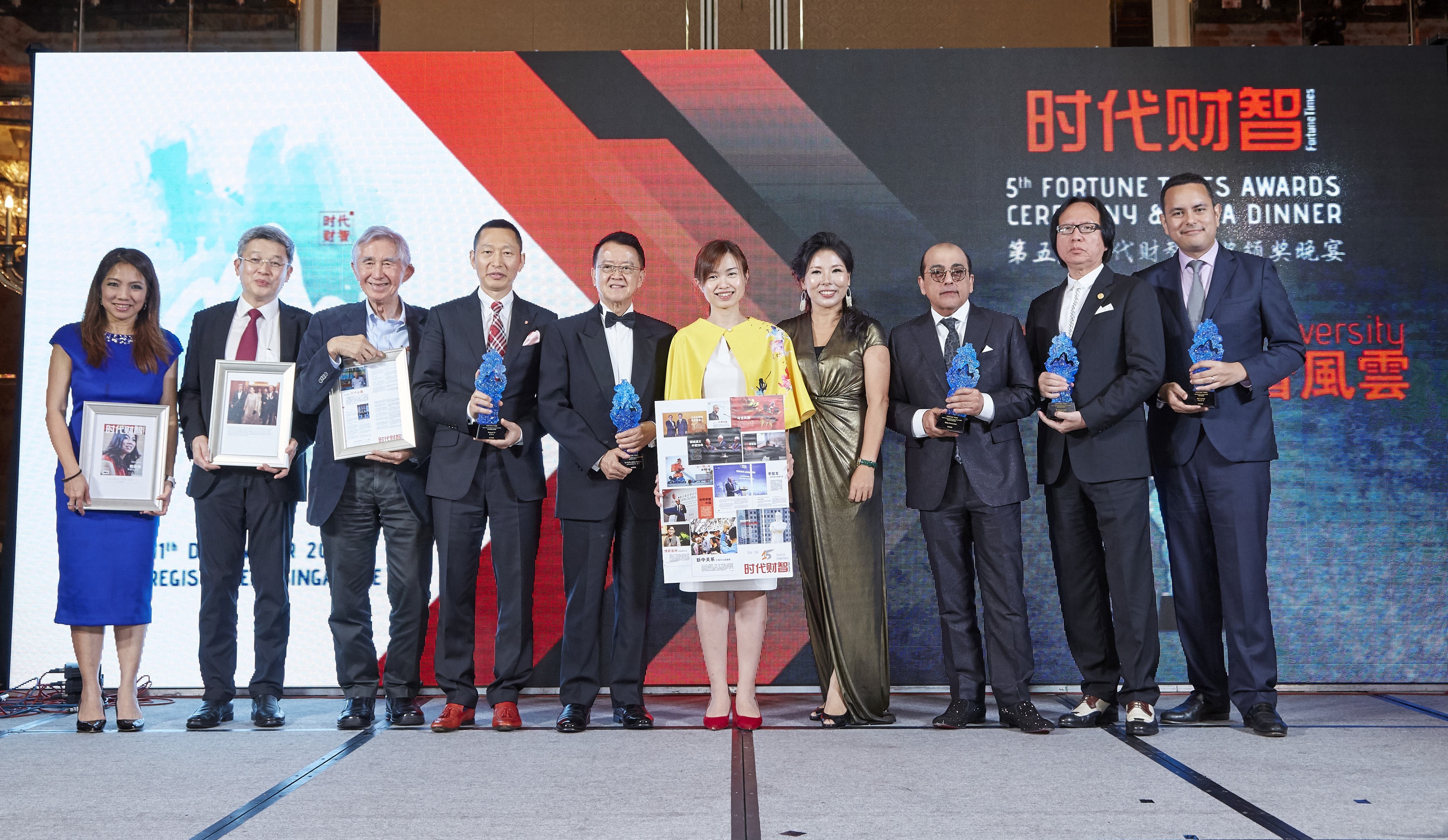 Dr. Liu Thai-Ker views sustainability as his top concern for next year. He believes in Singapore's far-sighted urban plans. Prof. Goutama is generally optimistic about next year's economic growth in Singapore and the region.  Ms. Tan explains that the Singaporean government's recent launch of a US$2 billion green financing investment program will be a long-term project and won't necessarily cause significant changes to the life of ordinary people next year. She also shared his views on the Hong Kong issue and how it would affect Singapore.
Ms. Annie Song, the Editor-in-Chief of Fortune Times, the event organizer, said in her opening remarks: "The world is in its crossroads of uncertainties, such as the prospect of the trade tension, the Hong Kong issue, and Brexit. At the same time, it is also facing a very certain global climate crisis. They call the media to exert new roles and to undertake new responsibilities."
This year's ceremony also marks the 15th Anniversary of the founding of Fortune Times – a bimonthly publication available in all business lounges of Changi Airport Terminals and on board with all Singapore Airlines First & business Class Cabins and SilkAir Business Class Cabins.
Winners of Fortune Times Awards 2019 
Asia's Lifetime Achievement Award 2019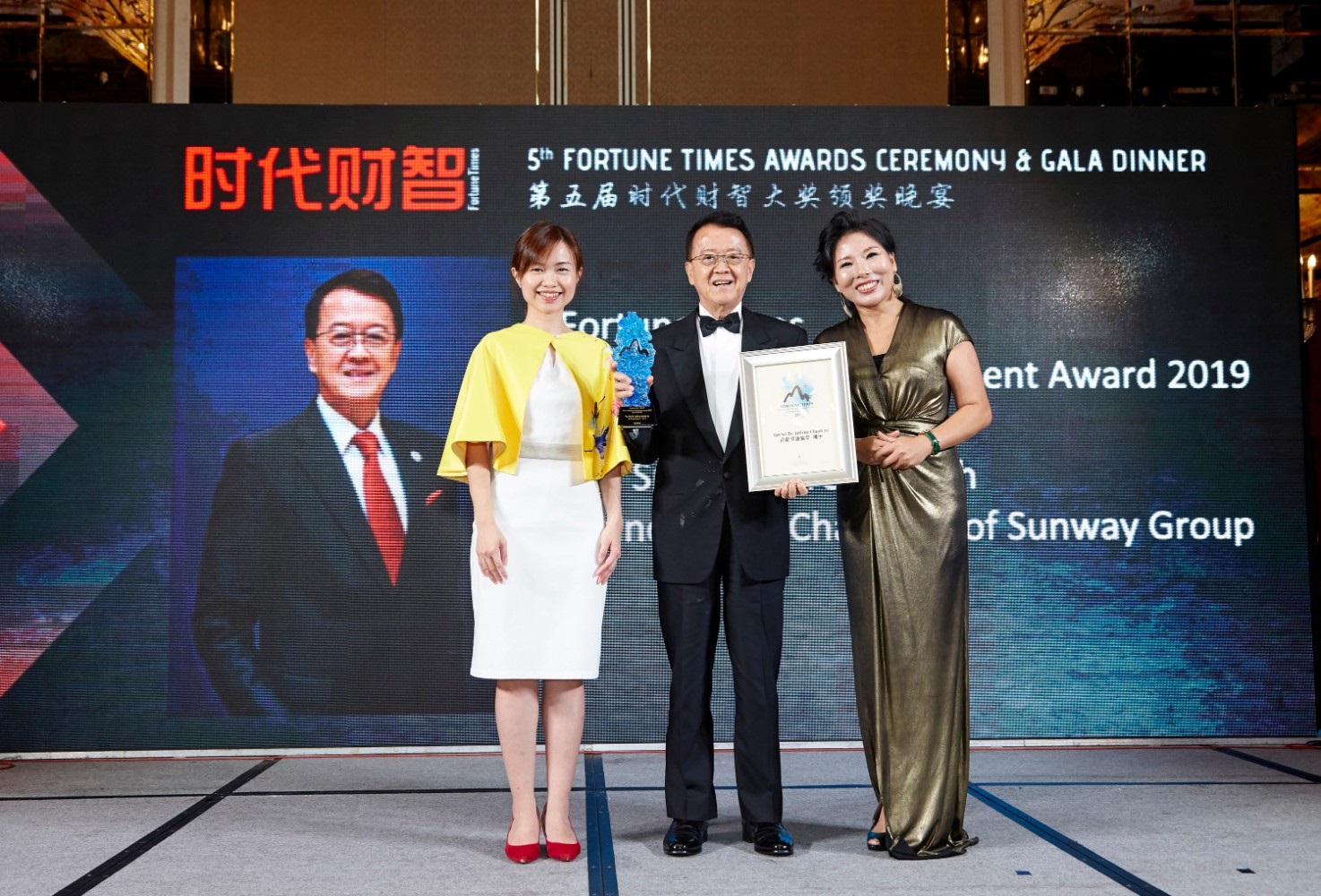 Tan Sri Dr. Jeffrey Cheah
Founder and Chairman of Sunway Group
Tan Sri Dr. Jeffrey Cheah is the founder and chairman of Sunway Group, one of Malaysia's largest conglomerates with core interests in real estate, construction, education and healthcare. Its 12 business divisions operate in 50 locations in the region, supported by a staff of more than 16,000.
Tan Sri is also the founder and trustee of Malaysia's largest education-focused social enterprise, the Jeffrey Cheah Foundation. The Foundation reflects his conviction that quality education offers the best route out of poverty and should be a not-for-profit venture.
The Foundation has disbursed more than 482 million Ringgit in scholarships as of 2019. It is Tan Sri's goal to award more than one billion Ringgit in his lifetime. Reflecting his life-long commitment to the sustainable development agenda, the Foundation also endowed 10 million US dollars to the United Nations to establish the Jeffrey Sachs Center on Sustainable Development at Sunway University.
In recognizing his commitment to sustainability, the United Nations Sustainable Development Solutions Network appointed him as Chairman of its Malaysian chapter earlier this year.
Tan Sri has been conferred 10 honorary doctorates by leading universities worldwide and is an Honorary Fellow of Cambridge and Oxford universities, as well as a member of Harvard University's Global Advisory Council.
He is the first Malaysian recipient of the Lifetime Luminary Award by Singapore-based Channel NewsAsia and was named three times as Forbes Asia Hero of Philanthropy.  His other honours include Order of Australia (AO) conferred by the Australian Prime Minister.
Asia's Top Entrepreneur Award 2019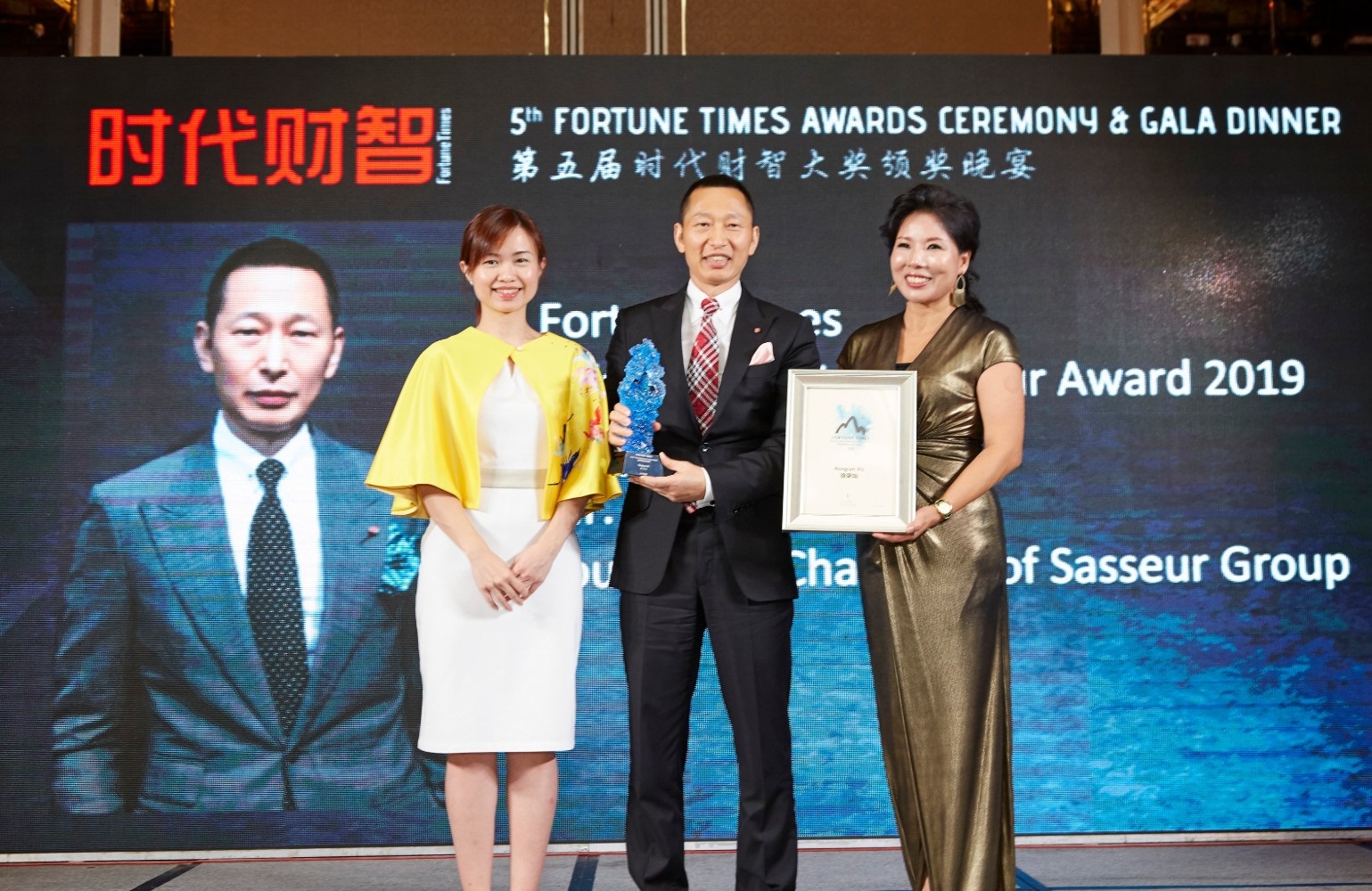 Mr. Xu Rongcan
Founder & Chairman of Sasseur Group
Mr. Xu Rongcan is the Founder & Chairman of Sasseur Group. He is also Chairman of Sasseur Asset Management.
Mr. Xu Rongcan started working on black and white photography during his Southwest University (Chongqing, China) days in 1985, with beauty being the most important element in his eyes. In 1989, Mr. Xu embarked on his art and business dream in Chongqing with RMB6,500, founding the "Sasseur" brand through the opening of a cafe. From 1992 to 2005, he then experienced various roles in the clothing industry, having operated international fashion retail stores and represented international designer clothing. Later on, Mr.Xu created his own high-end women's clothing line under the brand "Sasseur." The valuable experience he gained over the years helped to lay a solid foundation for Sasseur's entry into the outlet industry.
In 2008, he led Sasseur to successfully transform and create the group's first outlet project – Sasseur Chongqing Outlets. With its stunning design and architecture, the Chongqing Outlets mall was named one of the "Top Ten Fashion Landmarks of Chongqing". Under Mr. Xu's leadership, Sasseur Outlets' development outpaced many of its peers.
In 2017, Mr. Xu decided to list some of Sasseur's properties as a Real Estate Investment Trust ("REIT") in Singapore, to create a capital recycling platform for Sasseur group. On March 28, 2018, Sasseur REIT (SGX: CRPU) went public successfully on the Singapore Exchange as the first retail outlet mall real estate investment trust in Asia. Since then, Sasseur REIT has outperformed its DPU projections for six consecutive quarters and was highlighted as one of the top-performing S-REITs with over 47% of total return YTD. Its outstanding performance contributed to the Sasseur Group being ranked 17th out of the top 100 private enterprises in Chongqing in 2019.
For his close work and partnership with Italy and its fashion brands, Mr. Xu was conferred the honor of Knight of the Order of the Star of Italy by Italian President Sergio Mattarella. He also received the Merit Award as part of the 40th Anniversary of China's Commercial Reform and Opening-up for his contributions to his country.
Asia's Young Entrepreneur Award 2019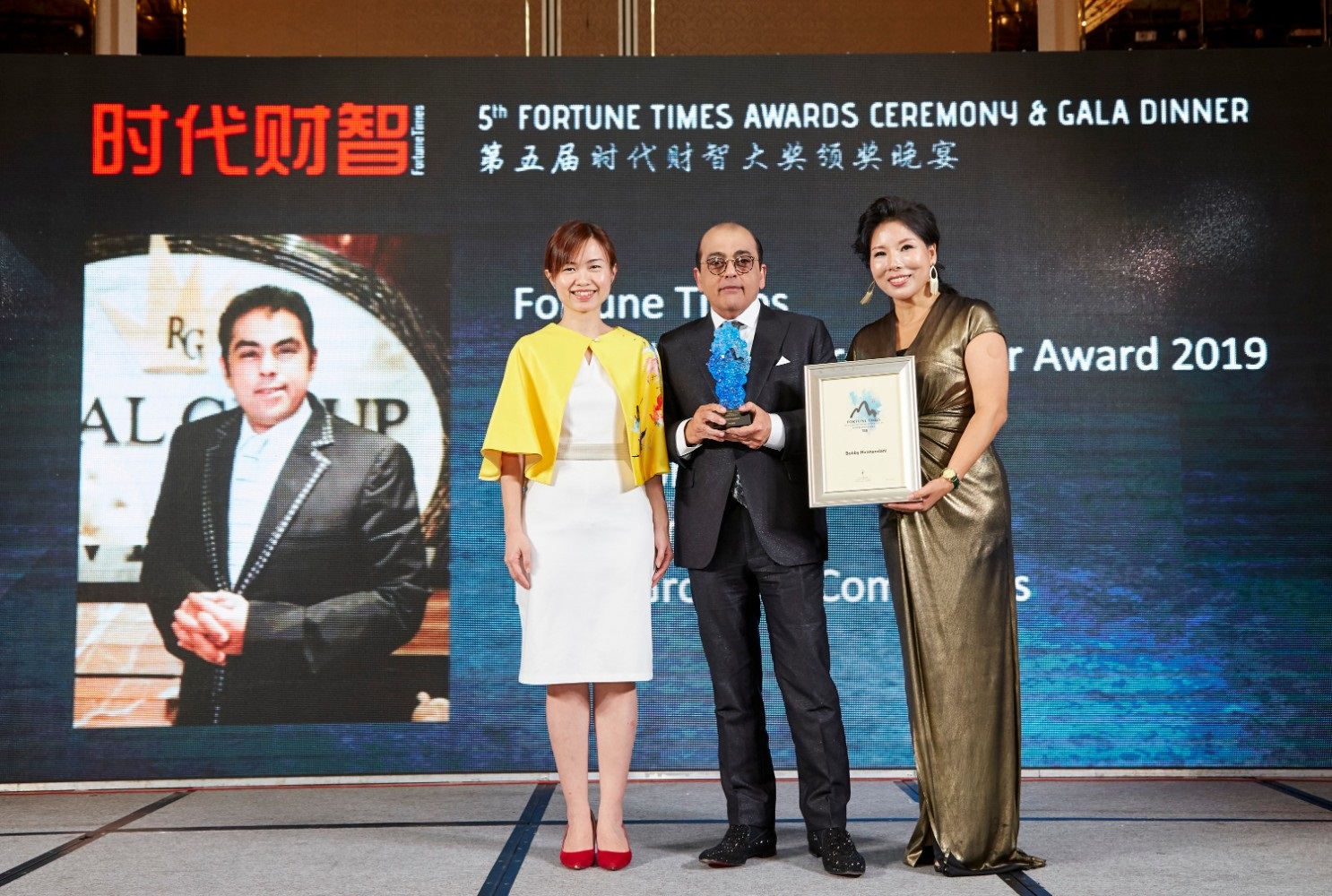 Mr. Bobby Hiranandani
Co-Chairman of Royal Group of Companies
Mr. Bobby is Co-Chairman of the Royal Group of Companies. He is a graduate in Construction Management and brings the necessary skills in the building and development of hotels and offices that complement the overall group's strategy and philosophy. On becoming the Groups' Co-Chairman, Bobby has embarked on the company's most ambitious hotel project, transforming the old landmark TAS building into a hotel of 134 guestrooms under the Sofitel SO label from the ACCOR group. Being his first SOLO project, he has closely involved in the 130-million-dollar project himself.
Royal Group of Companies is focused on the investment of properties across the Asia-Pacific region. The group has over 70 years of combined expertise in the development and management of properties. Established in 1947, the group has invested in a diverse range of properties, including Hotels, Shopping Malls, Office Towers, Residential serviced apartments and industrial buildings in the region.
Asia's Top Achievement Award 2019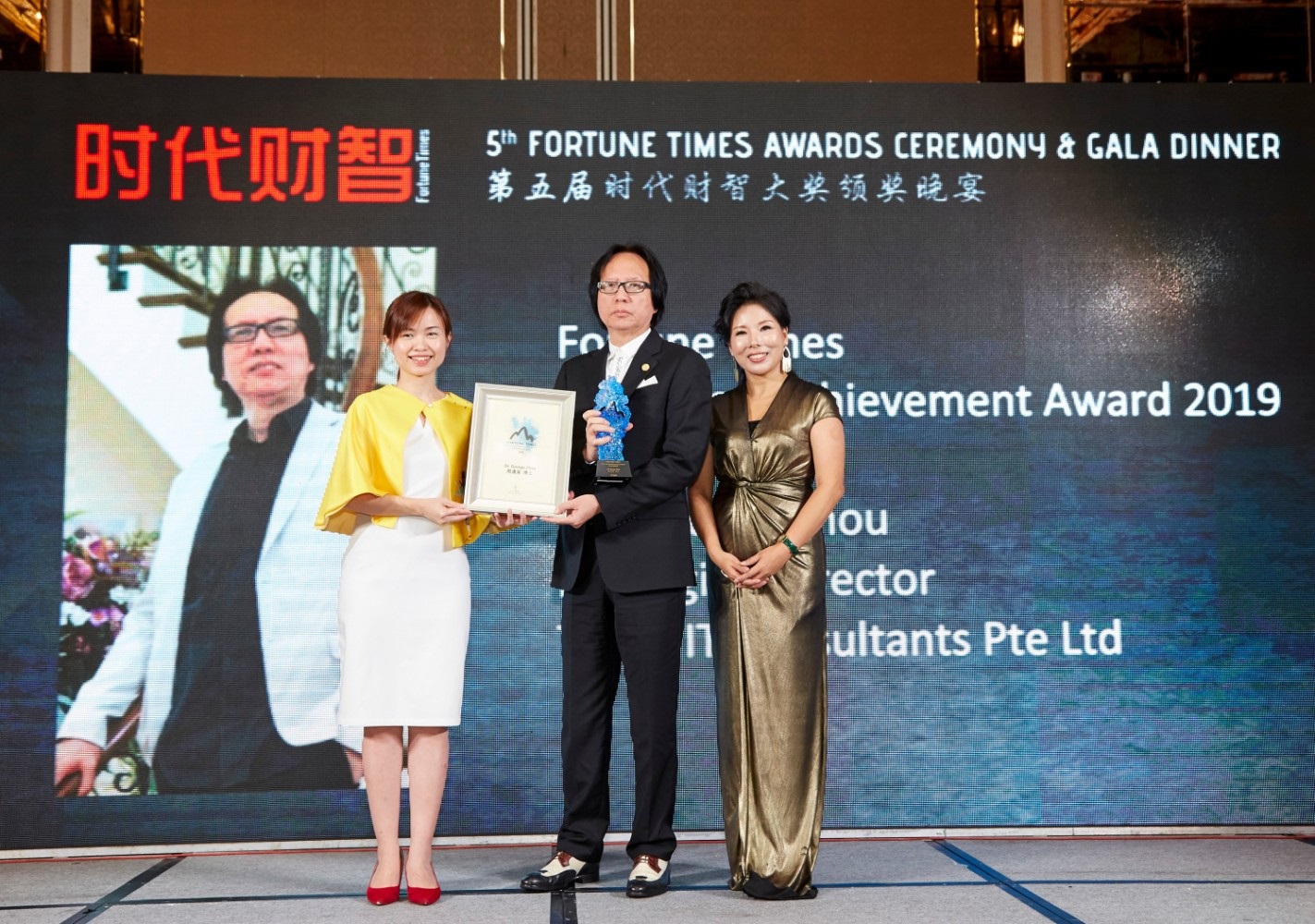 Dr. George Zhou
Managing Director of TENWIT Consultants Pte Ltd
Dr. Zhou Tongquan is currently the managing director of TENWIT Consultants Pte Ltd, which was founded in 1998. He has designed numerous structures, including the world's largest desalination plant in Algeria and Singapore's largest Waste-To-Energy Incineration Plant. 
Born in Chongqing in November 1961, Dr. Zhou was admitted to the fourth Chinese overseas student qualification in Japan in 1984, two years after graduating from Chongqing University, as one of only 150 overseas study students to Japan in China that year.
Before relocating from Japan to Singapore in 1992, Dr. Zhou was a researcher for SHIMIZU corporation during his graduate studies abroad. Thus working part-time as a programmer, Dr. Zhou unwittingly laid the foundation for his future success. Today he is one of a small number of structural consultants, if not the only one, who specializes in developing computer programs from scratch to deliver expedient work solutions. 
In the history of Singapore's Civil Engineering industry, Dr. Zhou is the first Mainland Chinese immigrant to have attained a professional engineer license. This license was granted in 1997, five years after he had made his residency in Singapore. 
Dr. Zhou has also made his mark in the literary scene in the Asia Pacific. In 2015, under the pen name of " QiaoZhouRen," Dr. Zhou published his autobiographical novel, "The Blueprint of Ambitions," in Singapore. In 2018, this novel was shortlisted for Xinhua Literary Series. In 2015, Qiao Zhouren's essay "Chengdu Leisure Chengdu" was shortlisted for the Xinhua Literature Department Prose Collection. In 2017 "The Blueprint of Ambitions" was published in China under the name of "A Chongqing Lad's Success in Nan Yang."
In March 2017, LianHe ZaoBao ran in its financial figures column a report titled "Engineering heroes: Zhou Tongquan Dreaming the world." In the same month, China's CCTV reported that "Singaporean Chinese Zhou Tongquan won the reputation of" Engineering Hero "for 25 years". In November of 2017, Dr. Zhou was invited to give a lecture at NTU University: Engineering world vs. literary world —The action code in the changing world to settle down. 
In 2018, China's First Financial TV Station released a documentary about Zhou Tongquan's "Silk Road Chasing Dreams Issue 6". At the close of 2019, the "WHO'S WHO OF THE SINGAPORE TOWKAY (leader Biography) " published by Lianhe Zaobao included Dr. Zhou's achievements in a compilation of biographical sketches on 500 leaders across diverse industries.
Recognition Award 2019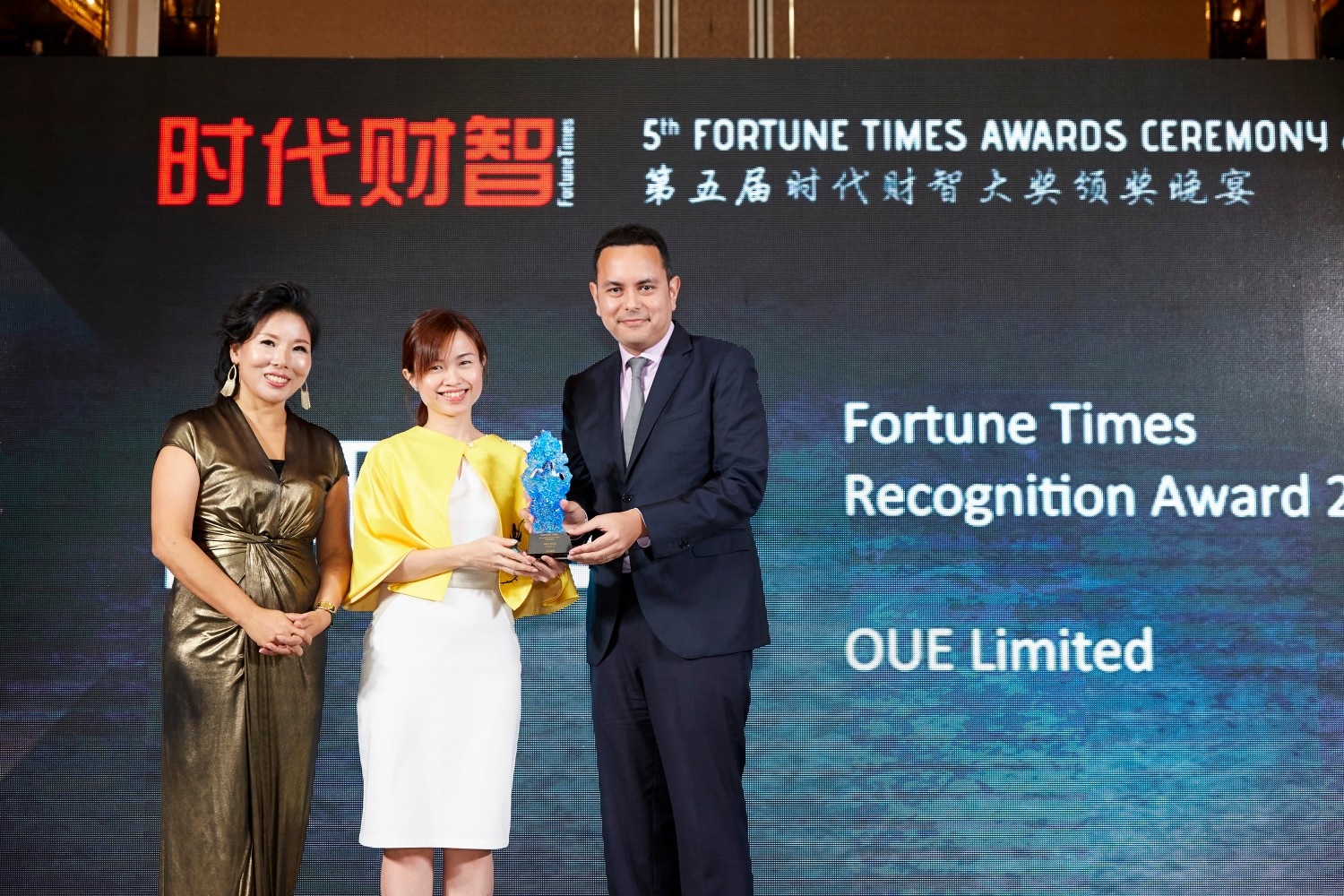 OUE Limited 华联企业
OUE Limited is a diversified real estate owner, developer, and operator with a real estate portfolio located in prime locations in Asia and the United States engaged in commercial, hospitality, retail, residential developments, and healthcare. Its core business includes hospitality, property Investment, property development, healthcare, and fund Management.
OUE consistently grows its business by leveraging its brands and proven expertise in developing and managing landmark assets across the various sectors. With its core strategy in investing in and enhancing a stable of distinctive properties, OUE is committed to developing a portfolio that has a strong recurring income base, balanced with development profits, to enhance long-term shareholder value. 
OUE is the sponsor of OUE Commercial Real Estate Investment Trust, listed on 27 January 2014, established with the principal investment strategy of investing, directly or indirectly, in income-producing real estate for hospitality and/or hospitality-related purposes, and commercial purposes in financial and business hubs respectively. 
In March 2017, OUE expanded its portfolio into the healthcare sector with the acquisition of OUE Lippo Healthcare Limited, a listed integrated healthcare services and facilities provider. This was followed by the acquisition of Bowsprit Capital Corporation Limited, the manager of First REIT, Singapore's first healthcare real estate investment trust, in October 2018.
By Sep 30, 2019, OUE's market capitalization reached S$1.3 billion, and its real estate portfolio reached S$9.8 billion.
About Asia's Lifetime Achievement Award 2019
This award will go to an outstanding candidate with age above 70. The candidate has established his or her legacy during his lifetime and can best demonstrate extraordinary passion, vision, innovation, and leadership in the development and sustained growth of a business or profession. The candidate can be an active leader in a company or an incumbent leader in organization or even a retiree. The organization must have a business relationship with Singapore.
About Asia's Top Entrepreneur Award 2019
This award goes to an outstanding entrepreneur. The candidate must be the owner/founder/important stakeholder of the enterprise and should incorporate his/her business in Singapore or has business relation to Singapore. The candidate has demonstrated his/her excellent capability, practice, innovation, vision, and leadership in business development and sustainability. The candidate's company/business has stable financial performance and advocate good practice and governance in the industry. It must have achieved excellent growth and performance in the business and made possible a news-worthy and well-written business story in the press, more importantly, made commendable contributions to the community and society.
About Asia's Young Entrepreneur Award 2019
This award goes to an outstanding young talent below 45 years old. The candidate has best demonstrated exceptional leadership, innovation, and vision in the development and sustained the growth of a business or profession, respectively, with age below 45.
About Asia's Top Achievement Award 2019
This award goes to an outstanding candidate who best demonstrates extraordinary passion, vision, and leadership in his business or profession. The candidate must play a key leadership in a company or organization, or an agency. The organization is registered in Singapore, which has best demonstrated exceptional drive and visions in business.
About Recognition Award 2019
This award goes to an enterprise that has been supportive of the media industry in South East Asia. Also, the candidate enterprise has been making an outstanding contribution to the region's economic and social development.
About Fortune Times
Fortune Times|时代财智 is a leading Chinese language business magazine in South East Asia. It was launched in 2004 and is mainly distributed in Singapore, Hong Kong, Malaysia, and Indonesia. Fortune Times is also becoming an ideal platform for the enhancement of corporate branding as well as business collaboration across Singapore, South East Asia, and China.
The magazine copy is on board with all Singapore Airlines First & business Class Cabins and SilkAir Business Class Cabins, and is also available on all business lounges in Changi Airport Terminals and selected regional 5-star hotels.
The profile of Fortune Times readers is mainly business owners and professionals, senior managerial personnel, sole proprietors, management of public listed companies, and Billionaires/Millionaires who have businesses around the region. Fortune Times is also attracting a readership pool of "new immigrants," especially those from Mainland China.