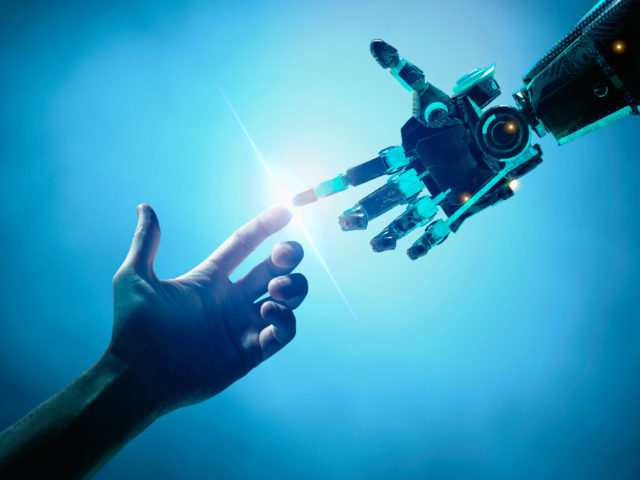 Singapore, 13 March 2018 – Live With AI (LWAI), an independent think tank of about 50 thought leaders from France and Singapore with academic, innovation, scientific, entrepreneurship and business backgrounds, was formally launched last night at ESSEC Asia-Pacific in Singapore.
The event was attended by close to 120 people, including industry leaders and representatives of some Singaporean government agencies (SG Innovate, Economic Development Board of Singapore and Integrated Health Information Systems). ESSEC Business School's Global Dean & President, Vincenzo Esposito Vinzi, was also present to mark the occasion.
The think tank is being initiated as part of the 2018 France-Singapore Year of Innovation, which follows a joint declaration on innovation during last year's State Visit to Singapore by former French President François Hollande. The initiative led by Pierre Robinet, Vice President of OgilvyRED Asia Pacific, emphasizes the importance of cross-country collaboration and knowledge sharing around an issue that will significantly change lives, but which is still far from being well understood.
 "Artificial Intelligence has been created by human intelligence and it has become a tremendous resource for humanity. We all live with AI on a daily basis and it is everyone's concern to better understand and leverage these technologies to empower humans, improve our society and positively advance our business". said Pierre Robinet, OgilvyRED Asia-Pacific Vice President, who is leading the LWAI think tank.
 Members will propose actionable plans, deepening French-Singaporean relationships in the Artificial Intelligence (AI) domain and fostering synergies between academia, research, business and entrepreneurs. Its members are united in their shared belief that AI can create positive social and economic changes while contributing to human development.
 In partnership with ESSEC Business School Asia-Pacific, LWAI members and students from the International Business Education Alliance (IBEA) program will conduct research to assess AI's impact on health, transportation, finance and the environment. They will look at major societal changes including ageing populations, new human-machine interfaces, content overload, rapid urbanization, social divide, and natural resources overuse, with a view to proposing actionable insights.
"Artificial Intelligence offers an opportunity for us to innovate like never before, to create new value not only for our organizations but, more importantly, for society at large. Specifically, I believe that new AI technologies should be designed to help innovators gain new insights into identifying the right kind of problems to be pursued by innovators, and in so doing, create new value for each and every individual in an organization, a community, and throughout society," said Prof. Kevyn Yong, Dean of ESSEC Asia-Pacific.
Guests at the event saw a vibrant panel discussion on a topic of fundamental importance to Singapore's future: how AI will impact health and ageing in the future. The debate, included inputs from Christopher Lien, Director of Community Geriatrics at Changi General Hospital, Mounir Mokhtari, Prof. Institut Mines – Telecom, Director CNRS IPAL (UMI 2955), Joydeep Sarkar, Chief Analytics Officer, Holmusk and Jason Tamara Widjaja, Associate Director, Data Science MSD.
The panellists shared their views on disease prevention, the future of clinical trials, frailty and related risks, new living behaviours among seniors, disruption to traditional healthcare business models and the possibilities of AI-driven drug discovery. Important points were raised around the future of hospitals – including how the role of doctors and surgeons will evolve as AI is introduced and the affordability of integrating this technology.
Other areas of discussion included:
The use of AI in addressing cognitive disorders

The way data will be used in AI-driven healthcare – and how that data will be protected

The role of AI in the war against diabetes

The benefits of equipping emergency response teams with AI systems

The merits of memory downloads and a future where human brains interface more directly with smart systems
Live With AI