(Singapore, 18/11/2022) Singapore Prime Minister Lee Hsien Loong said in his Facebook post that he hopes to meet his Chinese counterpart Xi Jinping again soon after their yesterday's meeting in Bangkok.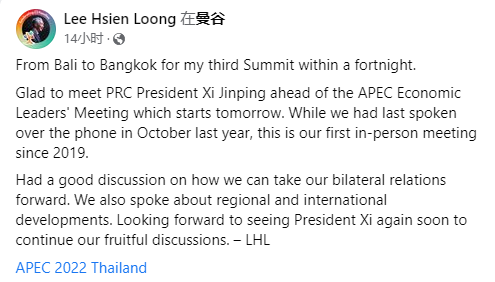 Lee Hsien Loong said he had a good discussion with President Xi (Source: Lee Hsien Loong Facebook)
"(We) had a good discussion on how we can take our bilateral relations forward. We also spoke about regional and international developments", said PM Lee after his meeting with Xi on the sidelines of the 29th APEC Economic Leaders' Meeting in Bangkok, Thailand.
This is their first in-person meeting in three years. They last met in person in April 2019 at the Belt and Road Forum in Beijing. In October 2021, they discussed ways to jointly boost economic recovery over the phone.
PM Lee also said in his post that he is looking forward to seeing President Xi again soon to continue their fruitful discussions.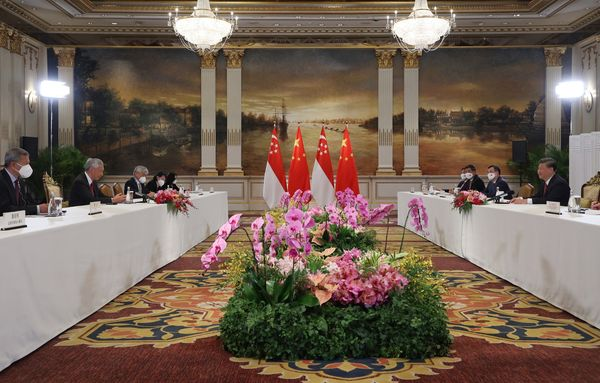 Singapore and China delegates are meeting in Bangkok, Thailand on Nov 17, 2022 (Source: Lee Hsien Loong's Facebook post)
According to China's Xinhua News Agency, Xi pointed out that facing the once-in-a-century pandemic and changes unseen in a century, China-Singapore relations have maintained a sound momentum. This has not only facilitated the COVID-19 response and economic recovery of the two countries, but also injected positive energy to stability and prosperity of the region.
"The China-Singapore relationship is forward-looking, strategic and exemplary", said Xi.
The two leaders arrived in Bangkok from Bali, Indonesia, where they attended the G20 Leaders' Summit.
After the conclusion of 20th National Congress of the Communist Party of China, Xi held a string of bilateral talks with leaders from several countries. Xi earlier met his US counterpart Joe Biden, French President Emmanuel Macron and South Korean President Yoon Suk-yeol in Bali, among others. He also met Japanese Prime Minister Fumio Kishida in Bangkok yesterday.