Mount Soputan in Indonesia erupted on Wednesday Oct 3, throwing volcanic ash as high as 4,000m into the sky, days after an earthquake and tsunami killed more than 1,200 people in the same island.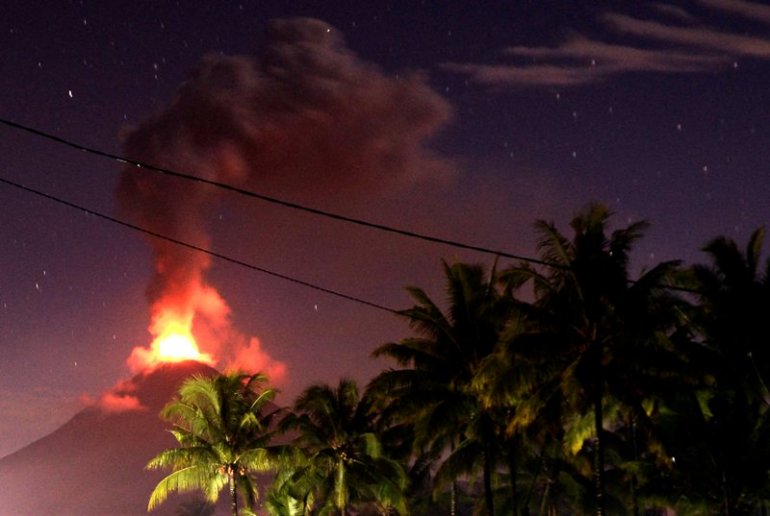 The authorities ordered people out of a 4 km radius of the peak of the Mount Soputan in North Sulawesi province, citing threat of lava and simmering clouds from the eruption, according to the National Disaster Mitigation Agency.
The eruption comes less than a week after a 7.4-magnitude earthquake and subsequent tsunami killed at least 1,234 people and displaced more than 60,000 people in Central Sulawesi. Mount Soputan is located about 900 km north-east of the quake ravaged region and there were no immediate reports of any casualties from the volcanic eruption.
President Joko Widodo headed back to the quake-affected areas for a second time on Wednesday to supervise rescue and relief operations as reports of mass looting of food and other goods emerged.
The toll may rise as rescuers were unable to extricate people suspected to be buried under buildings that collapsed due to liquefaction, a phenomenon that causes soil to lose its strength after violent shaking, according to Mr Nugroho.
Though Central Sulawesi accounts only for about 1 per cent of the country's gross domestic product, the reconstruction cost may weigh on the government's finances as it battles a slump in the currency.
The rupiah weakened past 15,000 per dollar for the first time in 20 years on Tuesday and is down 10 per cent this year.