(Singapore, 26 Nov 2021)Through 3 months' nomination and selection, Fortune Times, a Chinese business magazine in Singapore, held the hybrid award ceremony for the 7th Annual Fortune Times Awards on 25 November 2021 at Distrii Singapore. Mr. Jason YEO, Founder and Chairman of the JCS Group, has been awarded the "ASIA'S MOST INFLUENTIAL ENTREPRENEUR" at the 2021 Fortune Times Awards Ceremony.
Under the new normal of the post-covid-19 era, technological innovation has become the driving force for economic recovery and sustainable development. As Jason Yeo climbs the ladder of entrepreneurship, he has given back to the community meanwhile, which led him to be awarded the "ASIA'S MOST INFLUENTIAL ENTREPRENEUR" by the judge panel of the 2021 Fortune Times Awards.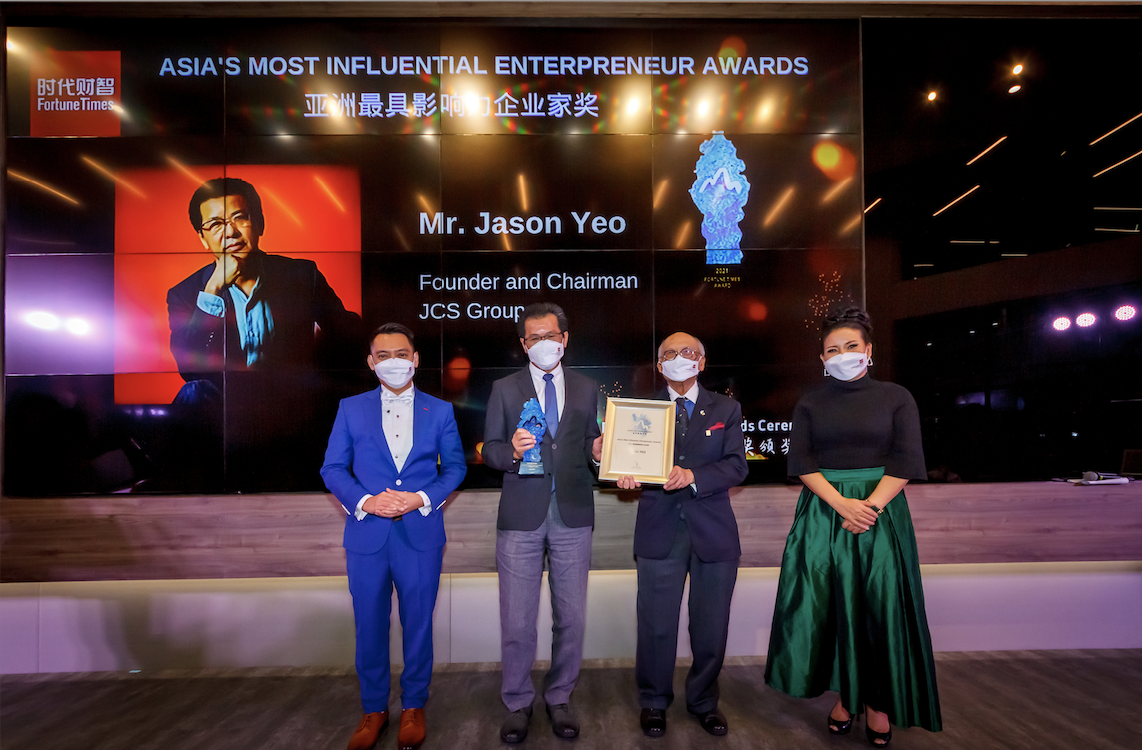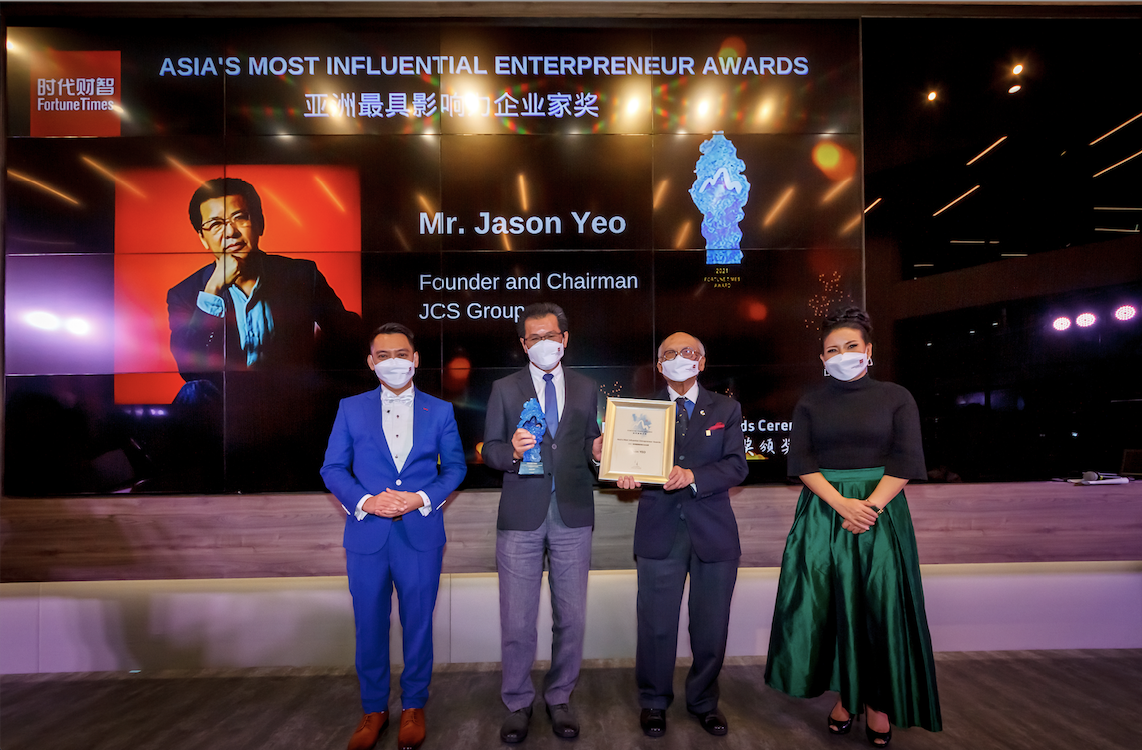 Mr. Yeo has a wealth of leadership and entrepreneurship experience in building and growing diverse businesses across Asia pacific and North America. He founded JCS  in 1990 and led JCS to become a multinational group company with growing businesses in a range of deep-tech industries. Mr Yeo has solid track record in identifying and investing in innovative technology projects with high commercial potential. His passion for environment, people, and innovation has been shaping JCS's commitment and consistent effort to produce environmental friendly products, to empower the team with the sense of ownership, and to build technology innovation platforms.
In 2013, he received his EMBA from NUS and in 2020, he received his EMBA from Tsinghua University. He is also committed to contributing to the community as an entrepreneurial advisor to the National University of Singapore, a member of the Advanced Manufacturing and Engineering Advisory Committee of the Ministry of Trade and Industry Singapore, an advisor to the National Research Foundation of the Prime Minister's Office.
As JCS became a multinational group company with growing businesses in a range of deep-tech industries, JCS Group focuses on environmental, social and governance (ESG) invest topics and is committed to fulfilling its social responsibility. In his thank-you-note, Mr. Yeo said, "JCS Group has helped many SMEs to complete their technological transformation. Our investment in technology gathers topics such as environmental protection, clean energy, and energy conservation, and we will continue to practice ESG and take up our corporate social responsibility in the future."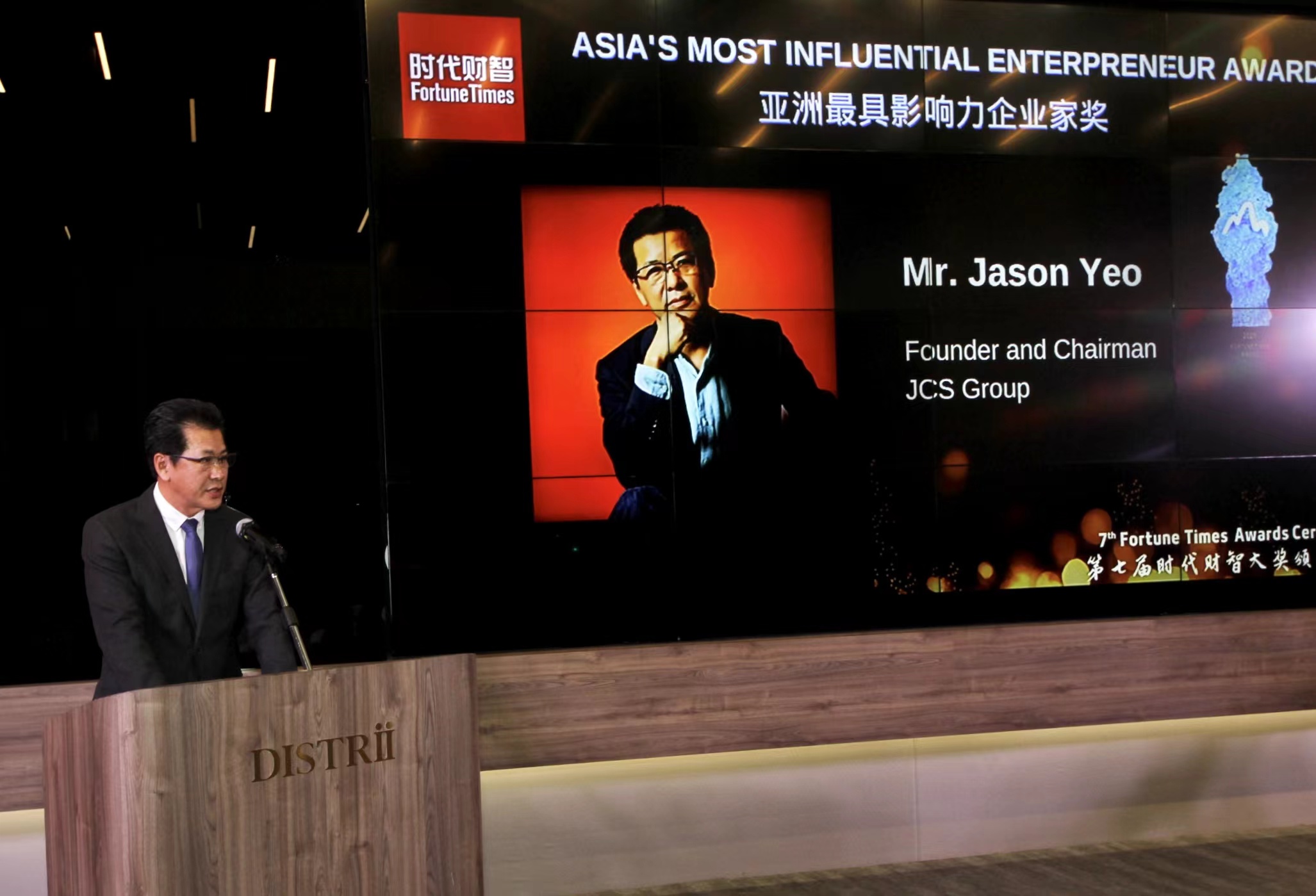 Ms. Annie Song, the Editor-in-Chief of Fortune Times, said in her opening remarks: "Compared to previous years, the success formula this year not only reflects the winners' characters including the innovation in solving market pain points, leadership in business development under the epidemic, and the capability to expand the marketing platforms, but also highlights the strategic geographical location of Singapore's, expanding business opportunities to China, to the region, and even to the world."
This year, five awards were presented on the Fortune Times Awards 2021, including the "ASIA'S MOST INFLUENTIAL ENTREPRENEUR" award, which is given to an leader, founder, owner or C-suite equivalent management of the company. The winner's company must have been operating in Asia for at least three years, have annual revenues in excess of $8 million, and have more than 50 full-time employees. Under the inspiring leadership of this recipient, the company has achieved rapid growth and generated good operating results with a high priority on sustainability and the company's business objectives have contributed to the country and society.