(Singapore, 22 December 2022) To raise public awareness about dementia, two non-profit organisations, Family Business Network (FBN) Asia and Inner Wheel Club (IWC) Singapore West works hand in hand, by holding "LIVING WITH LUCY ~ A Journey With Dementia" jukebox musical performance on 24 and 25 February 2023.
The jukebox musical is a local production that takes the audiences on the journey of a person with dementia and her caregivers, in a lighthearted yet emotional way. The jukebox musical sends the message that patients with dementia can live their lives with lucidity and renewed purpose with the support of their loved ones and their communities.
Dementia is becoming an increasing serious concern in the society. Singapore's rapidly aging population is estimated that by 2030, one in four people will be over 65 years old, and this will rise to almost one in two by 2050, increasingly aggravated by dementia. This prevalent upsurge runs in parallel with more people being diagnosed with young-onset dementia, and the number is set to grow.
In recent years, mental disorders have become increasing prevalent posing wider challenges. These are further worsened by the ongoing and constantly evolving virus, with reported increases in anxiety and depression in general population.
This charity performance seeks to raise funds to support National University of Singapore (NUS) Mind Science Centre's programmes, including to support ongoing research and programme for dementia prevention to delay the onset of dementia, as well as to establish and develop broader training for volunteers and caregivers on dealing with and recognising early symptoms of dementia and on handling people with mental health issues.
In conjunction with the jukebox musical, Dr Lee Oi Kum, board director of FBN Asia, Helen Yang, executive of FBN Asia (Singapore Membership and Programmes), Janet Lim, IWC Singapore West past president and Mary Anne Tan, executive producer of "Living with Lucy" shared what led to the staging of the jukebox musical.
In March 2022, Dr Lee was invited to a jukebox musical "An Undefeated Mind", which tells the stories of dementia patients and caregivers. By chance, she met Mary Anne who was in charge of the staging and show.
"The musical moved me so much, I laughed and also shed some tears during the show. However, it was a shame that the show was stage for only one night and during COVID, the audience was small that not many were able to enjoy. When I met Mary Anne, she agreed to act as the liaison person to stage a production again if we are able to come up with a budget of S$100,000," Dr Lee said.
Although FBN Asia and IWC are two different organisations by nature, but both organisations decide to collaborate together for a common goal, by raising further public awareness of dementia.
Dr Lee said: "Families in FBN each have either their own foundation and/or participate in areas we call 'force for good', meanwhile in IWC, from personal service to community service, it involves in provision of groceries to needy families. Thus with all these astrological signs align, I was able to convince both FBN and IWC to join forces to work on health mental in the elderly by support a cause of Mind Science Centre."
Compared to speeches or lectures, the two organisations decided to launch fundraising through musical performance as it will be more attractive to the public.
"The jukebox musical can achieve education for public on looking positively at elderly and mental health, and at the same time we hope from the audience, outreach for volunteers to join programmes after seeing the jukebox musical," Dr Lee added.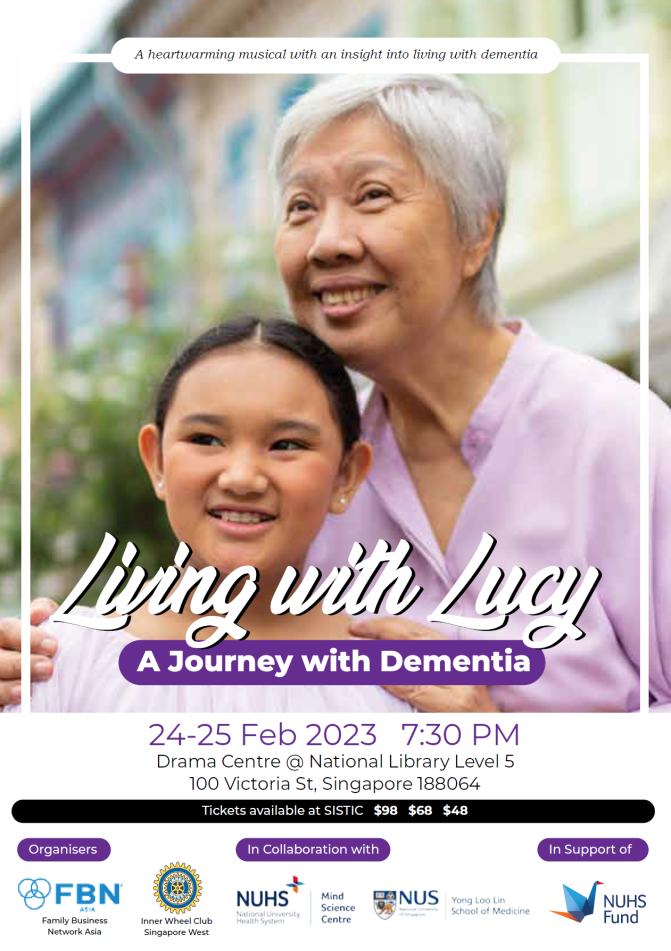 About "Living with Lucy"
Lucy, a newly diagnosed senior, with dementia is facing a dilemma. Her family intends to move overseas, as her son-in-law has found a new job in Shanghai. But Lucy refuses to move, as she is nervous about losing what little there is left, especially her familiar home, caring neighbours and loving friends. Grappling with a difficult decision to relocate, Lucy and her family are faced with real challenges. To live with Lucy or to leave her behind?
The theme of the jukebox musical performance is celebrating and honouring the resilience, love, and togetherness of persons with dementia and their caregivers.
Brian Gothong Tan, one of the leading creatives in Singapore serves as the performance's artistic director. Besides, music arrangements are specially done by Amni Musfirah, who is opened to breathing new life into existing songs to immerse the audience into the story. Music from ballroom, funk, pop and hip hop will be showcased throughout the entire jukebox musical.
Cast includes well known veteran Catherine Sng, best known for her television roles in "Reach for the Skies", supported by Kimberly Chan as daughter, Geng Zixuan as son-in-law and Fleur Loh as granddaughter.
The jukebox musical will be staged at 7:30 p.m. on 24 and 25 February, at the Drama Centre @ National Library Level 5. Tickets are available on sale at SISTIC.