— Maybank scores with a Football Fan in-app gamification, offering attractive prizes for Cardmembers
Singapore, 4 July 2018 — Aimed at boosting customer engagement on digital platforms, Maybank Singapore today launches the "Maybank TREATS SG Lifestyle" mobile application to enable credit and debit cardmembers to redeem rewards instantly in an e-coupon wallet as well as receive real-time notifications on promotions, privileges and flash deals. In a first, Maybank has partnered with the Manchester United Football Club to introduce a competitive "Football Fan" gamification element within the mobile app, offering top scorers a chance to win attractive prizes.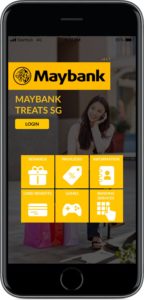 Cardmembers can now browse the Rewards Catalogue in "Maybank TREATS SG Lifestyle" app anytime and use their TREATS Points to redeem their favourite item on the go. The rewards range from air miles to branded merchandise, with over 200 rewards for selection. They will also receive deal alerts, including coffee giveaway and S$1 flash deals, which can be redeemed by presenting e-coupons at various cashier points. New card applications can also be made through the app.
Cardmembers not only get access to good deals on the app, but also get to try their hand at scoring goals in the "Maybank Football Fan" gamification which was conceptualised in partnership with the Manchester United Football Club. Players can test their skills at the virtual training ground and stadium, or answer a few trivia questions to earn game credits.
To add fun to the game, cardmembers can upgrade the soccer balls in-game for better game play, dress up the game avatar with jerseys and purchase powerful boots for better performance with the game credits earned.
Mr Alvin Lee, Head of Community Financial Services at Maybank Singapore, said, "The launch of Maybank TREATS SG Lifestyle app aligns with the Bank's digital strategy to create seamless and real-time communications with our customers. We started to digitalise our cards business in 2015 so as to accelerate business growth, improve process efficiency and build new competencies to meet the changes in our operating environment. This in turn heightens our cards' value propositions and brings greater value to our customers. We are also pleased to partner exclusively with Manchester United Football Club to bring in a gamification element that facilitates card acquisitions and rewards cardmembers' loyalty."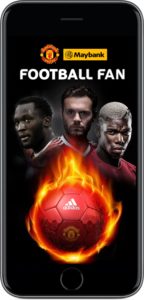 Ms Karen Low, Maybank's Head of Cards for Malaysia and Singapore, said, "Bringing our rewards programme to a mobile app platform is a strategic move as it allows the Bank to reach out to customers in real time. Redeeming rewards in an app is time-saving and with push notifications, busy individuals will not miss out on any promotions and deals that merchants are offering to cardmembers. In addition, the post-redemption reporting will be sent electronically to merchants for cost and inventory tracking, and overcomes common issues that merchants face, such as over-redemption which results in increased costs."
Manchester United Group Managing Director, Mr Richard Arnold comments, "Maybank and Manchester United have been partners since 2011 and during this time the relationship has brought some exciting products, incentives, rewards and events to many of our 22 million followers across Malaysia, Singapore and the Philippines. We are confident that Maybank's latest offering, the Football Fan app, will be very popular with our loyal supporters and Manchester United cardholders and will help us achieve our goal of engaging with our millions of followers across the ASEAN region."
The public can access and play the basic level of "Maybank Football Fan", while the competitive level and in-app privileges are exclusive to Maybank cardmembers. Maybank Manchester United Cardmembers in Singapore and Malaysia are eligible to compete in the "Shot at the Title" leaderboard where top players stand a chance to win attractive prizes every season. For the current season till 2 September 2018, the grand prize winner will win a trip for two to watch their favourite football club Manchester United in action at Old Trafford. The travel grand prize includes flight tickets and accommodation.
At the same time, Maybank Singapore has revamped the cards and TREATS website to enhance user experience. All information on Maybank card applications and cardmembers' rewards and privileges can be found on the website, link http://info.maybank2u.com.sg/cards/index.aspx.
The "Maybank TREATS SG Lifestyle" app can be downloaded for free via Apple iTunes and Google Play Store today. "Maybank Football Fan" game is accessible via Maybank TREATS SG Lifestyle app or downloaded directly via Apple iTunes and Google Play Store.