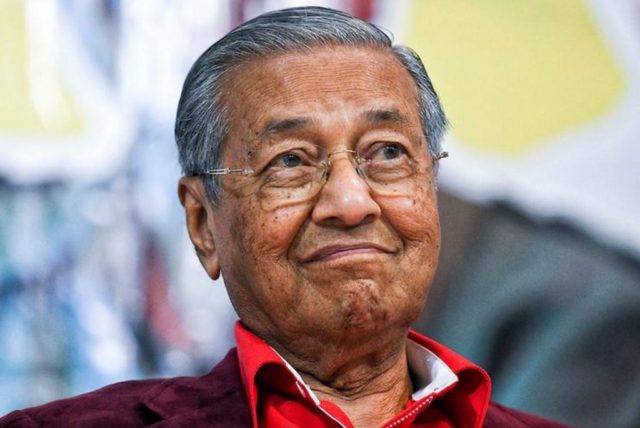 Singapore, 9 April 2018 – Chinese investors in Malaysia will face more scrutiny if former prime minister Mahathir Mohamad wins back power in the upcoming election.
Dr Mahathir, the opposition's candidate for prime minister, said in an interview Friday that Chinese investment was welcome if companies set up operations in Malaysia, employed locals, and brought in capital and technology to the country. This wasn't the case now, he said.
"Here we gain nothing from the investment," Dr Mahathir, 92, said in his office in Kuala Lumpur.
"We don't welcome that."
Dr Mahathir's comments reflect broader concerns about Chinese investment across Asia that have stoked political tensions from Australia to Sri Lanka. While many countries are eager to benefit from President Xi Jinping's plan to facilitate hundreds of billions of dollars in infrastructure investment throughout the world, they are also wary of becoming too dependent on China.
In Malaysia, Chinese investment has raised concerns over sovereignty and economic inequality. Dr Mahathir referenced plans by Country Garden Holdings Co Ltd to invest US$100 billion in Johor state to build apartments that cost upwards of RM1 million (S$340,000). The median annual income in Malaysia was RM62,736 in 2016.
"We don't have enough people with wealth to buy all those very expensive flats, so you're bringing in foreigners," Dr Mahathir said.
"No country wants to have an influx of huge numbers of foreign people into their country."
Prime Minister Najib Razak, who is seeking to extend his premiership for a third term in the general election, has dismissed the opposition's concerns on Chinese investment as "irresponsible politicians scare-mongering".
A spokesperson did not immediately respond to a request for comments.
"Remember that Malaysian investment into China used to be bigger than Chinese investment in Malaysia, and that we have more Malaysian investments overseas than foreign direct investments in this country," Dr Najib said at the Invest Malaysia 2018 conference in Kuala Lumpur in January.
"So this is a two-way street. FDI levels vary over time, and such connections are part of, and key to, a healthy and diversified economy."
China is Malaysia's top source of foreign direct investment, contributing 7 per cent of the total RM54.7 billion it received last year.
'SCARES EVERYBODY'
In the interview, Dr Mahathir cited Sri Lanka as a country that "lost a lot of land" because it couldn't pay back money from China. Last year, Sri Lanka's government gave a joint venture led by a Chinese state-run company a 99-year lease to the southern port of Hambantota in return for debt relief.
"Lots of people don't like Chinese investments," Dr Mahathir said.
"We are for Malaysians. We want to defend the rights of Malaysians. We don't want to sell chunks of this country to foreign companies who will develop whole towns."
The Election Commission has yet to announce a date for the vote, which must be held in the next two months. Dr Mahathir has vowed to fight a ban on campaigning issued by the government after his party failed to meet a deadline to supply some information and documents.
The opposition coalition, Pakatan Harapan, or Pact of Hope, pledged in its election manifesto to encourage continued investment from "China and other Asian countries". This would be done only after reviewing all foreign mega-projects to ensure there was no element of corruption, the manifesto said.
Projects include the East Coast Rail Link, with an estimated cost of RM55 billion, Dr Mahathir revealed in a forum Thursday in Selangor. He said the Pakatan Harapan government would renegotiate the project, possibly seeking to reduce the 688-kilometre line unless there was enough demand. The project is slated for completion in 2024.
Dr Mahathir said if he wins at the polls he plans to restart negotiations on rights and access to South China Sea while ensuring "friendly" relations with all countries. Malaysia is a claimant to some disputed features in the sea, along with China and other South-east Asian countries such as the Philippines and Vietnam.
"We have to ensure our voice is heard because Malaysia does have islands in the area and this we must uphold," he said.
Bloomberg