(Singapore, July ) Buying a US$250 million (S$345 million) yacht and a US$35 million Claude Monet painting are among Malaysia's extraordinary corruption scandal for which Najib Razak, the former Prime Minister, was conflicted yesterday.
He was sentenced to 12 years' jail and fined RM210 million (S$68.1 million) after being found guilty of all seven charges in the first of his five trials relating to the plundering of sovereign wealth fund 1Malaysia Development Berhad (1MDB).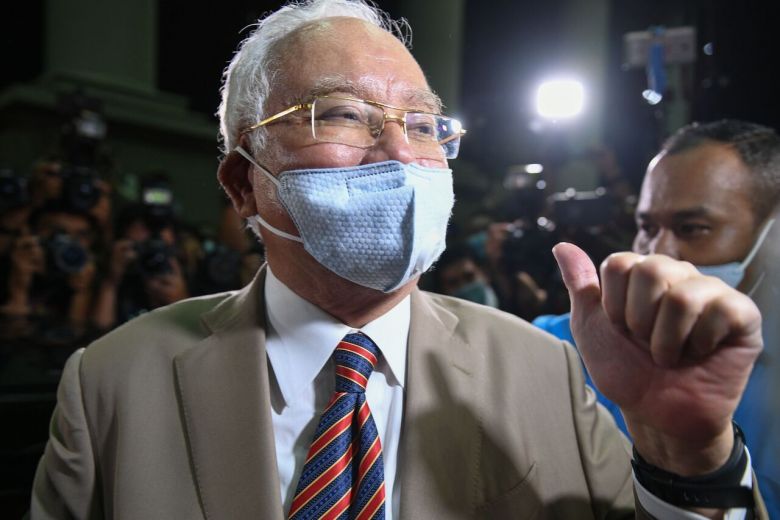 The 1MDB was a state investment fund that Najib launched in 2009, shortly after becoming prime minister.
The United States Justice Department launched its own probe following claims that stolen Malaysian public money was laundered through the US financial system.
So far, it has filed lawsuits seeking some US$1.8 billion in assets allegedly purchased with the cash, saying that more than US$4.5 billion was stolen from 1MDB between 2009 and 2015 by high-level officials at the fund and their associates.
Tens of millions of dollars were used in 2012 by Najib's stepson Riza Aziz, an aspiring film producer, to fund the Hollywood film The Wolf Of Wall Street, starring Leonardo DiCaprio.
Hundreds of millions were also used, mainly by Mr. Riza and Low, to purchase high-end real estate in Beverly Hills, New York, and London.
Besides a Claude Monet painting and luxury yacht, the shopping list in the scandal also includes a Van Gogh for US$5.5 million, a US$35 million Bombardier jet, a US$100 million stake in EMI Music Publishing.
Below is a brief timeline of Malaysia's former Prime Minister involving the scandal
2009
July
Three months after taking over as prime minister, Najib Razak launched the 1MDB sovereign fund to invest in energy, real estate, and other industries.
2015
January
1MDB, with debt burdens rising, misses a loan payment of about US$550 million (S$751 million).
August
The anti-graft agency says the money deposited into Najib's account was a donation, not from 1MDB. The Swiss authorities open criminal proceedings linked to 1MDB, saying the case involves suspected corruption of foreign public officials, dishonest management of public interests, and money laundering.
2016
January
The attorney-general cleared Najib of any wrongdoing, saying that US$681 million in his account was a donation from a member of the Saudi royal family and that Najib had returned US$620 million in a few months.
July
The US Department of Justice (DOJ) files civil lawsuits seeking to seize assets bought with money allegedly stolen from 1MDB, saying that over US$3.5 billion was misappropriated from the fund. The lawsuits say US$681 million from a 2013 bond sale by 1MDB was transferred to the account of "Malaysian Official 1", whom US and Malaysian officials later identified as Najib.
2017
June
The US Department of Justice says more than US$4.5 billion was siphoned from 1MDB by high-level fund officials and their associates.
August
DOJ says it is conducting a criminal probe into 1MDB.
2018
May
Najib unexpectedly lost the election to Tun Dr. Mahathir Mohamad, who reopened the probe into 1MDB. The authorities bar Najib and his wife Rosmah Mansor from leaving the country.
July
The authorities arrest Najib.