(Kuala Lumpur, Mar 22, 2020) YES, Malaysia's first and only pure 4G mobile operator, announced today that it is playing its role in ensuring that Malaysians are reminded to stay at home and avoid being outdoors.
As a brand under the YTL Communications, YES says it has the responsibility to ensure the continuity of operations to serve the country during the pandemic. It also vows to maintain constant communication with its subscribers on its online service and support for any enquiries.
This came on the heel of the Prime Minister's announcement on the Restricted Movement Order, implemented on the 18th of March nationwide to curb the spread of COVID-19.
YES has updated its operator signal bar which now displays 'Y E S StayHome' as a kind reminder for all Malaysians to be responsible for their wellbeing and stay indoors.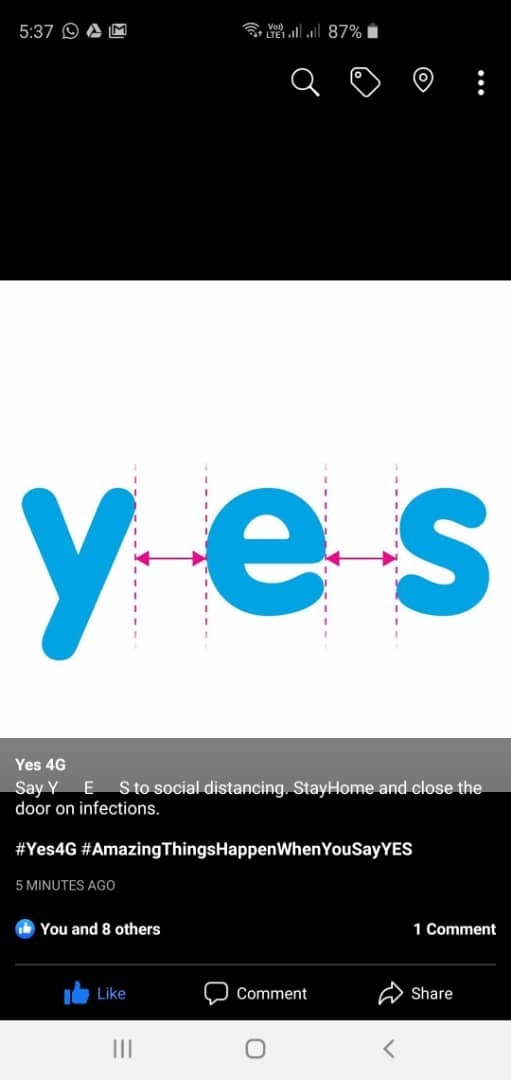 YES says it will stand with all Malaysians as one today and until the end of the Restricted Movement Order.
So far, it has changed its brand name with spacing as a reminder for the need for social distancing.
The spacing in 'StayHome' has also been removed to show that "we can all do our part to heed the direction of the government to do the necessary in staying at home and avoid being outdoors", YES said.
In addition, YES has zeroised all phone calls to emergency helplines and is working on other initiatives to alleviate the nation during this difficult time.
YTL Communications Sdn Bhd (793634-V), is a global frontrunner in 4G Internet and operates "YES" 4G network in Malaysia with nationwide population coverage across the country.
It has been the first in Malaysia to offer voice-over-LTE (VoLTE) service for high definition, crystal clear calls winning innovation awards for its services annually.