(Singapore, 4 Jan 2023) On December 27, in the square of Photovoltaic Village, Longguan Township, Ningbo, Zhejiang, men and women of all ages gathered here, beating gongs and drums lively. As the New Year approaches, the village will distribute money to everyone. Every household sent representatives to receive red envelopes from the village party secretary. The money comes from the earnings of solar-powered sun room.
A "dream of sunshine" let the small mountain village "be basking in the sun and strive for a well-off life". This village, which is famous for being as "photovoltaic village", not only allows each villager to have 50 kWh of free electricity per month, but also increases the income of the collective economy of the village by more than 600,000 yuan. The village has also set up a "Sunshine Fund", from which Students can get "Sunshine Red Envelopes" when they are admitted to university and when they visit the elderly on the Double Ninth Festival.
Everyone in the square was filled with happy smiling faces. Villager Hong Guofang took the red envelope handed over by the village party secretary, and counted them carefully. She said with emotion, "I never thought that the roofs in the village could bring us real money. In the past, the old houses were low and dilapidated. Nowadays, the villas are tall and bright, and the quality of life is totally different." Low-carbon life has also attracted urban residents to move in one after another.
Cai Yinhua, left the urban area to settle here in 2016. There are more than 60 households like her in the village. They either live or open homestays, driving the flow of people, logistics and business. "Photovoltaic power generation is green and pollution-free and here is picturesque scenery. I was immediately attracted when I came here." Cai Yinhua said.
"I used to think that life would get better and better, but I never thought it would be this good." Holding a red envelope, 55-year-old Wang Zhiguo walked briskly towards his four-story villa, and ran into two tourists who recently moved into his home. It turned out that the life was settled, and the village began to encourage villagers to vigorously test the homestay economy, featuring in rural traditions, and to make full use of the vacant rooms in the new buildings to increase income.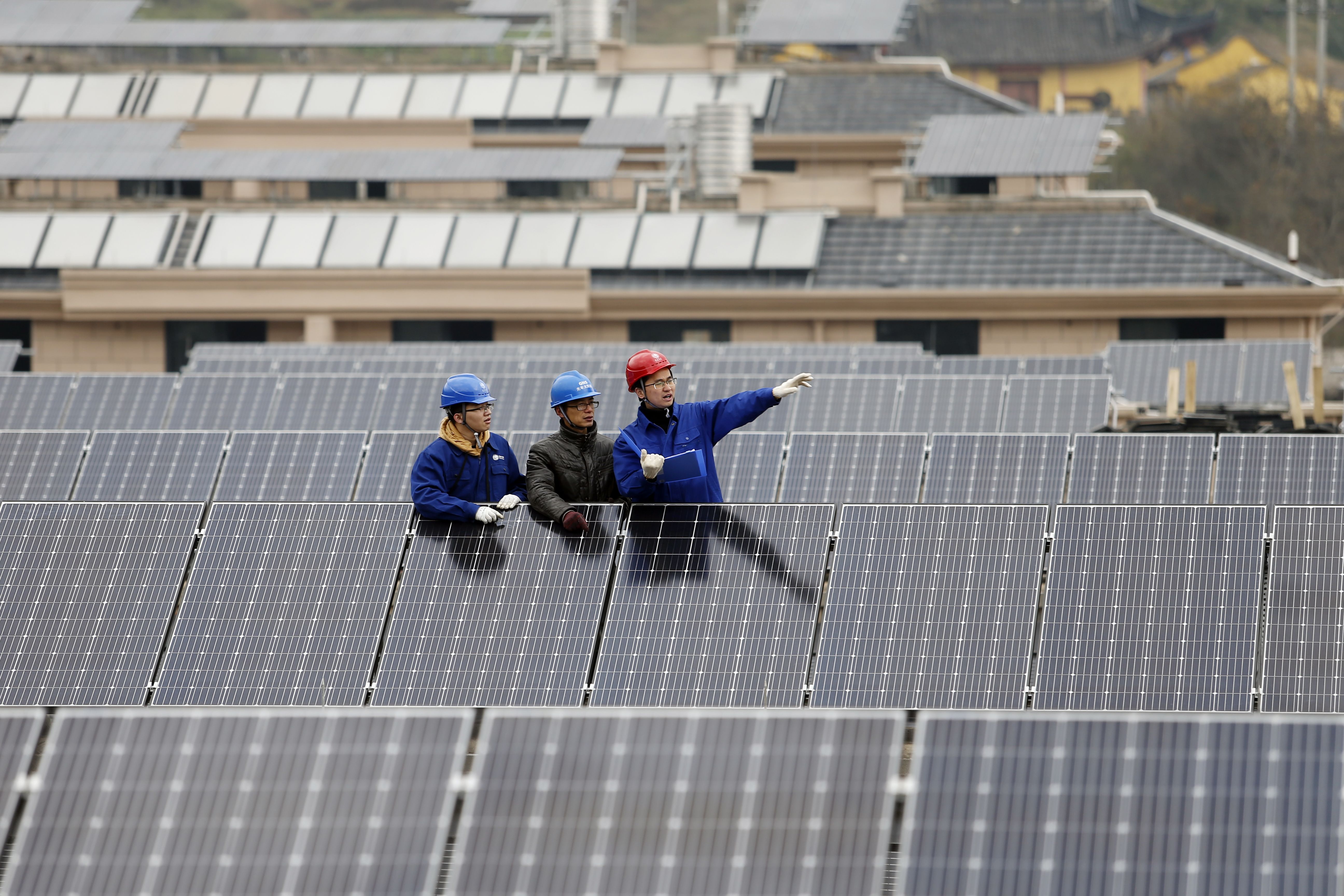 Wang Guozhi became the first batch of "crab eaters" (it means the first person who dares to do something). Under the guidance of the local power supply company, the homestay implemented electrification transformation. All equipment such as cooking, heating, lighting, and hot water supply rely on electricity for energy supply, which is green and low-carbon as well as economical and environmentally friendly. Wang Zhiguo did some calculations that his annual net income was more than 100,000 yuan after deducting the cost and his wallet's got bigger.
In the photovoltaic village, "photovoltaic power generation" can be seen everywhere. When the villagers sit in the smart chairs outside their homes and bask in the sun, their mobile phones can also be charged wirelessly through the seats. When pedestrians pass by the smart light poles, Duoduo sun umbrellas will automatically turn on the sunshade mode. At night, more than 280 photovoltaic street lights illuminate the home road.
The green development model of the photovoltaic village is like a spark, spreading rapidly with the momentum of a prairie fire. Longguan Township Government United Nations Network Ningbo Power Supply Company and other units have jointly built four photovoltaic villages with roof photovoltaic panels.
They are Li'ao Village, Dalu Village, Xue'ao Village and Longgu Village. The total installed capacity is 2885 kilowatts, and the annual power generation is 2.88 million kWh. More than 1,000 villagers have enjoyed free electricity ranging from 30 to 50 kWh per month, and the collective economic income of each village has increased by more than 2 million yuan.
In the newly released third "Global Best Poverty Reduction Case", the photovoltaic village industry development case of Longguan Township was successfully selected. Photovoltaic is integrated into the building, and light energy shines into life, so that villagers can not only get "green leaves" but also enrich their "money bags". "Green development" and "common prosperity" complement each other.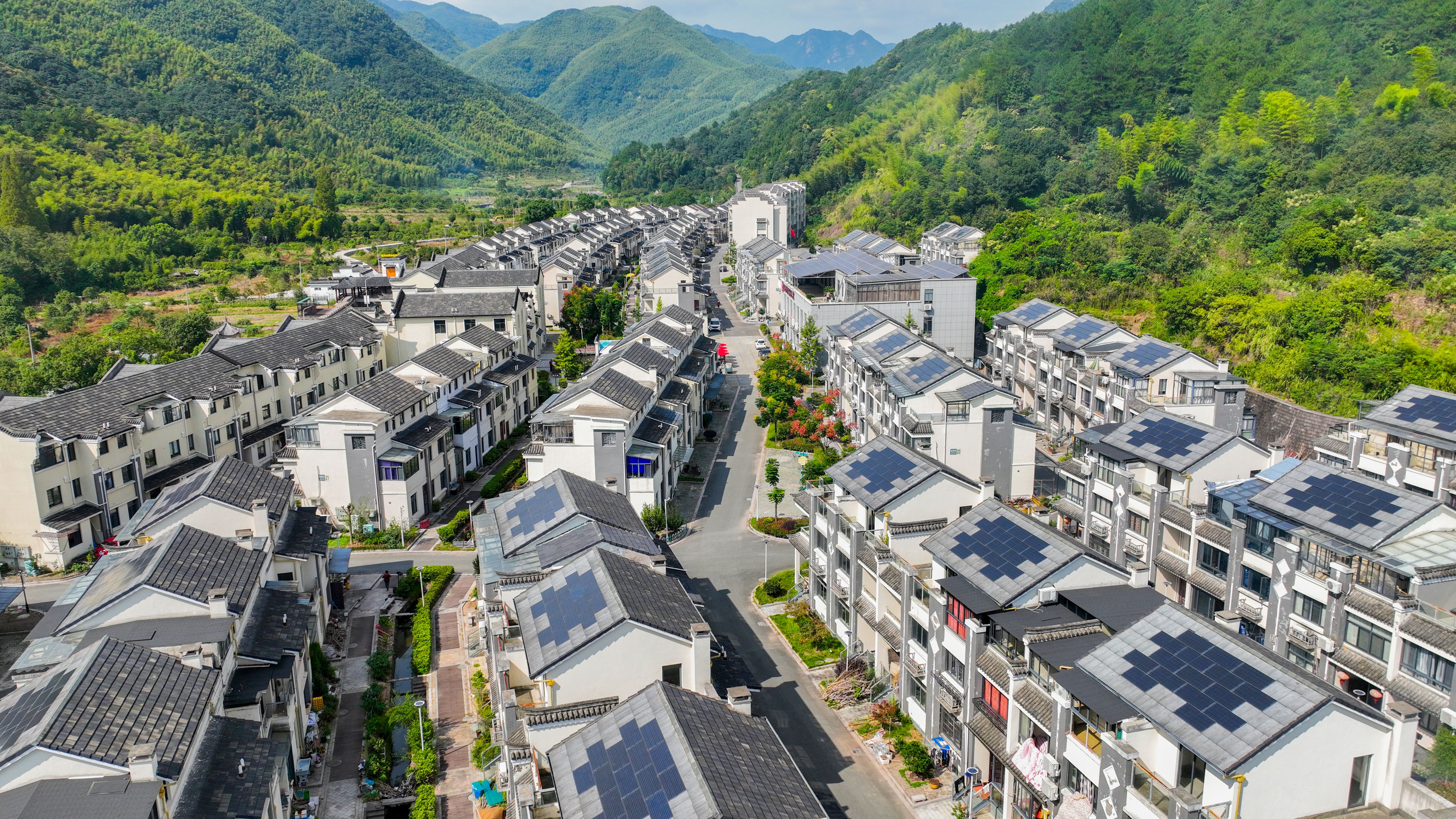 By the end of 2022, the 10 administrative villages of Longguan Township will have a penetration rate of photovoltaic energy of 100%, with an installed capacity of 5,300 kilowatts, an annual power generation of 5.3 million kilowatt-hours, an annual saving of 1,908 tons of standard coal, and a reduction of 5,283 tons of carbon dioxide and 159 tons of sulfur dioxide.
The "Photovoltaic Village" demonstration project in Longguan Township has explored a "photovoltaic version" rural revitalization development model that can be promoted and replicated, where new countryside, new energy, and new industries coexist. Happy life is spread among clear rivers and green mountains. Rural revitalization and green electric energy intersect and integrate, weaving a picture of beautiful countryside and common prosperity.
Correspondent: LIN Feng