Last Friday, Mercedes-Benz unveiled the new A-Class at COMO Dempsey in an interactive showcase that highlights how the brand's hatchbackoffering redefines modern luxury in the compact class and revolutionises vehicle interior design. The true essence of the A-Class was revealed through artistic mirror installations bringing to life a completely new customer experience that lies within.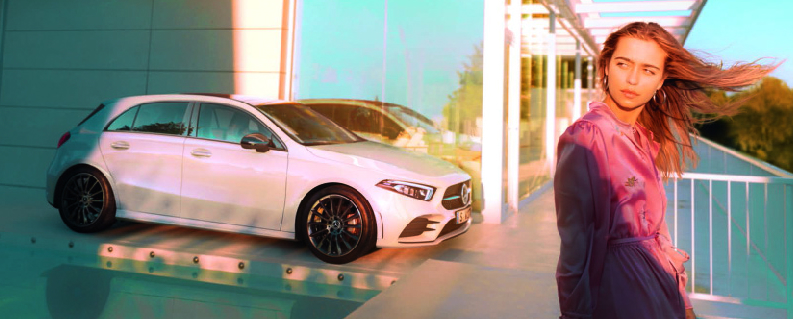 In partnership with the Dover Street Market (DSM) Singapore, the A-Class was not only displayed in flamboyance but was also accompanied by a chic evening filled with an array of exciting activities. Guests including media friends, valued partners and selected fans who won exclusive invites through a contest hosted on the brand's social platforms were treated to an exclusive shopping experience by DSM, and musical performances by the renown songwriter, Gentle Bones.
"The modern driver of today demands youthful dynamism, revolutionary technology and unparalleled comfort in their everyday drive." says Wolfgang Huppenbauer, President & CEO of Mercedes-Benz Singapore. "The fourth generation A-Class delivers all that, and more, in a compelling package that boasts contemporary design and an intuitive operating concept. The new A-Class with MBUX surpasses all expectations of a compact hatchback and harnesses the power of its artificial intelligence to create a personalized driving experience everyday."
"The new A-Class embodies the next stage in our design philosophy of Sensual Purity and has the potential to usher in a new design era," says Gorden Wagener, Chief Design Officer Daimler AG. "With clear contours and sensual surfaces, we present high-tech that awakens emotions. Form and body are what remain when creases and lines are reduced to the extreme. The interior represents modern luxury at a level previously unattained in this class, and translates intelligent technology into an emotional overall experience."
The following car prices are inclusive of COE and are valid until 22 November 2018.
A 200 Progressive: $152,888
A 200 AMG Line: $157,888
A 250 AMG Line: $174,888