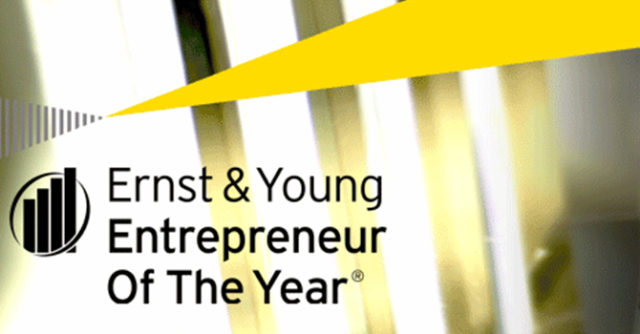 Singapore, 13 March 2018 – From 26 February 2018 till 20 April 2018, members of the public can nominate outstanding entrepreneurs for the 17th annual EY Entrepreneur Of The Year™ (EOY) awards in Singapore. Themed "Embracing transformation, driving innovation", the 17th EOY awards was launched today at a ceremony held at Sofitel City Centre.
The nominees will be assessed by an independent judging panel (see factsheet A) across the six globally benchmarked criteria (see factsheet B). They must demonstrate strong entrepreneurial spirit, innovation, sound strategic direction and financial track record, and have built successful businesses that have national and global impact.
Entrepreneurs who excel across the six criteria will be honored as winners of award titles that are designed to reflect their unique quality or achievements. The individual who ranks the highest across all six criteria will be selected as the EY Entrepreneur Of The Year 2018 Singapore to represent the country at the World Entrepreneur Of The Year (WEOY) award in Monte Carlo, Monaco next year.
Come June 2018, last year's EOY Singapore winner, Dr. Shi Xu, Founder and Executive Chairman, Nanofilm Technologies International Pte Ltd, will be Singapore's representative at the world award and compete with over 50 other country contenders.
Mr. Max Loh, EY Asean and Singapore Managing Partner, Ernst & Young LLP comments:
"Transformation does not happen without innovation, and the challenge for many companies is in making innovation intentional. This responsibility falls on every business leader, whether of a mature company or a start-up, to create an ecosystem that enables experimentation, investments in ideas and risk-taking. At the same time, they need to articulate a strong organizational purpose. By focusing innovation on a purpose, it encourages everyone, from R&D to customer-facing staff, to think beyond incremental product or service improvement, and empowers them to look for solutions and innovations that will deliver durable value and returns. At the same time, it sets clear boundaries on the space the company wants to operate in, keeping innovative energy focused on what really matters."
EY-Standard Chartered Family Business Award of Excellence
Standard Chartered Bank returns as a major sponsor of the EY EOY awards program, as well as the co-presenter of the EY-Standard Chartered Family Business Award of Excellence, for the second year.  
Ms. Judy Hsu, CEO Standard Chartered, Singapore and ASEAN Markets says:"Standard Chartered is proud to sponsor the EY Entrepreneur Of The Year awards in Singapore once again. Singapore has created an ecosystem that nurtures and protects innovation, which is a big incentive for start-ups and innovation centers of multinationals to set up here. Entrepreneurship has been, and will continue to be a huge driving force for Singapore's economy. We have served entrepreneurs in Singapore for close to 160 years.  As a full-service bank with private banking expertise and a strong global network across Asia, Africa and the Middle East, the role we play is to support clients to grow their wealth and business, and serve their financial needs whether it is to embrace change, conquer new grounds or venture into a new business or market."
EY will once again collaborate with Business Families Institute @ Singapore Management University (BFI @ SMU) and the Family Business Network Asia (FBNA) to select the winner for the EY-Standard Chartered Family Business Award of Excellence. This is an honorary award presented for the sixth year on board the EOY platform (award recipient does not compete for the EY EOY Singapore 2018 title).
The award recipient will be selected based on the family business' ability to successfully balance business and family issues, grow the business and show responsibility for others through philanthropic or social engagements (see factsheet C for eligibility and judging criteria).
Fact Sheet A: Judging Panel
Dr. Robert Yap                                                                                                                            Executive Chairman                                                                                                                          YCH Group Pte Ltd                                                                                                                              EY Entrepreneur Of The Year 2007
Susan Chong
CEO                                                                                                                                              Greenpac (S) Pte Ltd
EY Entrepreneur Of The Year 2014 – Sustainable Packaging Solutions
Lawrence Leow
Chairman and CEO                                                                                                                    Crescendas Group                                                                                                                                EY Entrepreneur Of The Year 2016 – Diversified Industries
Keith Tan
Founding and Managing Partner                                                                                              Dymon Asia Capital
Png Cheong Boon
Second Permanent Secretary, Ministry of Trade and Industry
CEO (Designate), Enterprise Singapore
Dr. Ivan Lee                                                                                                                                        Vice President, Industry and Community                                                                            Singapore Institute of Technology
Tan Chin Hwee
CEO, Asia-Pacific
Trafigura
Fact sheet B: Judging criteria
The following six judging criteria sets the global standard adhered to by each and every country participating in the EY Entrepreneur Of The Year awards.
The individual is a risk-taker who sets very high standards and demonstrates an unflinching desire and determination to succeed despite significant obstacles.
Financial performance/ Value creation
The business has demonstrated strong financial performance and maintains a good track record in raising finance. Coupled with quality investments and its focus on the development of human capital, the business has the potential for long-term sustainability.
The individual not only creates and turns business visions into realities, but also builds strategic alliances and empowers talents to achieve common goals.
National and global impact
The business has displayed a high degree of potential for growth and expansion into international markets that has made national and global impact in terms of job creation and improved living economics.
The individual has pioneered a new approach or technology, embraces changes and continuously innovates.
Personal integrity/ Purpose-driven leadership
The individual earns great respect and is able to communicate ideas and influence the wider community. The individual's enforcement of socially responsible practices seeks to improve the quality of life. The individual demonstrates a commitment to the highest ethical and quality standards in business activities and operations.
Fact sheet C: EY-Standard Chartered Family Business Award of Excellence
This winner will be selected by independent knowledge partners, Business Families Institute @ Singapore Management University and the Family Business Network Asia, based on the judging criteria below.
Eligibility:
Leadership of the company includes family member(s) from second or subsequent generations, or has multiple branches of a family involved in leadership. (i.e., one individual and first generation would not qualify for the award).

The family still has a significant ownership and voting stake and is primarily responsible for setting the strategic direction and values for the firm.

The legal form of the company or group of companies is not relevant.

Companies may be private or publicly traded.

If the shares and voting rights have been transferred to a trust, it will remain to be considered as family business if the family has dominant influence on the trust in a way described above.

The business or headquarter of the business is located in Singapore.
Judging criteria:
Company shows evidence of a successful, sustainable and long term-oriented strategy.

Company has adopted an effective and transparent corporate governance approach, enabling the execution of the desired strategy and living out of family values.

Company governance enables unity among the ownership family (i.e., little evidence of significant family disputes impacting the business).

Demonstrated the ability of the family to preserve company culture, tradition and values and maintain the entrepreneurial spirit and continued innovation over generations.

Evidence shown of exceptional personnel management.

Commitment to philanthropic causes or corporate social responsibility.

Other exceptional achievements such as business awards, public service etc.
EY