(30 Nov 2021, Singapore)Today, the 2nd E.Y.E. Project was successfully held in Distrii  Singapore. This E.Y.E. project, a joint collaboration between media and university, was co-organized by Fortune Times Singapore and NUS for the second year.
To foster the spirit of innovation and entrepreneurship among young people, as well enhance the practical skills of local university students in new product development, the E.Y.E. project, co-organized by Fortune Times Singapore and the Department of Materials Science and Engineering (MSE) at NUS,  is an innovative exercise under the "Innovation and New Product Development" programme (MLE4213) for NUS senior students.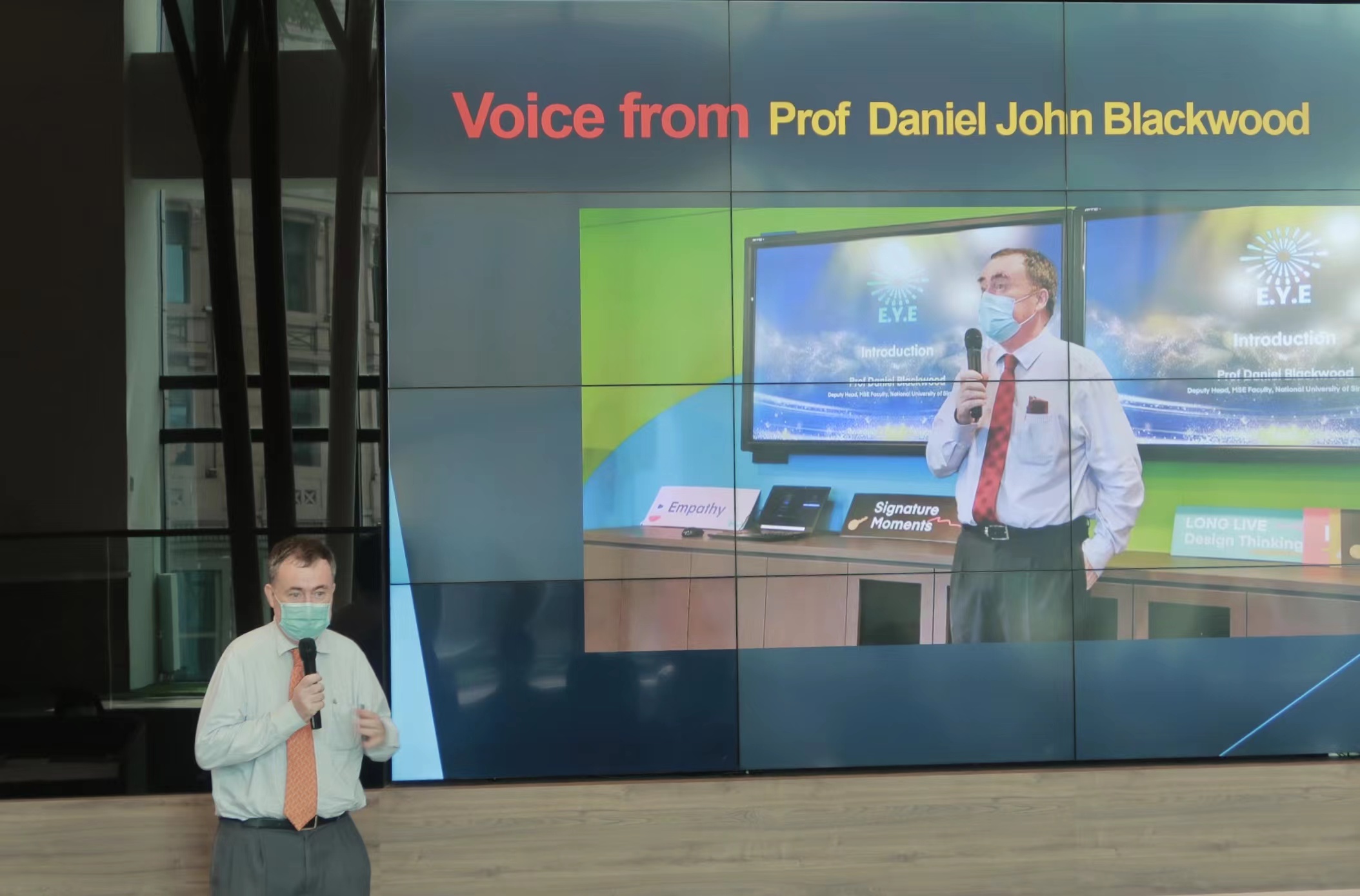 According to the 2021 QS World University Rankings for Materials Science field, NUS is tied with Harvard University for fifth place in the world. Prof Daniel John Blackwood, Deputy Head of the Department of MSE at NUS, said that the E.Y.E. project is an important practical platform for the "Innovation and New Product Development" module, because engineering students not only need to master product development skills, but also to know the knowledge of the various steps of commercialization. Also, future materials engineers need to work in cross-departmental teams. Knowledge of materials science is not only acquired from the classroom, but should also be practiced in real business environment.
NUS Department of Materials – "MLE4213 Innovation and New Product Development" module is being offered in 2020, mainly for senior students of the MSE Department who will be embarking on their careers. Dr. Zhang Jun, who is in his third semester of teaching this module, is both the course designer and the instructor.
Dr. Zhang Jun describes the course as a combination of teaching, industry professionals sharing and student team presentations. The students work in groups, each group consisting of seven students in different roles including marketing, product development, manufacturing, finance, legal and IP, product sales, and sustainable development. During the course, students practice their skills through six stages from acquiring market and customer needs, forming a product concept, transforming the concept into a product prototype, small batch production (pilot), mass production, and finally to sales. On each stage, an industrial executive or a senior person in the field will be invited to the classroom to share on innovation and new product development, business expansion, finance, product compliance and IP protection, etc. The group has to complete the tasks in different stages, and the group members will work together as a team to do the presentations before moving on to the next stage. After completing all stages and achieve product sales, those students experienced the whole process of a product from design and development to product marketing.

In this year's syllabus design, students were asked to develop a dummy development of a new-material-based product to solve the heat dissipation challenges in 5G. After completing the product development, each team was required to create a short 1-minute video to showcase the new product concept and selling points, and upload it to the social media – LinkedIn, to promote the product and gain likes for sales.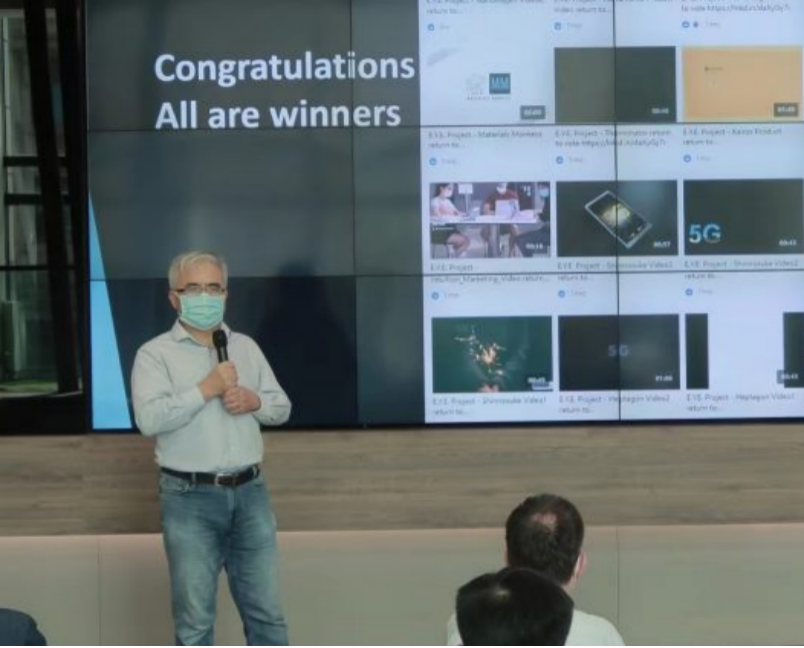 Dr. Zhang Jun said, through the course, the students' team spirit and leadership skills were significantly improved and they were confident in their presentations. The students tackled future challenges, which also included team leadership and the ability to use digital technology. The students' participation in the project is also the initial intention of E.Y.E., which is to Explore Young Entrepreneurism, to promote innovation and explore entrepreneurship.
The E.Y.E. project requires students to work in teams to simulate the development of a new product based on their course of study, develop a business plan, and create a short one-minute video to showcase the selling points of the new product, and promote it on social media LinkedIn to gain "likes" as a result of product sales.
This year there were seven teams that had to submit the short videos produced by themselves in time. After a month's open and fair presentations, the final winners were announced today at an awards event. This short video contest, which focused on new product development, featured three awards.
Most Popular Design Award: The winner is the one with the most "likes" on social media.
Most Promising Innovation Award: Product profit potential and sense of product innovation.
Best Idea Award: Solving a product's pain point and innovation in product conceptualization.
A panel of experts and executives from research, business, investment, design and media were invited to evaluate the videos for the "Most Promising Innovation Award" and the "Best Idea Award", which included product concept, design, creativity and market.
One of the judges, Mr. Jason Yeo, founder and CEO of JCS Group, said at the event that the course was very meaningful, he was impressed by the design ideas of two teams, and intended to invest in one of them.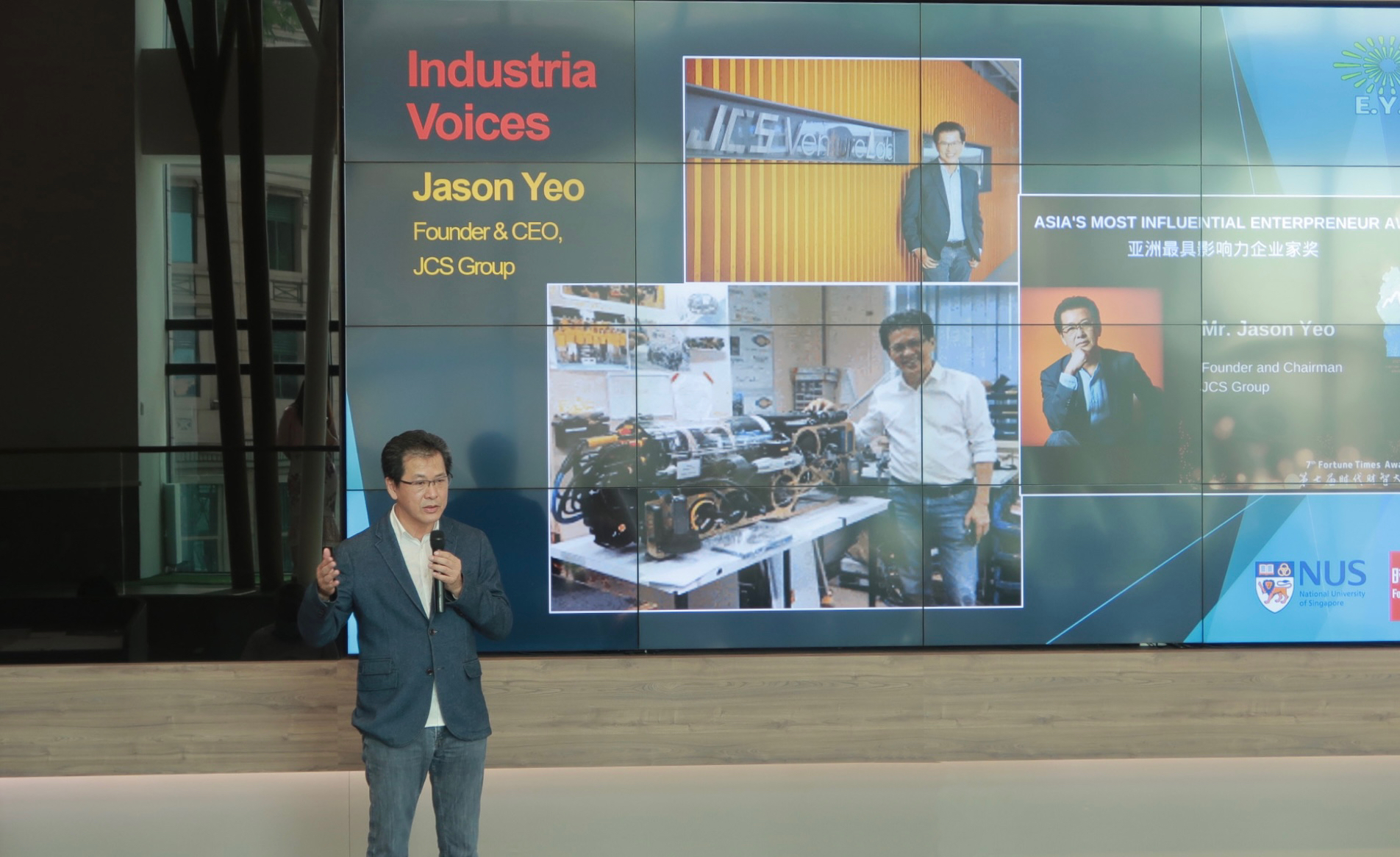 This year's E.Y.E. project had a one-month promotion period. After the short video was uploaded, students used various ways to increase the number of "likes", such as inviting friends to "like", writing comments, and sharing to friends. In the end, the Portamento team's product video was the most popular one on LinkedIn, winning the Most Popular Design Award and a special prize of $300.
Portamento's product video received 431 likes on LinkedIn in just one month, making them the winner. Portamento team leader Zeng Chenyang introduced, the team members worked very hard on the product concept. After discussion, they decided to make a new product of heat dissipation material for hand phones.
Regarding her experience in digital marketing, she shared that the first viewers of the product video must be their friends and family. Their "likes" can be passed on to a wider audience after secondary exposure, and together with the marketing method such as bilingual advertorials, can bring them considerable viewership and "likes" online. Their group also produced a corporate video and a product feature video respectively.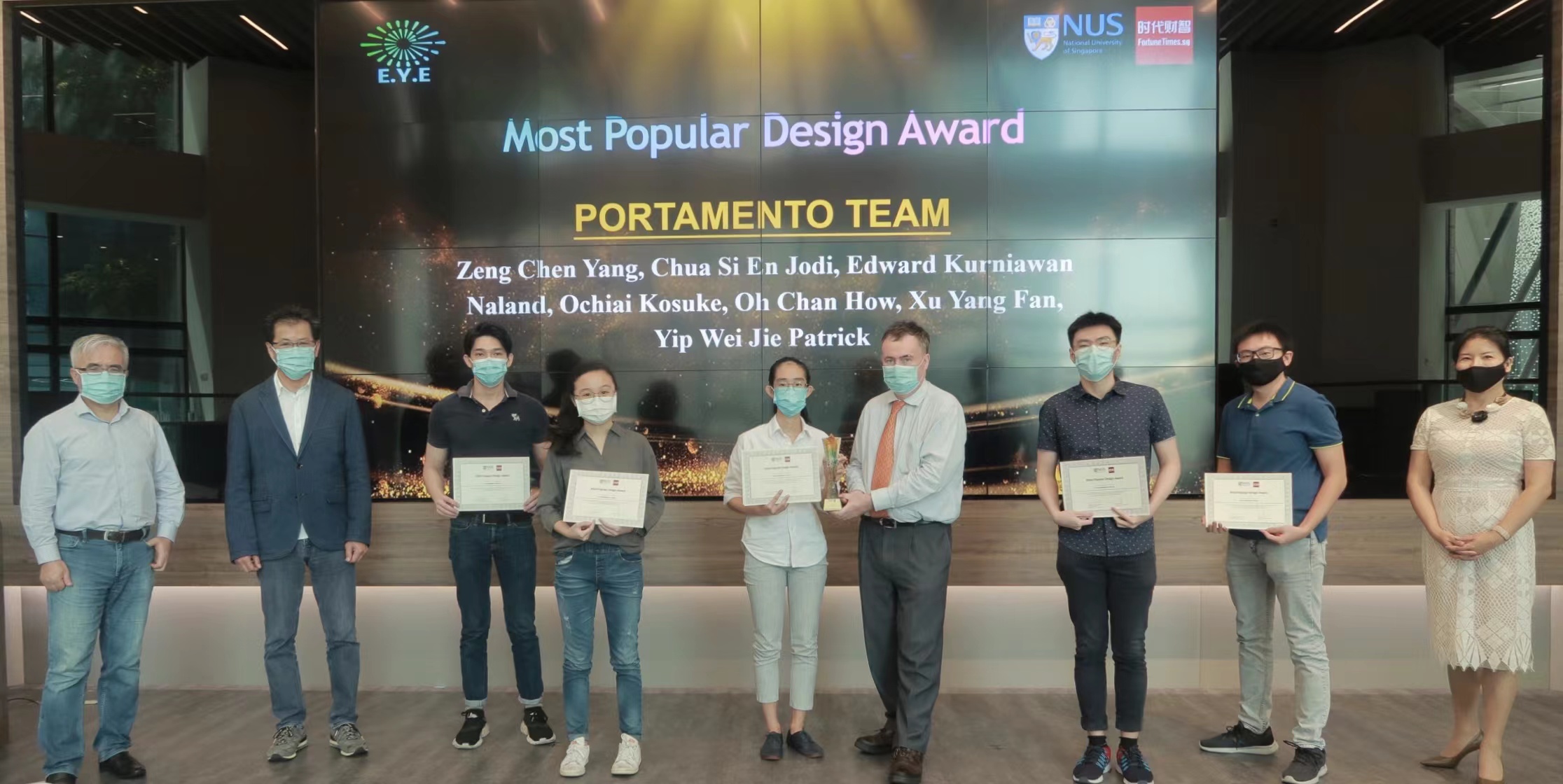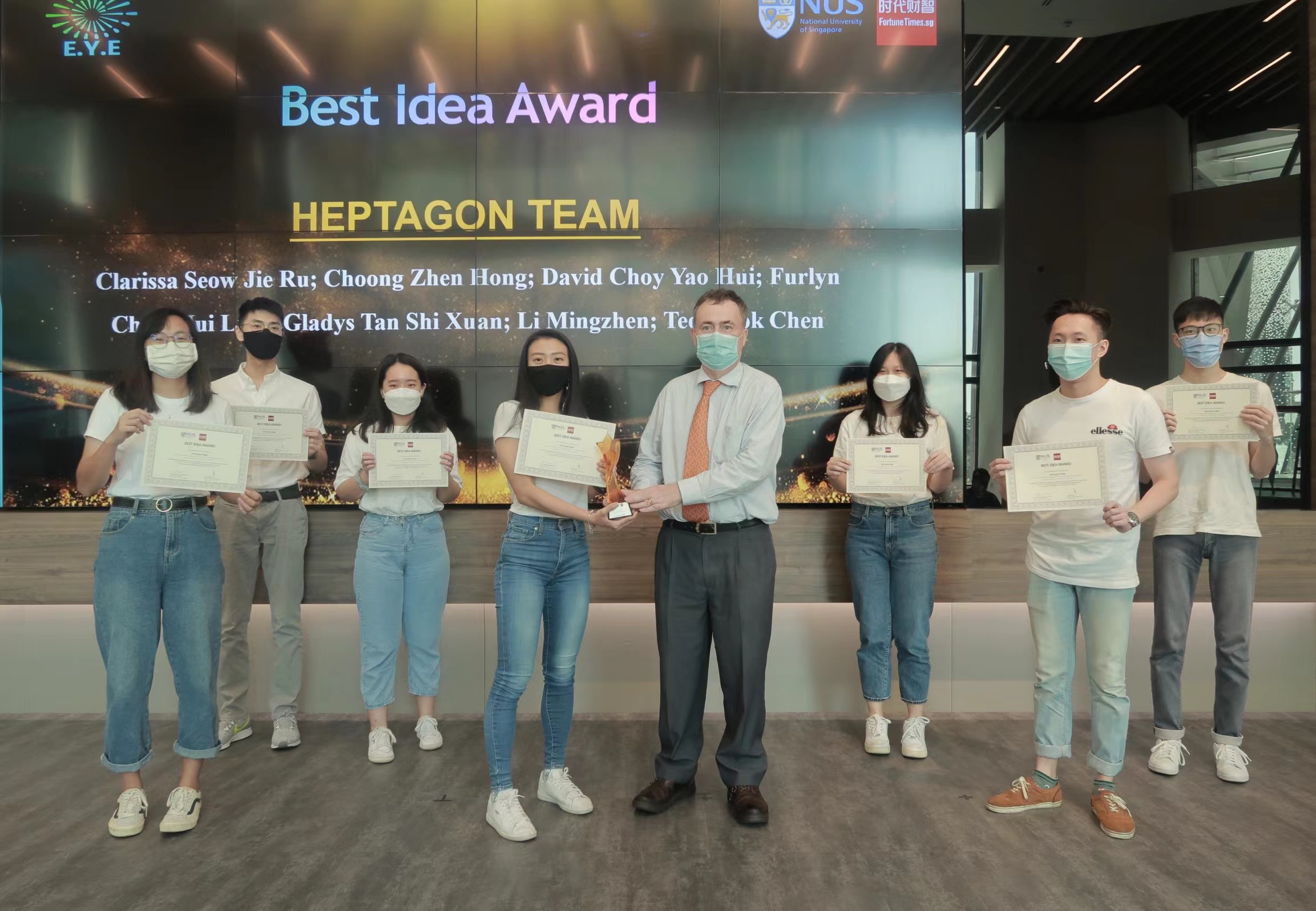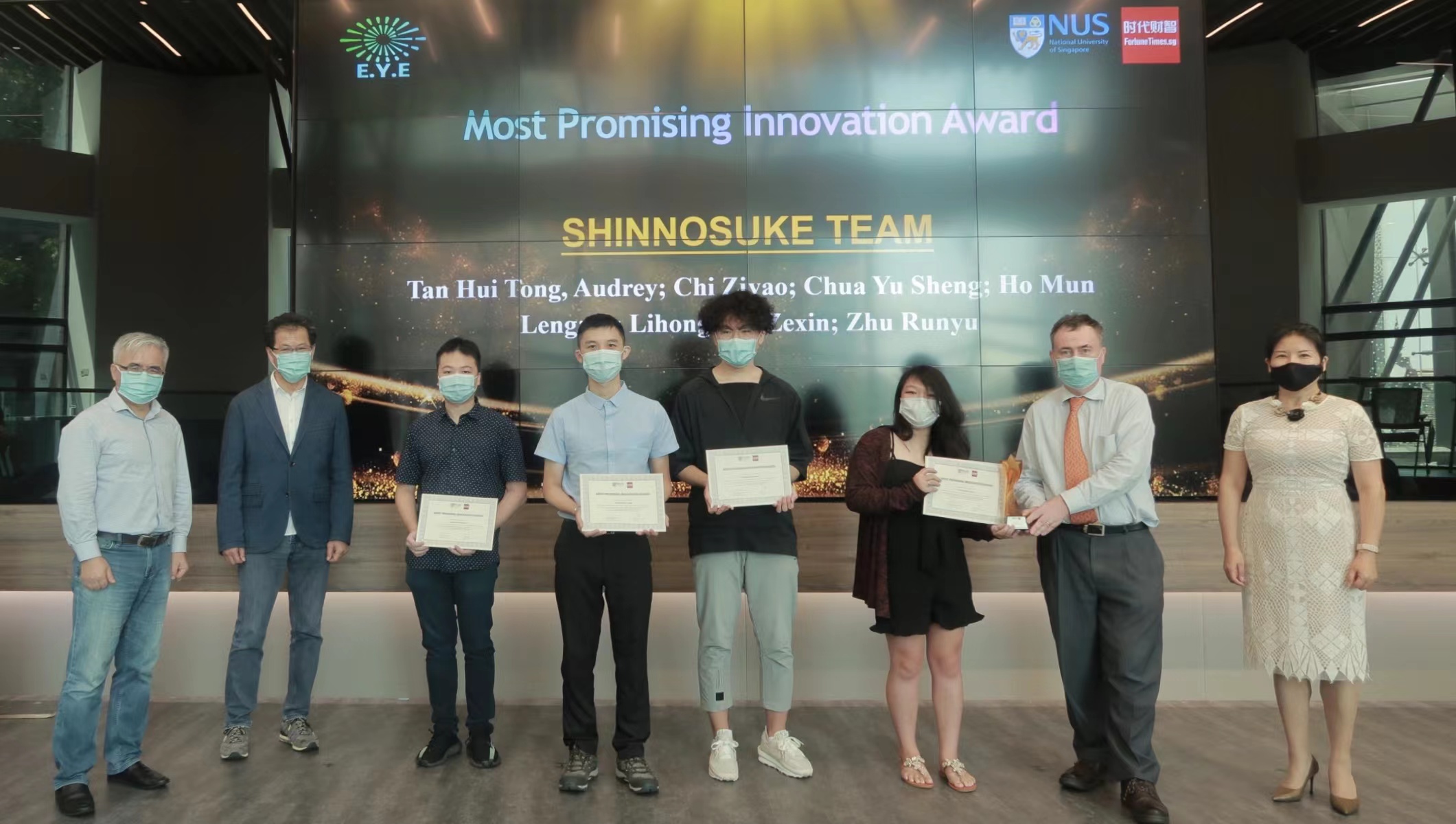 In this year, seven groups uploaded 16 videos, which attracted a total of about 3,500 "likes" on LinkedIn. The organizers chose LinkedIn, a social media platform more targeted at working professionals and professionals, in the hope of honing these students' skills in content marketing on social media.
Ms. Annie Song, the Editor-in-Chief of Fortune Times said, the E.Y.E platform was launched last year to enhance young talents' practical media and public interaction skills, aimed to help future career development in the digital economy. Today when she saw the young ambitious faces, she was more sure the practical skill enhancement are important.
Nowadays, Singapore has launched a series of strategic plans and measures for a "Smart Nation", which is expected to drive Singapore's transformation through the building of a smart nation to achieve the vision of "the world's first smart nation" by 2025. With an eye on the future, smart manufacturing is expected to be an important cog in driving the future "Smart Nation" blueprint. Fortune Times and NUS, a joint collaboration between media and universities, will encourage entrepreneurship and identify more hands-on new materials talents for the local community.