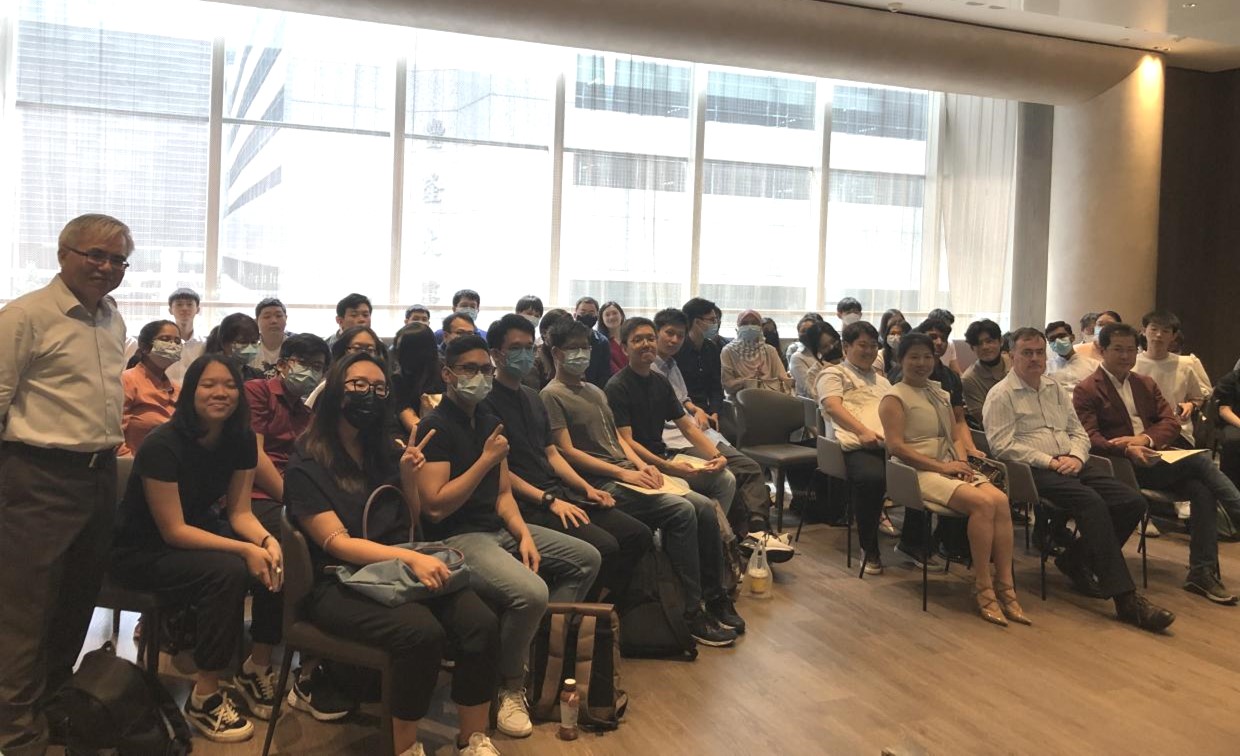 (3 Nov 2022, Singapore) Today, the 3rd E.Y.E. Project was successfully held in Social Lab Singapore. This E.Y.E. project, a joint collaboration between media and university, was co-organized by Fortune Times Singapore and NUS for the third consecutive year.
To foster the spirit of innovation and entrepreneurship among young people, as well as enhancing the practical skills of local university students in new product development, the E.Y.E. project, co-organized by Fortune Times Singapore and the Department of Materials Science and Engineering (MSE) at NUS, is an innovative exercise under the "Innovation and New Product Development" programme (MLE4213) for NUS senior students.
This year, students are asked to create an innovation idea that tackles thermal related issues in current 5G related services. After completing the product development, each team was required to create a short 1-minute video to showcase the new product concept and selling points, and upload it to the social media – LinkedIn, to promote the product.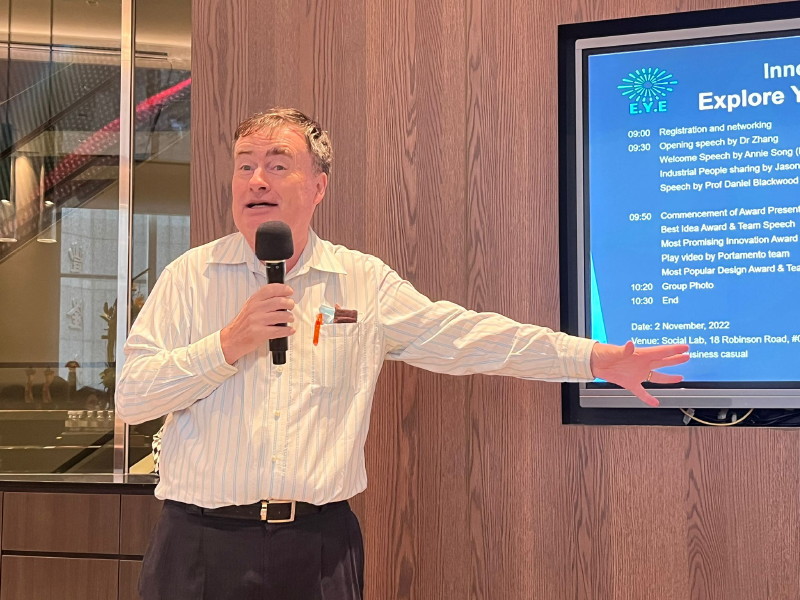 Prof Daniel John Blackwood, Deputy Head of the Department of Materials Science and Engineering at NUS, shared that future students are more likely to understand the various steps of commercialization, and that future materials engineers will need to work in cross-departmental teams.
Prof Daniel John Blackwood, Deputy Head of the Department of MSE at NUS, said that the E.Y.E. project is an important practical platform for the "Innovation and New Product Development" module, because engineering students not only need to master product development skills, but also to know the knowledge of the various steps of commercialisation. Besides, future materials engineers need to work in cross-departmental teams. Knowledge of materials science is not only acquired from the classroom, but should also be practised in real business environment.
E.Y.E. project is part of the MLE4213 module which is designed for year-4 students of NUS material science engineering department.
Dr. Jun Zhang, lecturer of "MLE4213 Innovation and New Product Development", explains the initial intention of E.Y.E., which is to promote innovation and explore entrepreneurship.
Dr. Zhang Jun, the course designer and the instructor describes the course as a combination of teaching, industry professionals sharing and student team presentations. The students work in groups and playing different roles including marketing, product development, manufacturing, finance, legal and IP, product sales and sustainable development.
This year there were nine teams submitted the short videos. The final winners were announced today at an awards event. This short video contest, which focused on new product development, featured three awards.
* Most Popular Design Award: The winner is the one with the most "likes" on social media
* Most Promising Innovation Award: Product profit potential and sense of product innovation
* Best Idea Award: Solving a product's pain point and innovation in product conceptualization
A panel of experts and executives from research, business, investment, design and media were invited to evaluate the videos for the "Most Promising Innovation Award" and the "Best Idea Award", which included product concept, design, creativity and market.
One of the judges, Mr. Jason Yeo, founder and CEO of JCS Group, said at the event that the course was very meaningful, by participating in every stage from product concept to sales, it will help students to understand the real product development better in the future.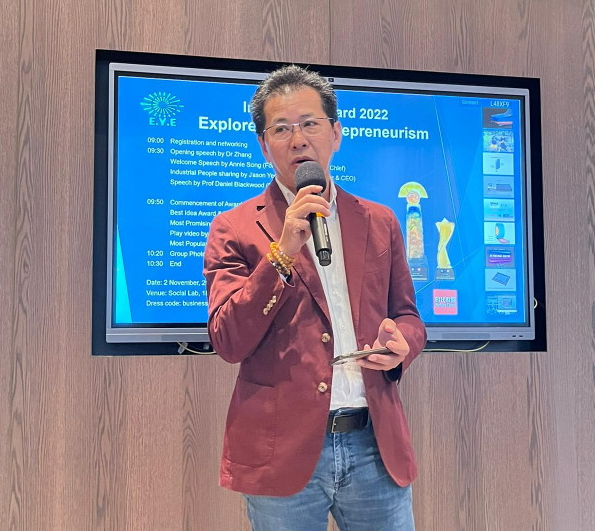 The judge panel of E.Y.E project, Jason Yeo, Founder and CEO of JCS Group, shared his entrepreneurial and innovative journey with the students
For the Most Promising Innovation Award, the winner goes to Huatpple team. Team leader Alvin Goh introduced, their team came together and evaluated current thermal management solutions, studied the 5G & thermal management market situation and customer needs. From there, they began the operation of "The Frozone project"
Ever since the initiation of the Frozone project, HUATpple continues to observe and analyse our mobile phone companies & end user's product needs. The product has been revised from time to time in response to the current market and the actions of our competitors. At the end, the product is finalised and been named as "Frozone sandwich".
"Frozone sandwich" is a small compact thermal conductive module as small as a computer chip of 16 micro meter, and it incorporates passive and active cooling technology sandwiched together in a small module to alleviate potential heat gain within the mobile system. This small compact yet effective solution is carefully designed so that it does not affect the aesthetic beauty of current 5G mobile devices in Apple or Huawei phones.
"Our name came about from the idea of giving our clients "HUAT"ness, and our desire to make our product and project known as widely as apple products, therefore the name HUATpple", Alvin added.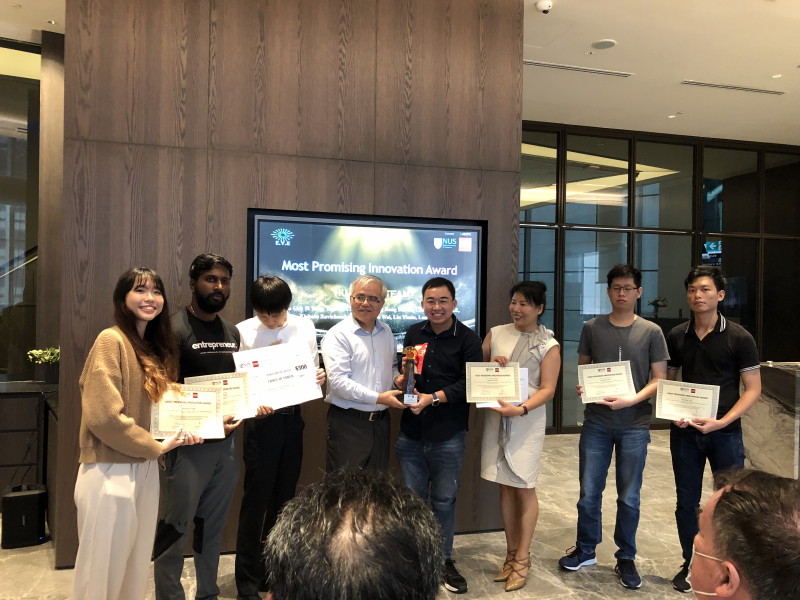 Dr. Zhang Jun (fourth from left), lecturer of "MLE4213 Innovation and New Product Development"; Annie Song (third from right), Editor-in-Chief of Fortune Times; and members of Huatpple team, winner of the Most Promising Innovation Award
Meanwhile, Chill Up team won the Best Idea Award. Team leader Chee Yong said, to come up with ideas, their team studied the mobile phones market, the cooling systems market and competitors extremely closely, This includes their products, prices, and weakness.
To ensure that their product stood out from the rest, they chose a different path from the rest. Chee Yong introduced, "Our main advantage is our product solves two issues at once. Not only we reduces the heat in phones, but using the excess heat to charge the phone. Think about it, we are killing two bird with one stone."
To garner awareness, Chill Up team made the product name and logo as simple to understand as possible. "Hearing our product name chill up and seeing our thermometer logo, even a preschool kid will know our product is related to cooling and temperature reduction", Chee Yong added.
Besides, another strategy Chill Up team use in the competition is to submit their video on the cut off day when their competitors least expect it, "even though we did not get the most likes, but that is fine, some days we win, other days we learn", Chee Yong said.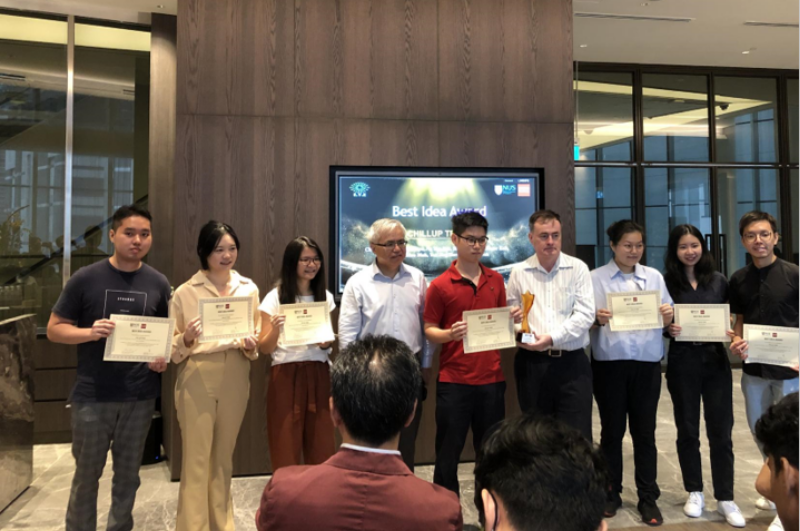 Dr. Zhang Jun (fourth from left), lecturer of "MLE4213 Innovation and New Product Development"; Prof Daniel John Blackwood , Deputy Head, MSE Faculty of NUS (forth from right); and members of Chill Up team, Winner of Best Idea Award
For Most Popular Design Award, Thermoflush's product video received 170 likes on LinkedIn, making them the winner.
"With regards to the marketing video, we were inspired by apple's recent ads, which looked really clean and professional. We thought it would be important factor for our first marketing video to adopt a similar clean cut look to establish our company image", the team leader Jaslin said.
However, the Thermoflush team also know that every commercial needs a tag line to be memorable to the audience, hence their video consists of two main parts – the technical specifications and the tagline for Themoflush.
Regarding to winning strategy, the team decided to post the video two weeks earlier than other groups to amass as much likes as possible. Through this competition, they learn that the best marketing strategy on LinkedIn is to get working professionals with a larger followers to promote the post.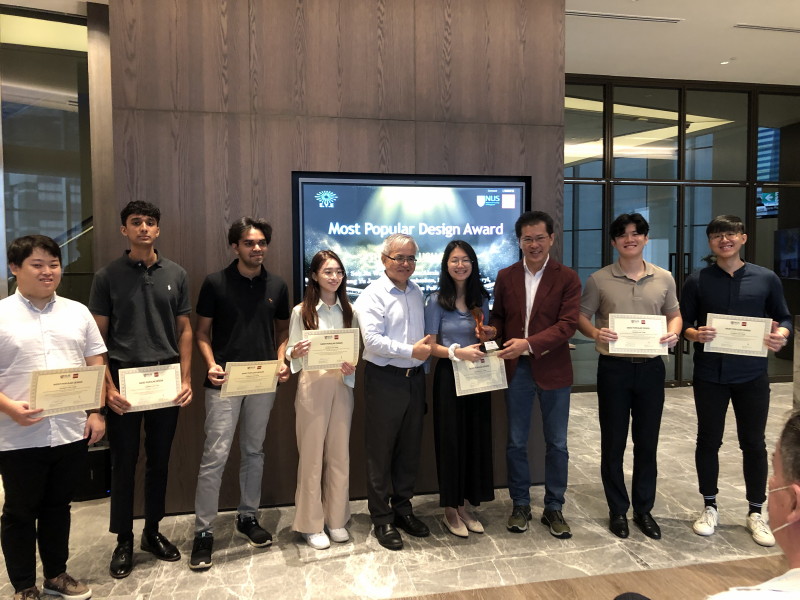 Dr. Zhang Jun (fifth from left), lecturer of "MLE4213 Innovation and New Product Development"; Jason Yeo (third from right), Founder and CEO of JCS Group; and members of the Thermoflush team, winner of the Most Popular Design Award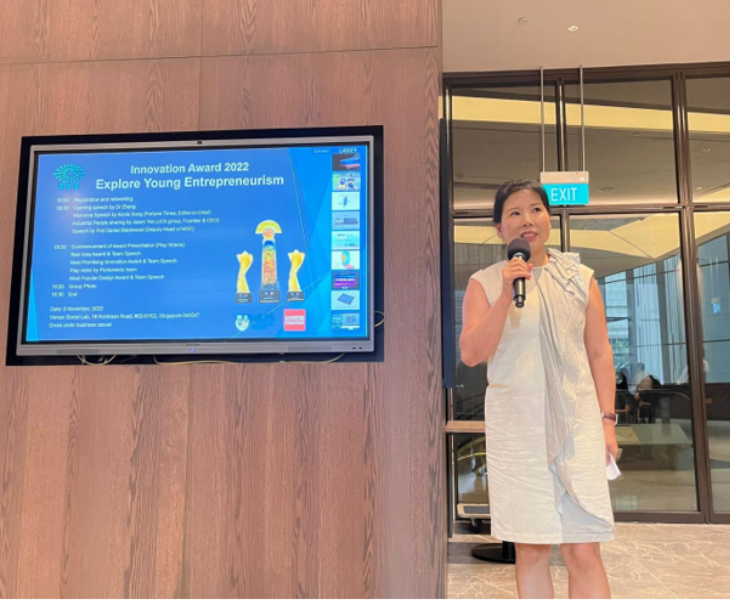 Annie Song, Editor-in-Chief of Fortune Times giving welcome speech in the E.Y.E award ceremony
Annie Song, Editor-in-Chief of Fortune Times, when giving her welcome speech said, E.Y.E. not only provides a platform for young talents to practice innovation, but also encourages the entrepreneurial spirit of young people. She also praised the students' product developments are beyond her expectation
Nowadays, Singapore has launched a series of strategic plans and measures for a "Smart Nation", which is expected to drive Singapore's transformation through the building of a smart nation to achieve the vision of "the world's first smart nation" by 2025. With an eye on the future, smart manufacturing is expected to be an important cog in driving the future "Smart Nation" blueprint. Fortune Times and NUS, a joint collaboration between media and universities, will encourage en