The National University of Singapore Business School has honored 12 outstanding alumni during its biennial Eminent Business Alumni Awards.
The 12 alumni were honored for their outstanding contribution to business and society. Among the industries they represent: banking, finance, investment, cyber safety, food & beverage, water filtration and medical services.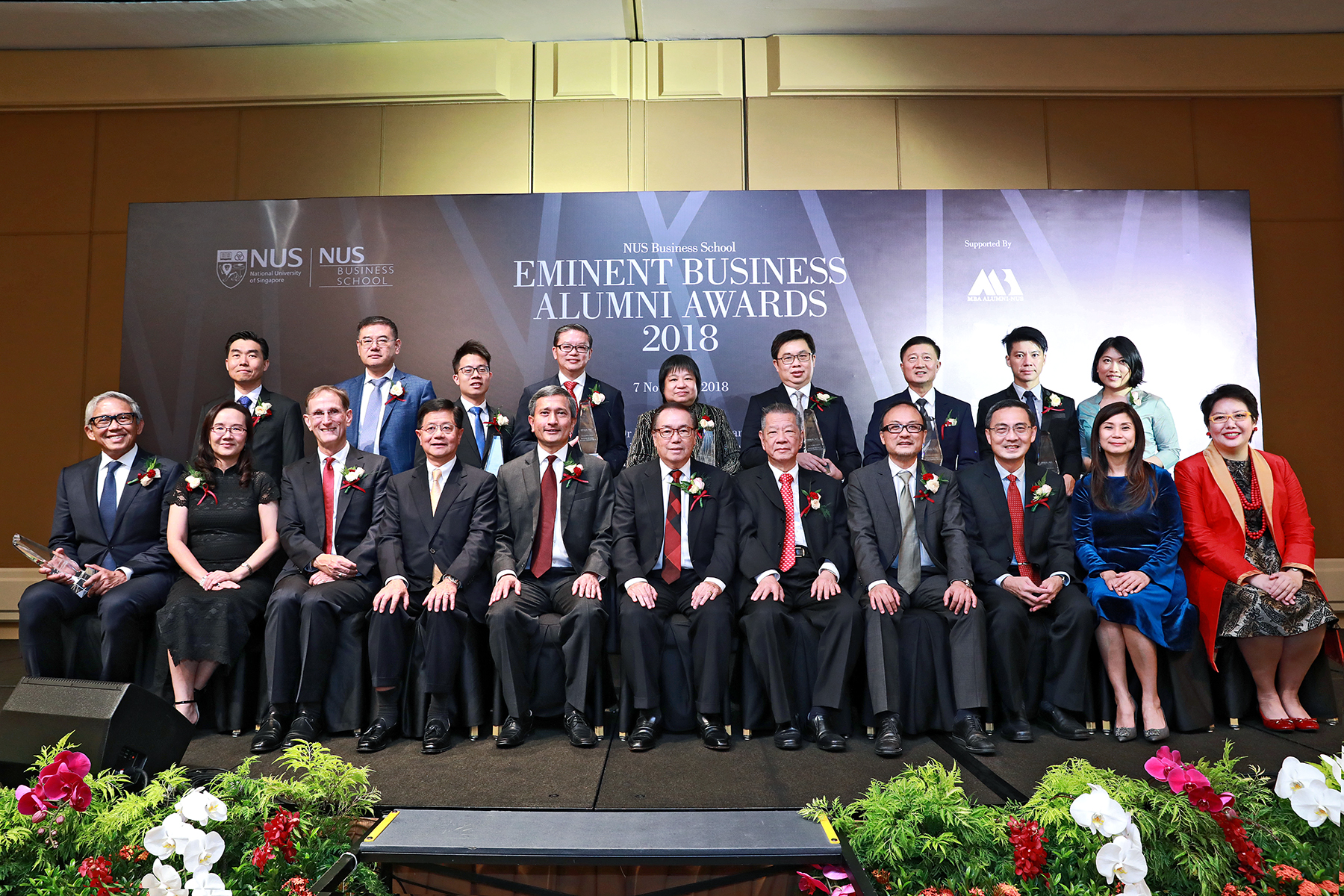 In a 20-minute speech at the awarding ceremony, Dr Vivian Balakrishnan, Minister for Foreign Affairs, highlighted the importance of restructuring the education system in face of an ongoing digital revolution whose significance is no less than the industrial revolution some 250 years ago.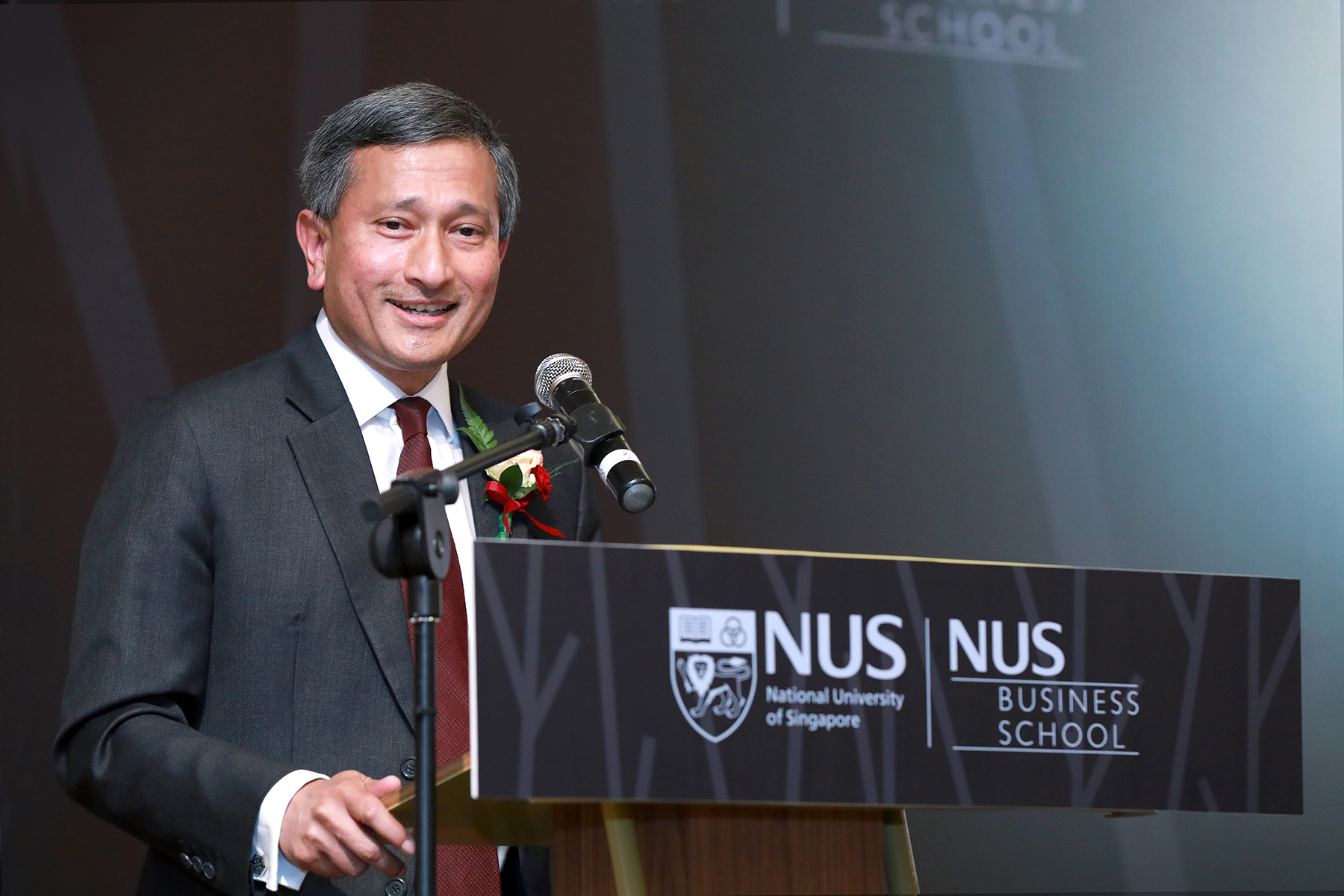 "The real challenge is to master tomorrow's technology," said Dr Balakrishnan, who is also the Minister-in-charge of the Smart Nation initiative.
Professor Bernard Yeung, Dean and Stephen Riady Distinguished Professor of NUS Business School, also expressed his gratitude to the alumni's contribution to the country.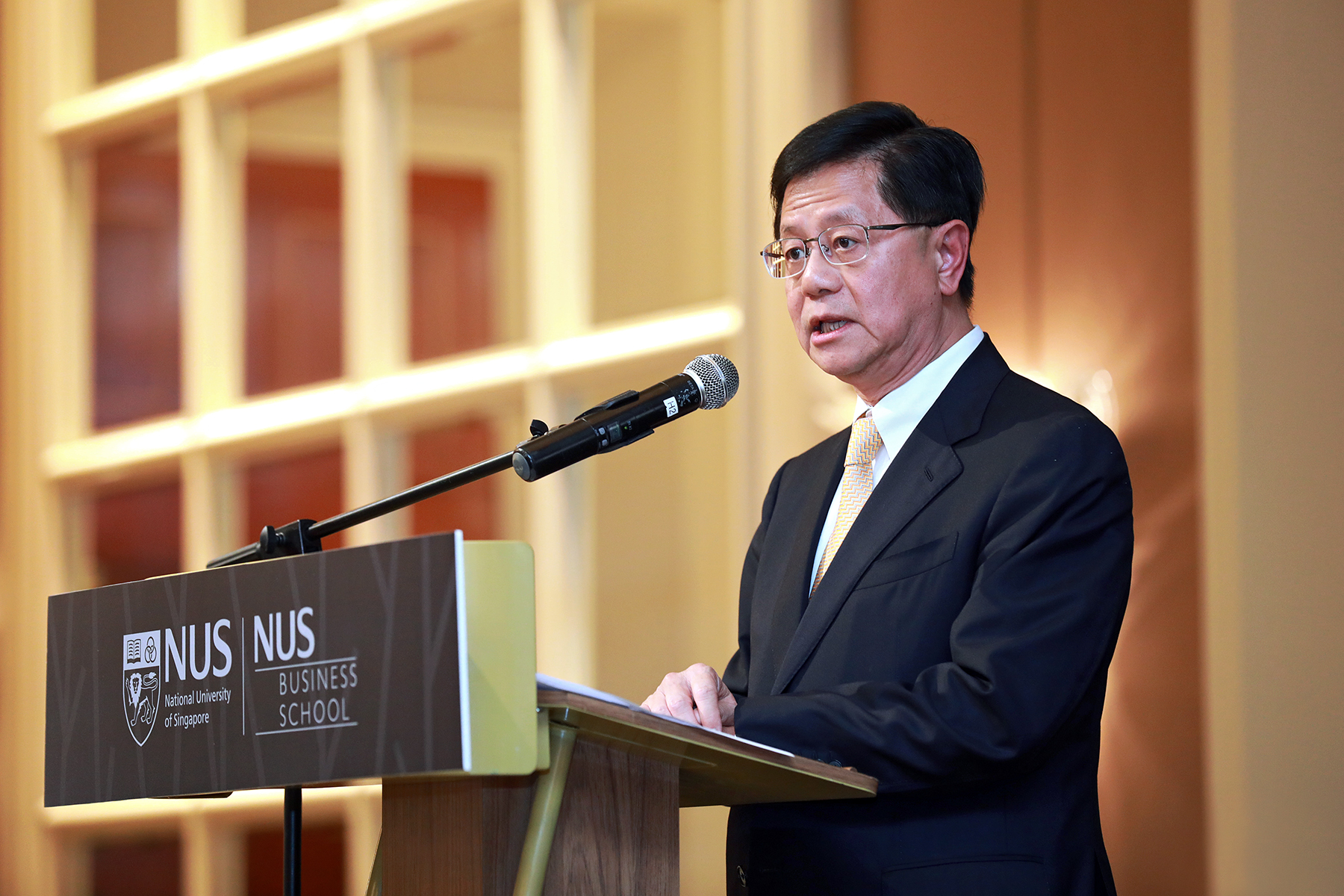 "Our recipients have made an impact beyond Singapore's shores, contributed to the nation's goal of becoming a Smart Nation, and generously donated their time to serve the community," he said.
Some awardees shared their excitement with Fortune Times during the ceremony.
Bahren Shaari, CEO of Bank of Singapore, said:  "The university degree allowed me to get into my first job in an accounting firm. That was really important to my career."
Mr Tan Wang Cheow, Founder and Executive Chairman of Food Empire Holdings Ltd, said: "The NUS Business School set a good foundation to me and my future career.  We have a good school here and students don't have to go overseas to learn business."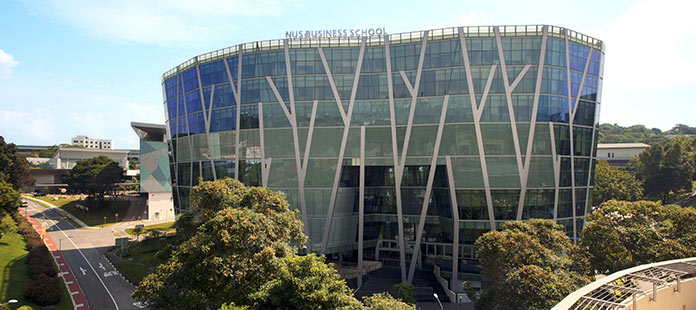 The National University of Singapore (NUS) Business School, which was established in 1965, is known for providing management thought leadership from an Asian perspective, enabling its students and corporate partners to leverage global knowledge and Asian insights.
The school has consistently received top rankings by independent publications and agencies, such as The Financial Times, Economist Intelligence Unit, and QS Top MBA, in recognition of the quality of its programs, faculty research and graduates.
NUS Business School
Eminent Business Alumni Awards 2018
English
Chinese
1
NUS Business School
Eminent Business Alumni Awards
新加坡国立商学院2018 杰出校友奖
2
Award Categories
1. Senior Alumni Award2. Young Alumni Award3. Alumni Service Award
1. 杰出校友奖

2. 青年杰出校友奖

3. 校友服务奖

3
Mr Peter Seah

Chairman, DBS Group Holdings & DBS Bank

佘林发
主席
星展银行
4
Professor Bernard Yeung

Dean and Stephen Riady Distinguished Professor

院长杨贤

李棕杰出讲座教授

新加坡国立商学院

5
Senior Alumni Award recipients

1.       Mr Bahren Bin Haji Shaari, CEO, Bank of Singapore

(Bachelor of Business Administration (Accounting), 1984)

2.       Datuk Chay Wai Leong, Group Managing Director, Kenanga Investment Bank Berhad

(Bachelor of Business Administration, 1987)

3.       Ms Tan Hwee Bin, Chairman, NTUC Health Co-operative Limited; Director, Singapore Labour Foundation; Executive Director, Wing Tai Holdings Limited

(Bachelor of Business Administration (Accounting), 1985)

4.       Mr Tan Wang Cheow, Founder and Executive Chairman, Food Empire Holdings Limited

(Bachelor of Business Administration (Accounting), 1981)

5.       Mr Tian Tao, Advisor, Huawei International Advisory Council; Co-Director, Ruihua Innovative Management Research Institute, Zhejiang University; Co-Director, Cambridge Centre for Chinese Management

(Asia-Pacific Executive Master of Business Administration Chinese, 2009)

6.       Ms Teo Lay Lim, Senior Managing Director, Accenture

(Bachelor of Business Administration, 1985)

杰出校友奖

1.       博林
首席执行官
新加坡银行
工商管理学士(会计), 1984

2.       拿督谢玮良
集团董事经理
肯纳格投资银行有限公司

工商管理学士, 1987

3.       陈慧敏

执行董事

永泰控股有限公司

工商管理学士(会计), 1985

4.       陈遠昭

执行主席

富旺朝控股

工商管理学士(会计), 1981

5.       田涛

浙江大学睿华创新管理研究所联席所长/华为国际咨询委员会资深顾问/新加坡国立大学商学院中国商务中心(CBC)顾问
高级工商管理硕士(中文), 2009

6.       张丽琳

高级董事总经理
埃森哲

工商管理学士, 1985

6
Young Alumni Award recipients

 

1.       Mr Lee Junxian, CEO and Co-founder, Moovaz

(Bachelor of Business Administration, 2008; Master of Business Administration S3 Asia, 2014)

2.       Mr Justin Lie Wee Chian, CEO and Founder, CashShield

(Bachelor of Business Administration, 2010)

3.       Ms Nang Lang Kham, Deputy CEO, Kanbawza Bank (KBZ Bank); Chair of Brighter Future Myanmar Foundation

(Bachelor of Business Administration, 2011)

4.       Mr David Pong Sheung Yan, CEO and Co-founder, WateROAM

(Bachelor of Business Administration with Honours, 2014)

青年杰出校友奖

 

1.       李俊贤
总裁
Moovaz

工商管理学士, 2008/工商管理学硕士 S3亚洲, 2014

2.       李伟健
创始人
CashShield

工商管理学士, 2010

3.       Nang Lang Kham
副首席执行官
KBZ Bank/ KBZ银行有限公司

工商管理学士, 2011

4.       庞上恩

总裁

沃得荣净水国际私人有限公司

工商管理学士, 2014

7
Alumni Service Award recipients

 

1.       Mr Kwek Chok Ming, Past President (2014 – 2018), NUS Business School Mandarin Alumni Association; Senior Financial Services Director, Prudential Assurance Company Singapore Pte Ltd

(Bachelor of Business Administration, 1978; Asia Pacific Executive Master of Business Administration Chinese, 2009)

2.       Mr Sonny Yuen Chee Choong, Founding member and President (2014 – 2018), NUS Business School Alumni Association (NUSBSA); Co-founder and Managing Director, JonDavidson Pte Ltd

(Bachelor of Business Administration, 1985)

校友服务奖

1.       郭作鸣
高级财务服务总监

保诚保险新加坡(私人)有限公司
工商管理学士, 1978/ 高级工商管理硕士(中文), 2009

2.       袁志聪
董事总经理
真得胜(私人)有限公司