More than 80 Singapore companies are taking part in China's first import-themed national-level expo in Shanghai which opens today and is called by Chinese President Xi Jinping a "trail-blazing" move in the history of international trade development.
During the six-day trade fair, more than 3,600 companies from 172 countries, regions and international organizations will hold discussions and seek common development with over 400,000 purchasers from China and overseas, the Chinese state news agency Xinhua reports.
"All countries should be committed to opening up and oppose protectionism and unilateralism in a clear-cut stand," said Xi who announced the opening of the fair.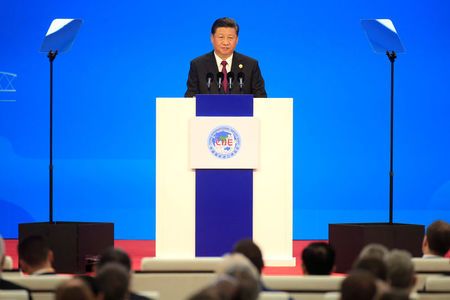 Among the participating Singapore businesses include Singapore Airlines, KinderWorld International Group , Tai Hua Food and YCH.
According to the Singapore Business Federation, the Singapore exhibitors have taken up 1,425 sq m of space at the fair, which, according to the organiser, is the largest of any ASEAN country.
Singapore's Ministry of Trade and Industry said in a press statement that Singapore companies, with their strong branding and commitment to high quality standards, are in a good position to introduce differentiated products and services to China's huge and growing domestic market.
"Singapore's participation in the CIIE will allow Singapore companies to take part in business matching sessions and explore collaborations with Chinese partners to help them enter and expand into China," the statement said.
Last year, Singapore was China's largest overseas investment destination along the Belt and Road, drawing in about 22 per cent of China's total outbound investments to the Belt and Road countries, according to the statement.
China has been Singapore's top investment destination since 1997 as well as the Republic's largest trading partner since 2013.