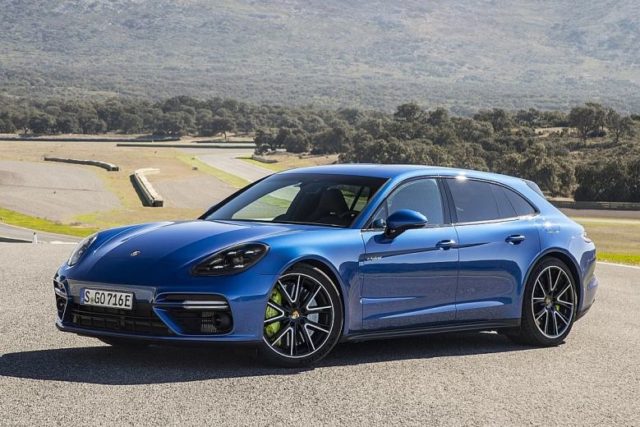 Singapore, 8 Jan 2018 – Panamera Turbo S E-Hybrid Sport Turismo – that is the long name for Porsche's new plug-in hybrid. So, let's just call it a sports wagon for now.
Inspired by its 918 Spyder hybrid supercar, it gets the Panamera Turbo's 4-litre V8 combustion engine and an electric motor, for a combined system power of 680hp.
Though with all that power, you won't notice the car's elephantine kerb weight of more than 2.3 tonnes.
It has 400Nm of pure electric torque available instantaneously, giving it a lively and silent take-off every time. The twin-turbo V8 joins in later for a combined peak torque of 850Nm. Even then, the V8 mechanical burble can hardly be heard with the windows up.
All-wheel-drive keeps the sports wagon well planted at all speeds. A sharp electromechanical steering and slick eight-speed dual-clutch transmission makes it easier to wield than its size might suggest.
Still, the car is more at ease as a highway cruise missile than for charging around mountain passes. Being wider than a Mercedes-Benz S-class, it is noticeably constricted on narrower roads.
Like V8 turbo Panameras, it gets an adaptive three-chamber air suspension system for a taut, but never an uncomfortable ride.
Porsche states a hardly believable fuel consumption of 3 litres/100km. The test-car manages no lower than 10 litre/100km. This is acceptable, considering its near-supercar century sprint of 3.4 seconds and a potential top speed of 310kmh.
It takes about six hours to fully charge up, giving it a pure electric range of up to 49km. You will not get any range anxiety, though. An 80-litre fuel tank ensures the V8 is ever-ready to do double-duty in powering and re-charging the hybrid Panamera on the go.
The wagon looks like a Panamera from the front. From the B-pillar, an extended roofline gives the Sport Turismo a slightly gawkier wagon profile. It is even more telling when viewed from the rear. An extendable roof-spoiler, and a tailgate that extends all the way down to the bumper give away its wagon format.
It is quite disappointing that 18 per cent of boot capacity has been sacrificed to accommodate its electric motor and lithium-ion battery pack below the floorboard. At 425 litres, its luggage capacity is no more than what a mid-sized sedan offers.
Not only that, its all-wheel-drive tunnel encroaches into the rear passenger space, compromising the comfort of the middle occupant. Otherwise, headroom is adequate even for lanky passengers, thanks to the extended wagon roofline.
Porsche may have positioned the Sport Turismo as a sports car, luxury saloon and touring wagon rolled into one. But it is a bit of a compromised space oddity, even if it is bristling with high-tech features. If only it had a more stirring soundtrack.