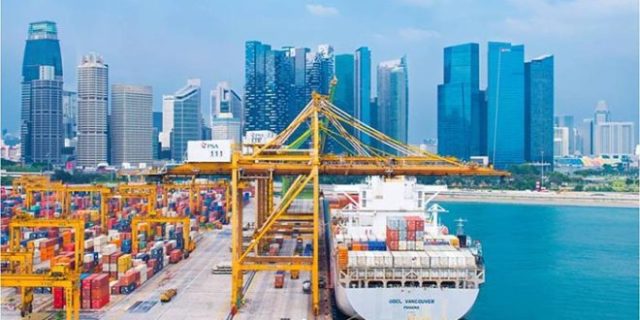 Singapore, 16 Jan 2018 –Port operator PSA International hit a 9.8% growth in the total number of containers it handled in 2017. 
Container throughput at its global port projects came in at 74.2 million twenty-foot equivalent units (TEUs). Additionally, container volumes at PSA terminals outside of Singapore rose 10.4% to 40.89 million TEUs.
Its flagship PSA Singapore Terminals contributed 33.35 million TEUs – up 9% from 2016 – to the total.
The Port of Singapore, as a whole, has emerged as a clear winner from the reshuffling of global shipping alliances, with box traffic expanding by 8.9% last year.
Container throughput rose to 33.7 million TEUs from 30.9 million TEUs in 2016, according to advanced estimates released by the Maritime and Port Authority of Singapore last Friday. The increase was due to improvements in global trade growth and the repositioning of major shipping alliances.
The Singapore Registry of Ships maintained its growth momentum, with the total tonnage of ships under the Singapore flag up 0.9% to 88.8 million gross tons, from 88 million gross tons in 2016.
Singapore also retained its status as the world's top bunkering port last year, with annual bunker sales crossing the 50 million tonne mark for the first time. The total volume of bunkers sold in the Port of Singapore grew 4.2% to 50.6 million tonnes, compared with 48.6 million tonnes in 2016.
To develop Singapore's next generation port, PSA is preparing for a future where logistics and supply-chain needs are transformed by new technology, trade, manufacturing and e-commerce dynamics.
As a form of execution, the Sea Transport Industry Transformation Map was launched last Friday – this was developed by the Maritime and Port Authority of Singapore (MPA) in partnership with other stakeholders.
Created on the basis of MPA's strategic long-term plans so as to also strengthen international maritime centre (IMC), new initiatives have been set under Sea Transport ITM to catalyse innovation, drive productivity improvements and enhance workforce.
The package includes: Expanding the Tuas port, the adaptation of e-bill and assisting local firms to internationalize. People will be expecting greater automation from the use of intelligent systems and digital technologies, and in order to stay competitive; MPA vowed on partnering institutes on higher earning and researches.
The Sea Transport Industry Transformation Map covers the port, shipping and maritime services sectors which aimed at growing the industry's value-add by $4.5 billion and creating more than 5,000 good jobs by 2025.