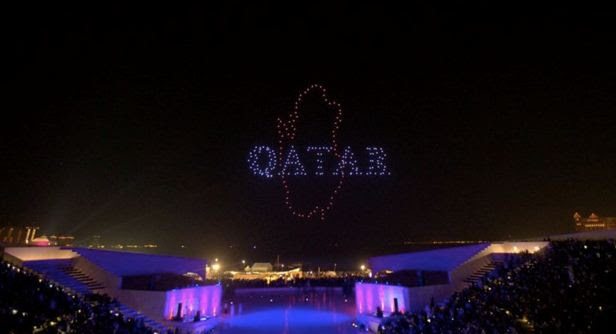 Singapore, 20 Dec 2017 – Singapore-based startup Sky Magic delivered a visual spectacle for Qatar's 46th National Day Week celebrations at Katara Cultural Village in Qatar, in the form of a drone show featuring a 300-strong fleet. This was the first time a live drone show had been performed in Qatar.
The celebrations kicked off with a series of drone formations showcasing symbolic images of Qatar, accompanied by traditional Arabic music. The formations began with a giant heart with the word "Qatar" in Arabic, which morphed into a giant outline of Qatar. These were followed by an image of an Oryx, the national animal of Qatar, running across the night sky. Next was a formation that outlined a traditional wind tower and the modern torch tower, both of which symbolize prosperity.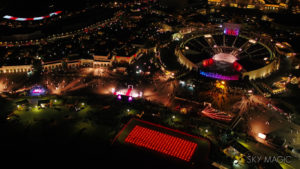 The highlight of the drone show was a larger-than-life portrait of HH the Emir of Qatar and a magnificent flashing Qatar flag. These were performed 200m above the ground, spanning a 360m-wide area. The show's key message was to celebrate Qatar's journey towards prosperity, beginning from a barren desert to a prosperous nation with the world's third-highest GDP per capita.
The drone show was powered by Sky Magic, a Singapore-based startup. With its in-house cutting-edge certifiable autopilot system and state-of-the-art drone show technology, Sky Magic engineered its own software and hardware for both indoor and outdoor live event applications. This proprietary distributed swarming algorithm and data fusion enables real-time generation of feasible and smooth collision-free trajectories for hundreds and thousands of drones. The fully autonomous fleet of drones is designed to be easy to operate, safe and reliable. We deeply believe that Sky Magic's production of drone shows is but a first step to a broader range of applications of its core swarm technology in the near future.