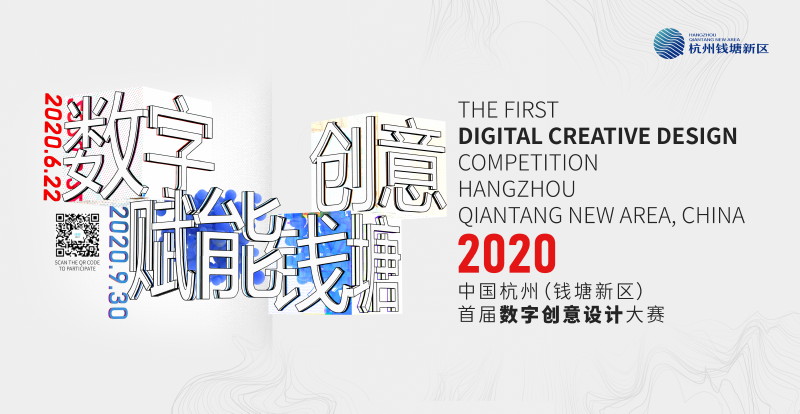 LIN Feng/Reporter
"Hangzhou, a city in southeast China, best known since ancient times for its geographical significance, beautiful natural scenery and economic and cultural prosperity," wrote Liu Yong the poet around 1000 AD.
The establishment of Qiantang New District (QND) has proved itself to be a good choice to meet the future development of the city. The QND is now a land of opportunities for both entrepreneurs and innovative minds. It has been decided days ago that a CREATIVE DIGITAL DESIGN CONTEST of 2020 will be launched. The theme of this competition is "digital technology and creative thinking in QND" and will welcome all entries from across the world around the following three areas: cultural creativity, digital content innovation and comprehensive design.
This competition is organized by QND Management Committee and Digital Creative Innovation Industry Alliance, aiming to strengthen digital creativity and innovative design in QND and promote high-quality development of creative cultural industry through open competition activities.
To enter this competition, please register online and it will remain open till September 30, 2020. Your entries can be submitted at http: http://dsgn.ckcest.cn.
The competition is open to companies, universities, research institutes and individuals worldwide who are interested in digital creativity or related fields. Your submitted work will be judged from the following perspectives: innovation, market value and realizability, future trends, environment friendliness as well as color coordination. The competition will produce two (2) Golds, three (3) Silvers and ten (10) Bronzes. In addition, there will be fifty (50) honorable mention awards and ten (10) best organization awards. The prizes are 30,000, 10,000, 5,000, and 3,000 yuan respectively.
In order to encourage more high-level talents to participate in the competition and to identify more high-quality cultural and creative projects, the gold and silver award winning works can be recommended by the Yangtze River Delta Innovative Design Industry Alliance to participate in the "GOOD DESIGN" Award of 2020. If the competition entries are turned into products in QND, the owner will receive treatment as those talents and innovation and entrepreneurship in the District.
City development in the past decades has reshaped the landscape of Hangzhou. Qiantang River, used to stretch on the edge of the city, now "runs right through the heart of the city." Since the establishment in 2019, QND's mission is clear: to form a world-class smart manufacturing cluster, a demonstration zone for integrated development of industry and city for the Yangtze Delta, a long-term landmark platform for reform and opening up for Zhejiang, an integrated innovation and development zone for digital economy and smart manufacturing in the Hangzhou Bay.
It is an important step to develop modern service industries such as cultural and innovative industries and digital technology to meet the needs of the New District.
To promote high-quality development of digital technology, modern service industries such as cultural and innovative industries, we are now launching this competition. All of you are cordially invited to take part.