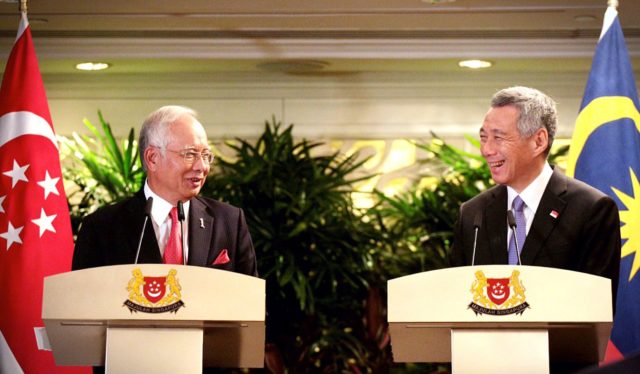 Singapore, 15 Jan 2018 – Prime Minister Lee Hsien Loong welcomes his first foreign leader of the new year when his Malaysian counterpart Najib Razak arrives in Singapore on Monday for a two-day visit.
The two leaders are set to have their annual retreat, which was supposed to have taken place in December but was postponed at Mr Najib's request as he had to attend a special meeting of the Organisation of Islamic Cooperation in Turkey.
Accompanying Mr Najib to Singapore is a high-level delegation of several Cabinet ministers and senior officials, including Minister in the Prime Minister's Department Rahman Dahlan.
The Singapore delegation includes Deputy Prime Minister and Coordinating Minister for National Security Teo Chee Hean and a number of Cabinet ministers.
According to a statement from Singapore's Foreign Affairs Ministry (MFA) issued on Sunday, Mr Najib will first call on President Halimah Yacob at the Istana on Monday.
Mr Lee and his wife Ho Ching will host a private dinner for Mr Najib and his wife Rosmah Mansor later in the evening.
Before dinner, the two leaders will grace the official opening of the Marina One and Duo mixed development projects.
These two iconic projects are developed by M+S Pte Ltd, a joint venture between Singapore's Temasek Holdings and Malaysia's sovereign wealth fund Khazanah Nasional.
Khazanah owns 60 per cent of M+S, with Temasek having the remaining 40 per cent. The company was set up back in June 2011to develop the two integrated developments.
Located at Marina Bay, Marina One has a total gross floor area of 3.67 million square feet and comprises prime office space, retail space and luxury apartments.
Duo, situated at the Ophir-Rochor area, has 1.73 million square feet of gross floor area and comprises office space, retail space, premium apartments and a five-star hotel.
On Tuesday, Mr Lee and Mr Najib, along with their delegations, will meet at the Istana for bilateral discussions.
The two leaders will then witness the signing of the bilateral agreement for the Johor Bahru-Singapore Rapid Transit System (RTS) Link.
This document will be inked by Malaysia's Mr Rahman and Singapore's Coordinating Minister for Infrastructure and Transport Minister Khaw Boon Wan.
This cross-border rail link, which will connect Singapore and Johor Bahru, is due to begin passenger service by the end of December 2024.
The RTS Link was first announced by the two neighbours in 2010. Singapore's terminus will be built at Woodlands North station along the new Thomson-East Coast MRT line. Malaysia will build its terminus at Bukit Chagar.
The link will be connected via a high bridge, and is expected to transport up to 10,000 people in each direction every hour.
The MFA statement said the RTS link would "help to boost connectivity, strengthen our economic and business links, and enhance people-to-people relations".
This is the second major bilateral agreement on connectivity involving Singapore and Malaysia in two years.
At the last leaders' retreat in Putrajaya in December 2016, the two countries signed an agreement to construct a high-speed rail line that is slated to begin service by Dec 31, 2026.
The rail link between Singapore and Malaysia's capital Kuala Lumpur, first mooted in 2013, will be 350km long and have eight stations in total.
ST