(Singapore, June 18, 2020) Singapore is the second easiest place, only after Hong Kong,  to do business in the Asia Pacific region, a new TMF Group report has revealed.
According to its Global Business Complexity Index (GBCI) which ranks 77 jurisdictions across the world in order of ease of doing business, the most complex jurisdictions in the world include Indonesia (1st in complexity), China (6th most complex) and Malaysia (9th), Taiwan (16th), South Korea (17th) and India (18th).
Singapore and Hong Kong, which count amongst the easiest in the Asia Pacific region, are positioned at 18th and 12th simplest respectively in the world.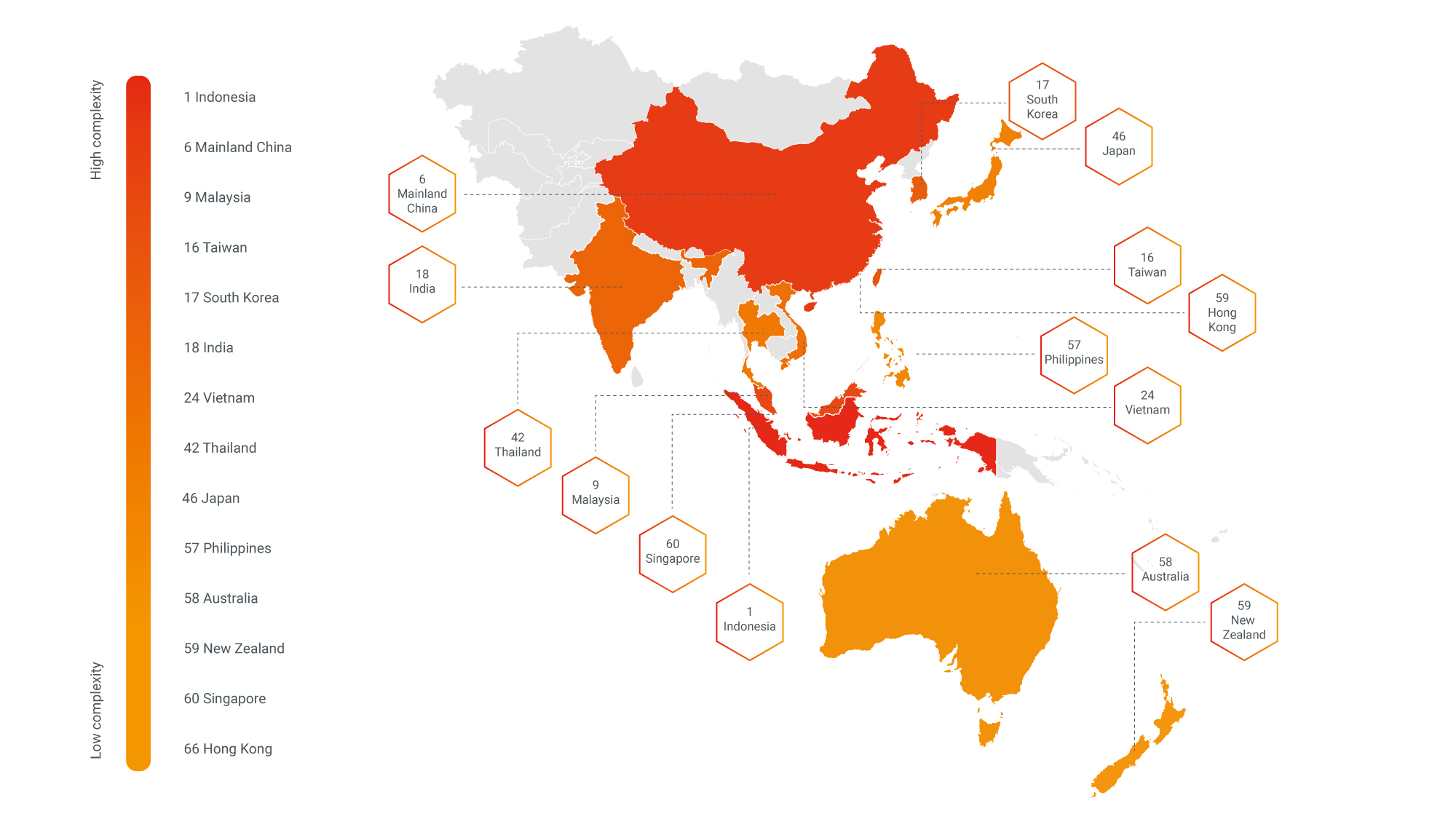 "Understanding the rules of engagement with regulators is crucial, and businesses looking to operate in APAC need to constantly stay abreast of diverse and rapidly evolving legislation, integrating it fast into their policies," said Paolo Tavolato, Head of Asia Pacific, TMF Group.
The GBCI 2020 shows that while APAC regulatory frameworks were already evolving at a quicker pace to become more robust for businesses, this has been accelerated by the outbreak of the pandemic.
It also highlights how APAC's paper and seal culture may pose challenges for businesses looking to operate efficiently during these times. Sixty-four percent of jurisdictions, above the 43% global average, still maintain traditional requirements that add to business complexity, such as the requirement of an official stamp to ensure legal probity.
The report also reveals that APAC ranks as the region with the 2nd highest proportion (36% versus the global average of 24%) of jurisdictions implementing online submissions of tax invoices via an authority portal.
As businesses undergo digital transformation with remote working and safe distancing measures in place, technology adoption for taxation processes in APAC will continue to accelerate.
In Singapore, ACRA continues to encourage digital solutions and e-filing, such as the filing of annual returns via one common online form.
Besides, APAC governments are also moving swiftly to introduce new measures to support the economy and their populations, as well as making it easier for employers to maintain their workforce.
In Singapore, over 140,000 employers have started to receive pay-outs under the government's Jobs Support Scheme. Totaling over S$7 billion, the pay-outs will help to cover the wages of over 1.9 million local employees.
Edmund Lee, Managing Director Singapore, TMF Group, however, believes that despite the government support and the business opportunities emerging from the pandemic, the pandemic will pose a huge challenge to the entire economic ecosystem.
"No matter who wins, we lose… we are on the same boat," he said, noting that it's too early to predict the winning or losing economies.