(Singapore, June 11, 2020)Singapore and France have agreed to maintain open and connected supply chains for essential food supplies amidst the COVID-19 pandemic.
Singapore's Minister for Trade and Industry Chan Chun Sing and Didier Guillaume, French Minister of Agriculture and Food, held a videoconference and issued a Joint Ministerial Statement of maintaining supply chain connectivity early this week.
"Singapore and France are strategic partners. Our economic relations are growing stronger, enhanced by the entry-into-force of the EU-Singapore Free Trade Agreement (EUSFTA) in November last year," Chan said.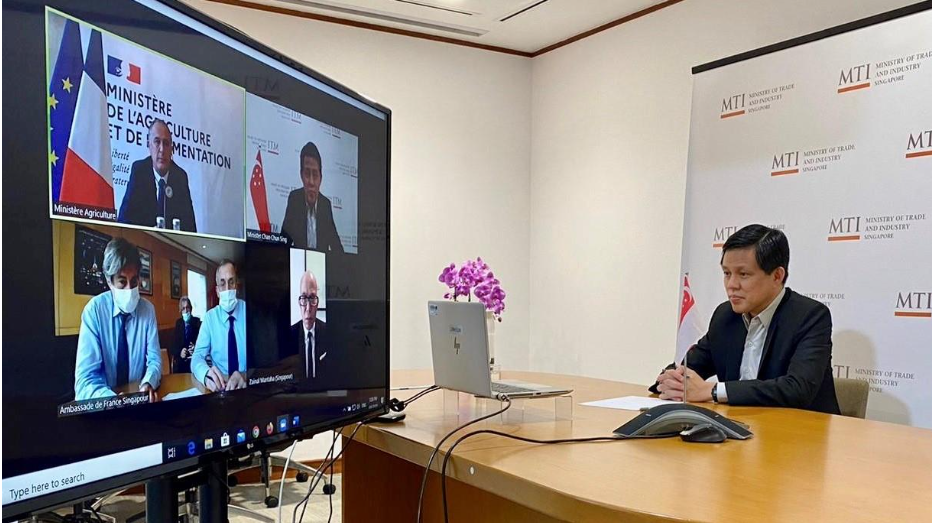 "Beyond enhancing bilateral trade in agri-food products, there is much we can do with French partners in areas such as agri-food technology, food safety standards, and for French agri-food exporters to use Singapore as a platform to serve the rest of Southeast Asia," he added, noting that this Joint Ministerial Statement will strengthen their partnership amidst COVID-19.
"It also demonstrates our intent to maintain open and connected supply chains and facilitate the smooth flow of essential supplies critical to the well-being of our people and businesses."
Under the Joint Ministerial Statement, Singapore and France will work together to ensure that transport and logistics links remain open to facilitate the flow of essential food and agricultural products.
This includes working with relevant service providers in air and sea freight. Both countries will also facilitate business partnerships and collaborations between Singapore and French food companies, importers, and distributors.
Last week, Chan Chun Sing, together with Poland Ambassador Magdalena Bogdziewicz and Non-Resident Ambassador to Poland Dr. Loo Choon Yong, visited a Singapore importer's warehouse to receive the first shipment of hen shell eggs from Poland.
This is the first time Singapore is importing eggs from Poland, which is another example of diversifying food supply sources to ensure food supply remains resilient.
"It is a concrete outcome of the Joint Ministerial Statement that Singapore and Poland issued on 29 May 2020 to affirm their commitment to strengthen economic cooperation," MTI says.
The eggs will be sold to restaurants and other F&B retailers.
At 7:30 pm of Sunday, Chan Chun Sing will deliver a televised speech themed "Making a Living in a COVID-19" World.
This is part of Singapore's national broadcasts about the post-coronavirus world from June 7-20.
Some analysts believe the Republic's General Election will come on the heels of the broadcast, probably in mid- or late July right before the National Day Parade on Aug 9.