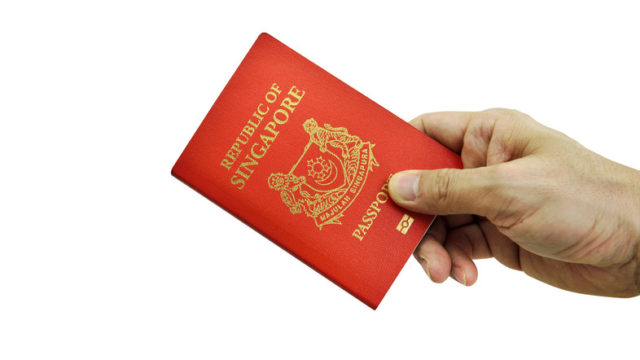 Singapore, 11 Jan 2018 – Singapore's passport ranks second in the 2018 Henley Passport Index, its highest ranking on the index in the last 10 years, according to residence and citizenship advisory firm Henley & Partners on Tuesday (Jan 9). 
Germany took the top spot for the fifth year running.
The index is based on how many countries various passport holders can travel to without a visa. 
Singapore passport holders can travel to 176 countries without a visa, up from 173 countries, according to Henley's 2016 Visa Restrictions Index.
German passport holders have visa-free access to 177 countries, up from last year's 176.
Third place on the list is shared among Denmark, Finland, France, Italy, Japan, Norway, Sweden and the UK. Passport holders from these countries enjoy visa-free travel to 175 countries. 
Ranking jointly fourth on the index are Austria, Belgium, Luxembourg, the Netherlands, Switzerland, and Spain, which have visa-free access to 174 countries.
The United States and South Korea came in fifth as their passports allow visa-free travel to 173 countries.
SOUTHEAST AND NORTH ASIAN RANKINGS
Within Southeast Asia, the rankings have "remained stable", according to the index, with Singapore remaining the "best-performing country in the region". 
Malaysia ranks second in the region, and 12th on the global scale as their passport holders can travel without visas to 166 countries. Indonesia moved up seven places to rank 72nd globally after signing visa agreements with countries like Qatar in 2017.
In other parts of the region, China ranks 75th globally, climbing up the most in North Asia according to the index. Its visa-free travel now extends to 60 countries, up from last year's 51.
Pakistan, Syria, Iraq and Afghanistan sit at the bottom of the list for a second year in a row, allowing visa-free access to 30 or fewer countries. 
"The need for visa-free travel access is greater than ever", said group chairman of Henley & Partners Christian H Kalin.
"Across the economic spectrum, individuals want to transcend the constraints imposed on them by their country of origin and access business, financial, career, and lifestyle opportunities on a global scale. 
The Henley Passport Index shows individuals where they lie on the spectrum of global mobility, revealing the strength that their passport has in relation to other passports," he added.
Dr Kalin stated that most countries on the index either improved or maintained their access compared to 2017's results.
"These findings reflect the fact that, while certain countries are tightening their borders, most are in fact becoming more open, as they seek to tap into the immense economic value that tourism, international commerce and migration can bring."
In another ranking in October last year, global financial advisory firm Arton Capital named Singapore as the single most powerful passport in the world.
CNA