(Singapore, Jan 13, 2020) Singapore will continue to grow its friendly relationship with Taiwan based on the "One China" policy, Singapore's Ministry of Foreign Affairs has announced over the weekend after Ms Tsai Ing-wen won the elections in the self-ruled island.
"We welcome the successful conclusion of the elections in Taiwan on 11 January 2020 and congratulate Dr Tsai Ing-wen and her party on their victory. Singapore and Taiwan share a close and friendly relationship, which goes back many years. We will continue to grow this relationship based on Singapore's 'One China' policy'," a statement of the ministry says.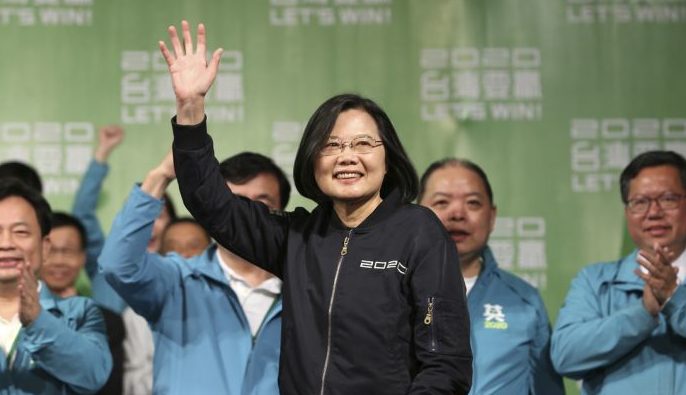 Taiwan's final election results showed that Tsai, from the pro-independence Democratic Progressive Party, claimed 57% or 8.17 million votes, 18 percentage points more than her rival, Han Kuo-yu of the Kuomintang, who won about 39% or 5.52 million votes. James Soong of the People First Party scored about 4% or 609,000 votes.
Voter turnout was some 75%, higher than its 66% in 2016 when Tsai won her first presidential election with some 56% of the votes, becoming the island's first female leader.
Tsai's landslide victory also broke former KMT president Ma Ying-jeou's record of 7.65 million votes in 2008. Besides, the DPP also retained its majority in the legislative elections, winning 61 of the 113 legislator seats, down from 68. The KMT secured 38 seats compared with 35 four years ago.
Commenting in response to media queries on the Taiwan elections, Singapore's MFA spokesperson says: "The peaceful and stable development of cross-strait relations would not be possible without wisdom and pragmatism by the leaders on both sides of the Taiwan Strait. Over the years, both sides of the Strait have benefited immensely from such relations. Efforts to secure the well-being of future generations and contribute to the peace and prosperity of the region will continue to be welcomed by Singapore and the international community."
Worldwide, the landslide victory is widely seen as a rebuke of China's bid for unification.
After the Saturday election, officials including US Secretary of State Mike Pompeo had sent congratulatory messages to Tsai Ing-wen, lauding the island's democratic system.
China has lambasted the United States, Britain and Japan for violating the one-China principle after the countries sent congratulatory messages.
In a statement by China's Foreign Ministry, spokesman Geng Shuang said Beijing has already made representations to these countries and urged them to keep their distance from the island.
A separate statement by China's Taiwan Affairs Office also reiterated Beijing's commitment to unify Taiwan with the mainland under its "one country, two systems" model, warning that China would "resolutely safeguard national sovereignty and territorial integrity, resolutely oppose separatist attempts and acts for 'Taiwan independence' in any form".
Relations between the Chinese mainland and Taiwan have deteriorated since Tsai's first presidential tenure in 2016. After she rejected the 1992 Consensus, an agreement that there is just one China, Beijing cut off official dialogue and sought to pressure Taiwan by poaching its diplomatic allies, ramping up military exercises and banning individual tourist travel to the island.
Back In 1949, the Communist Party of China won the Chinese Civil War in the Chinese mainland over its rival KMT and established the People's Republic of China (PRC), claiming to be the sole legitimate government of China. The KMT government retreated to Taiwan.
However, it was not until in 1971 that the People's Republic of China was recognized as sole legal China by the United Nations in its General Assembly Resolution 2758.
Thereafter, most sovereign states have switched their diplomatic recognition to the PRC, recognizing the PRC as the representative of all China. Currently, Taiwan only maintains official diplomatic relations with some 14 UN member states and Holy See, although informal relations are maintained with nearly all others.