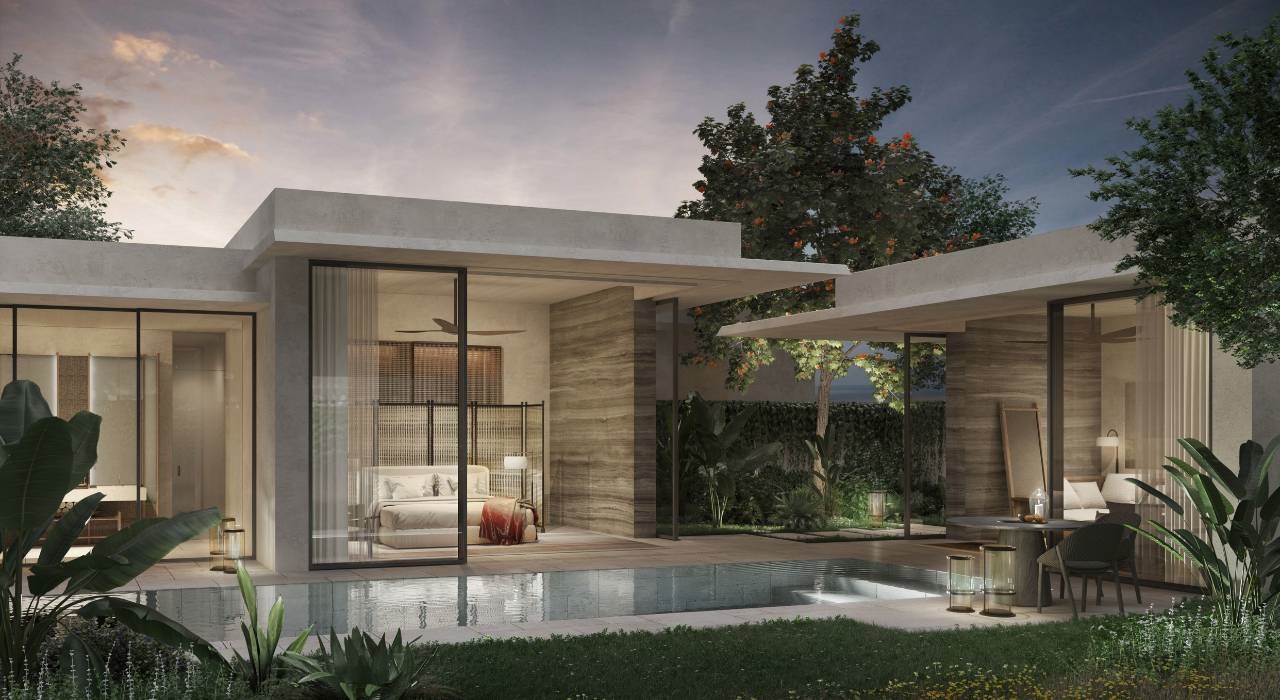 SINGAPORE(June 25): Singapore will have its second Raffles Hotel in Sentosa in 2022, more than 135 years after the first Raffles Hotel opened, Accor and Royal Group announced today.
Royal Group, who own SO Sofitel Singapore and Sofitel Singapore Sentosa Resort & Spa, will build the new Raffles Sentosa Island on prime land adjacent to the existing Sofitel.
The second Raffles in Singapore will be an all-villa hotel set in over 100,000 square metres of sprawling tropical gardens with views over the beautiful South China Sea. There will feature 61 villas, each with their own private swimming pool, making the latest addition to the Raffles collection of ultra-luxury hotels, one of the most exclusive resorts in Asia.
The villas will range in size from 260 square metres for the one-bedroom villas to 450 square metres for the four-bedroom villa, all with their own private pool and terrace area for the ultimate in seclusion and comfort. Facilities will include a bar, restaurants, a fitness centre, a celebrations room and two meeting rooms. Those markers that make Raffles such a legendary experience, including the famous Raffles Butlers and Raffles Spa will be signatures of the resort.
"We are proud to announce a second Raffles hotel in the country of its birth," said Michael Issenberg, Chairman & CEO Accor Asia Pacific. "The Raffles brand is the highest expression of luxurious hospitality in Singapore and we are excited to offer well-travelled connoisseurs a second option to indulge in the famously discreet and attentive Raffles service that has provided an oasis for travellers since 1887.
"The announcement comes as the brand is undergoing a major renaissance, following the recent openings of Raffles Maldives Meradhoo and Raffles Shenzhen China as well as an invigorated pipeline that includes Raffles Udaipur, Raffles Jaipur and Raffles Bali in Asia Pacific as well several upcoming openings globally including Raffles London and Raffles Boston Back Bay Hotel & Residences."
Together with Michael Issenberg in the Press Conferences of Raffles Sentosa are Peter Wilding, Managing Director of Royal Group; Glenn Pushelberg, Co-founder of Global design studio Yabu Pushelberg; Real estate tycoon Asok Kumar Hiranandani, founder Chairman of the Royal Group of Companies and his son Bobby Hiranandani.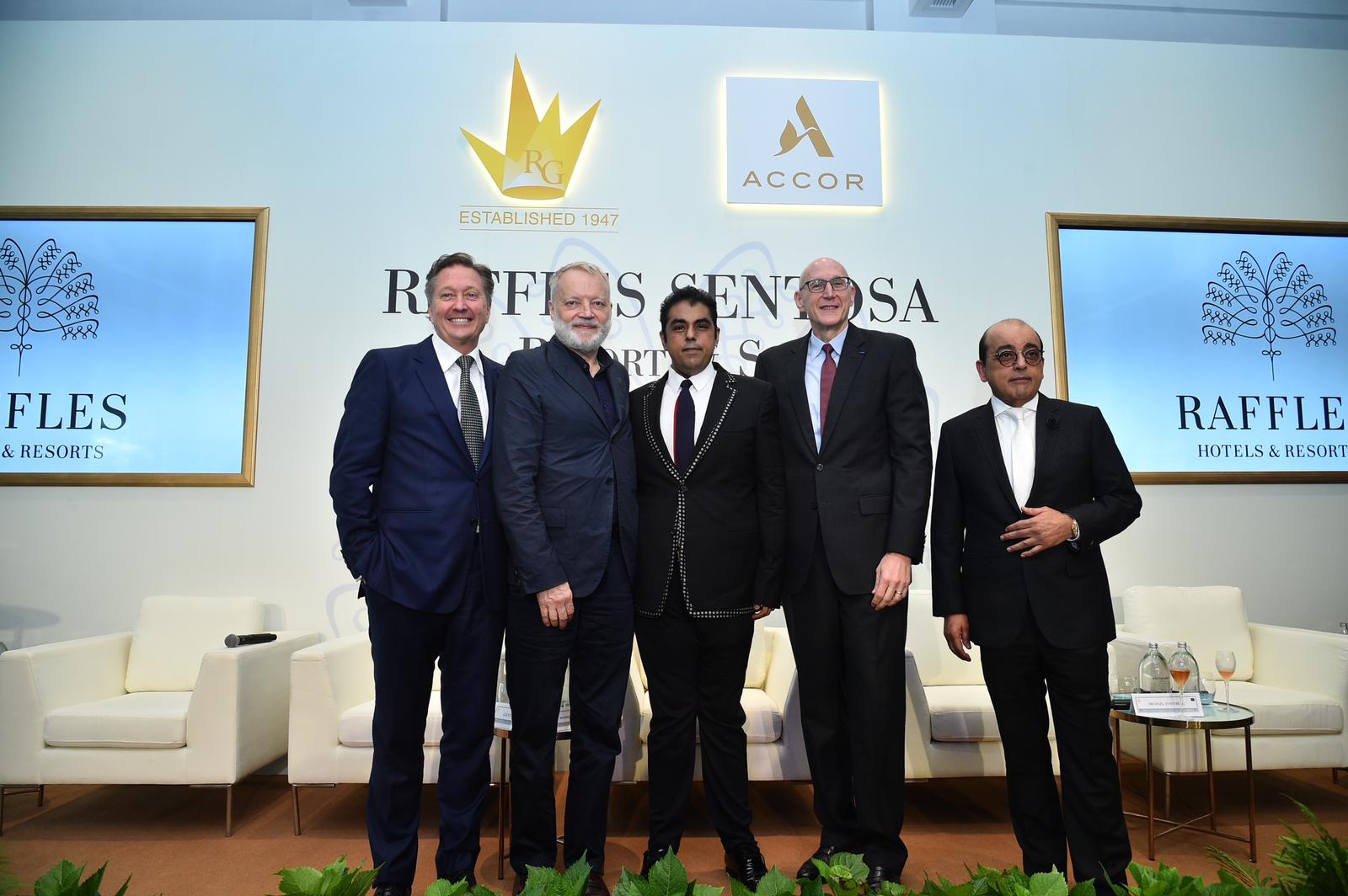 "We are proud to bring a new interpretation of the iconic Raffles brand to a pristine piece of land on beautiful Sentosa Island," said Peter Wilding, Managing Director of Royal Group.
"The original Raffles Hotel was conceived as a beachfront property, but as Singapore has grown up around the property it is now located in the thriving centre of the city. Raffles Sentosa Resort & Spa Singapore will return the brand to the beach and create a modern resort experience that captures the balance of tradition and modernity in a serene and idyllic setting.
"We believe both Raffles hotels in Singapore will offer complementary experiences: one a historic, heritage hotel in the heart of the city and the other a modern, elegant resort experience that blends beautifully with the natural surroundings of Sentosa Island, offering sanctuary for the most discerning guests."
Global design studio Yabu Pushelberg creatively directed the resort's architecture, landscaping, lighting and interiors. The studio began their process by composing a fictional narrative of an elegant Singapore woman moving through defining moments in her life. She begins her journey as a girl in a traditional Singapore family where she learns the importance of heritage. As a young woman, she leaves home to pursue international travels, where she's exposed to different lands and cultures. After exploring the world, she returns to her birthplace, bringing the treasures and learnings from her travels to connect them with what she holds dearest: her roots.
"The resort tells the story of her past, present and future worlds colliding into one complete harmonious experience," said George Yabu. "The story develops as you move deeper into each space, gradually becoming immersed in the natural landscape of the island and bringing you closer to a sense of home."
"As Singapore evolved to become a global hub for business and innovation, the Raffles on Beach Road has become an icon and a necessary stop for Singaporeans and visitors," said Glenn Pushelberg. "Now, as Raffles embarks on a second property in its native city, the brand returns to where it all began – we're taking Raffles back to the beach."
"We are delighted to welcome Raffles Sentosa Resort & Spa Singapore to Sentosa Island. The Raffles brand is an iconic symbol of Singapore's heritage, and will complement Sentosa's strong ridgeline of historic assets, anchored by Fort Siloso on the west and clusters of preserved heritage buildings around the island. By bringing the number of rooms in Sentosa to over 4000 by 2022, Raffles Sentosa Resort & Spa Singapore will further strengthen the array of accommodation options in Sentosa, opening new possibilities for leisure and business travellers and strengthening our unique proposition as an island-in-the-city with a wide plethora of holiday experiences to suit both locals and tourists," said Ms Jacqueline Tan, Assistant Chief Executive, Sentosa Development Corporation.
Proudly born in Singapore, Raffles has become an iconic collection of 14 properties worldwide, which will reach over 20 hotels by 2025.