Singapore will host a benefit concert called "Remember Me" in support of Dementia prevention at the Esplanade on Oct 28, 2019.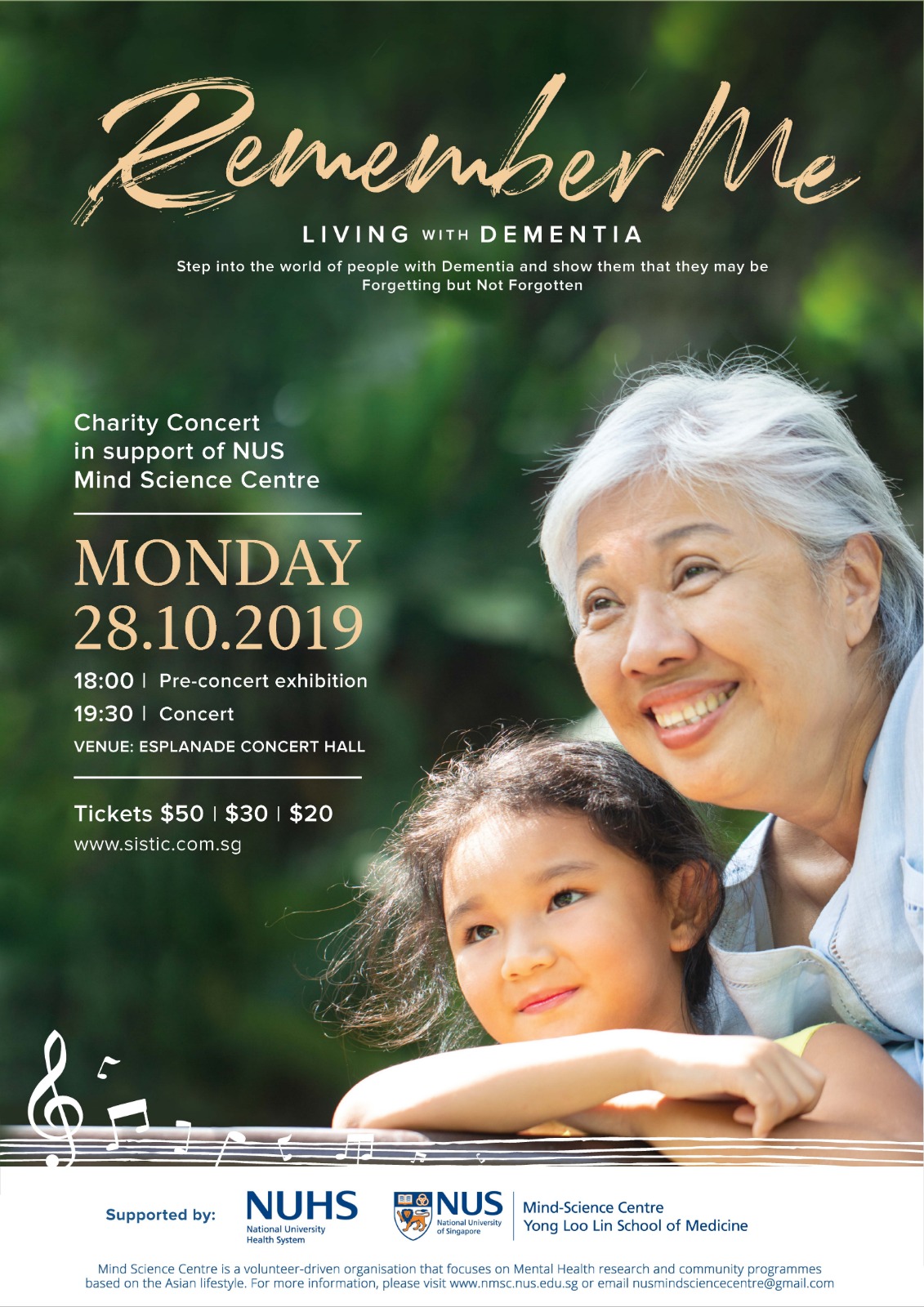 "Remember Me" is a concert featuring English and Mandarin Chinese songs that seeks to educate and entertain. Through vignettes from the emotional journey of Amah Lucy, who struggles to come to terms with dementia and its consequences for her family, herself, and her treasured memories, the audience is transported into the world of people with Dementia from an individual perspective.
This concert aims to raise awareness and reduce the stigma associated with Dementia, and its impact on patients, their family and caregivers.
For the elderly, successful ageing is a combination of minimizing disease and disability, maintaining good physical and cognitive function as well as meaningful social connectivity. Based on the 10-year Jurong Ageing Study, the Age Well Everyday (AWE) programme (previously known as Dementia Prevention Programme) was developed to reduce the risk of Dementia in the elderly population through education, mindful awareness and physical exercise.
By 2050, Singapore is projected to be growing old faster than any society in the world with mental disorders being one of the largest contributors towards early death and disability (10.2%). There is a growing urgency for innovative strategies to combat rising mental health issues and raise community awareness and support in Singapore.
Remember Me Concert
Living with Dementia
Date:               Monday, 28 October 2019
Time:               6pm – 9.30pm
Venue:             Esplanade Concert Hall
Acknowledgements
Advisor:          Prof Kua Ee Hoek
Producer:         Mary Anne Tan
Music Director: Elaine Chan
Stage Director/Multi Media: Brian Gothong Tan
Stage Management: Benjamin Chee
Choreographer – Richard Chia
Lighting Designer: Zixi
For more information, please visit MSC's website at http://nmsc.nus.edu.sg/