(Singapore 27 April 2023)Singapore's newly announced property cooling measures won't prevent local property and rental price from rising. There will also be more applications to become local Permanent Residents, analysts have told Fortune Times.
According to the new measures which were co-announced by three government departments around last mid-night, foreigners purchasing any residential property will face a 60% rate of additional buyers' stamp duty (ABSD) from the previous 30%.
Besides ABSD, local property buyers are also subjected to Buyers' Stamp Duty (BSD) whose amount ranges from 1-6% much depending on the property's purchase price.
In general, all local property buyers — Singapore Citizens (SCs), Singapore Permanent Residents (SPRs) and foreigners – will face a higher ABSD while they buy a second and subsequent local residential property.
"We have made these measures for those two reasons – prioritize Singaporeans who are buying for owner occupation, but also pre-emptively dampening demand by investors, both local and foreign, for residential property," Singapore's Minister for National Development Desmond Lee told reporters after the cooling measures were announced.
Also in the new policy, the government has raised ABSD rate from 17% to 20% for SCs purchasing their 2nd residential property; from 25% to 30% for SCs purchasing their 3rd and subsequent residential property, and Singapore Permanent Residents (SPRs) purchasing their 2nd residential property.
However, the ABSD rates for SCs and SPRs purchasing their first residential property, which constitutes about 90% of residential property transactions based on 2022 data, will remain at 0% and 5% respectively, the Monetary Authority of Singapore (MAS) announced.
MAS also said the implementation of the property market measures in December 2021 and September 2022 have had a moderating effect. However, in the first quarter of 2023, property prices showed renewed signs of acceleration amid resilient demand.
"Demand from locals purchasing homes for owner-occupation has been especially strong, and there has also been renewed interest from local and foreign investors in our residential property market. If left unchecked, prices could run ahead of economic fundamentals, with the risk of a sustained increase in prices relative to incomes."
Based on 2022 data, the above ABSD rate increases will affect about 10% of residential property transactions,MAS said.
Christine Sun, Senior Vice President of Research & Analytics, OrangeTee & Tie, told Fortune Times today that the new cooling measures would hardly bring down either property or rental prices, although they will probably dampen demand over the next six months.
"Prices of homes may still not drop significantly as supply remains low in the market and sellers have holding power," she said, noting that when volume is low and purchase sentiment declines, it may lead to lesser supply in the market, as sellers and developers may choose to withhold their sales and wait for a better opportunity to sell.
Moreover, the increase in ABSD will reduce investment demand. In the long run, the number of homes bought for rental income may reduce, further impacting the private rental market, she said.
"The increase in ABSD will bring up the rental… Some foreign investors and super-rich may divert their wealth to other countries, especially since our currency is already very strong," she said.
In general, the cooling measures have turned into 'freezing measures' for foreign buyers as ABSD has doubled for these buyers and most will find the rates to be high.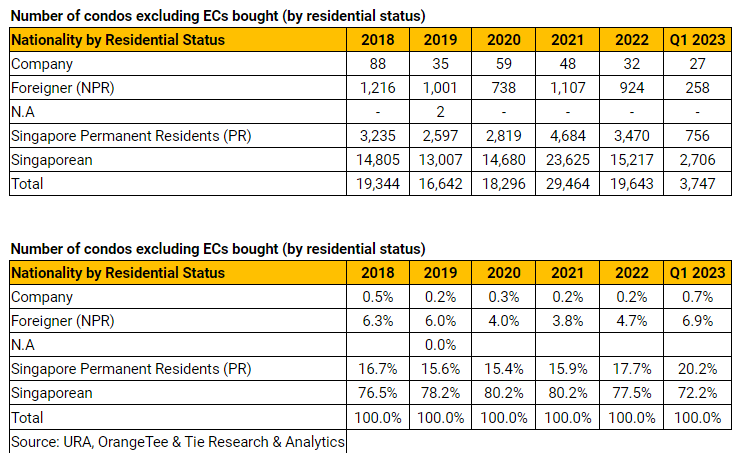 Since 16 December 2021 when ABSD was raised to 30%, many foreigners have already been affected by the previous hike. The number of condos bought by foreigners has dipped 16.5% from 1,107 units in 2021 to 924 units in 2022. However, there is an increase in non-locals buying through PR status or as new citizens in recent years, as ABSD is lower for these categories.
"The number of PR applications is also likely to rise," she said.