(Singapore, July 23, 2020) The island country's core inflation stayed negative for the fifth straight month in June at -0.2 percent year on year, the Department of Statistics consumer price index (CPI) figures on Thursday.
Both core and headline inflation figures for June, whose -0.2% remains unchanged from May, were in line with economists' estimates.
Mainly due to a smaller decline in private transport costs, headline inflation saw its third month in negative territory at -0.5% year on year, compared with -0.8% in May.
In contrast, food was the only core inflation category where inflation was positive, edging up to 2.3%, from 2.2% in May. However, experts say, pressure on food prices may become less acute as global supply chain disruptions abate.
Private transport costs fell 4.4% in June, slowing from May's 6.8% decline. Accommodation inflation stayed positive and unchanged at 0.5%.
Core inflation, which excludes private road transport and accommodation costs, stayed steady as a steeper drop in the cost of services was offset by higher food inflation, as well as smaller declines in the costs of retail and other goods, and electricity and gas.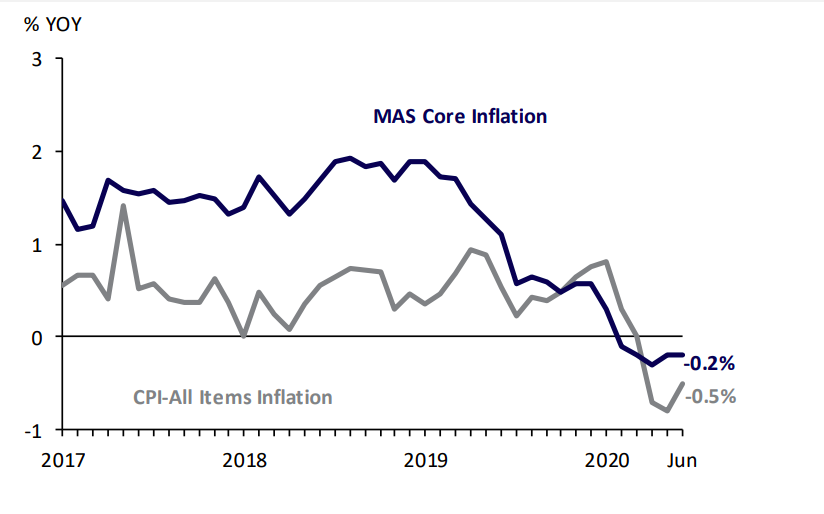 The official full-year forecast range for both core and headline inflation in 2020 remains at between -1% and zero.
Experts say wage cuts, job losses, and border restrictions will likely keep services inflation in negative territory in the third quarter, they added, and inflation may turn mildly positive only in the late fourth quarter.