(Singapore, April 13, 2020) Singapore's total number of confirmed COVID-19 cases has jumped to 2532 over the weekend, more than ten times as many as the island country's total number of SARS patients in 2003.
None of the 233 newly reported cases are imported and the contact tracing is still going on for 167 of them, according to the Ministry of Health.
In Singapore, there were 238 cases and 33 deaths from the SARS outbreak 17 years ago.
To flatten the curve, Singapore is planning to make it compulsory for all commuters to wear masks when using public transport.
Transport Minister Khaw Boon Wan said in a Facebook post that commuters will be encouraged to wear masks onboard public transport from now on.
He said this move is being made in preparation for the end of the "circuit breaker" period on May 4, when crowds are expected to return to buses and trains. But he did not specify when this will be made compulsory.
"With 'Circuit Breaker' (CB) measures in place, trains and buses are not crowded and safe distancing is possible for public transport," Mr Khaw noted.
"But when crowds return to buses and trains, safe distancing rules will push waiting crowds onto the platforms and outside of stations, with long queues. I can imagine impatient, and even angry commuters."
"We will make mask-wearing compulsory for public transport. This will minimise transmission in public transport during the post-CB period when safe distancing is compromised," he said.
"Our Transport Ambassadors will remind them to do so. Our posters too. If you do not have one, please go to your nearest community center (CC) to collect it NOW," he added.
Starting from this week, people visiting supermarkets, convenience stores, pharmacies, markets and shopping malls will be required to wear masks. Those not wearing masks will be refused entry, the Government agencies said.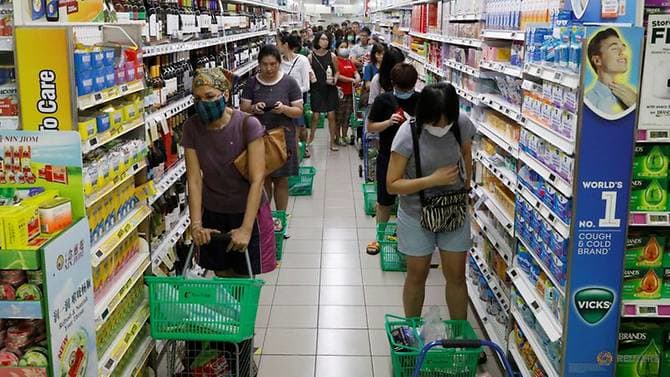 "Patrons must wear masks when visiting a shopping mall. The shopping malls, property owners and supermarkets will turn away patrons who do not wear masks in order to protect the health and well-being of other patrons," they said.
The latest measure comes after announcements on compulsory mask-wearing at markets.
The Singapore Food Agency (SFA) and National Environmental Agency (NEA) stepped up masks requirements for workers and people visiting the markets. People not wearing face masks will not be allowed to enter the 40 markets managed by NEA or NEA-appointed operators.