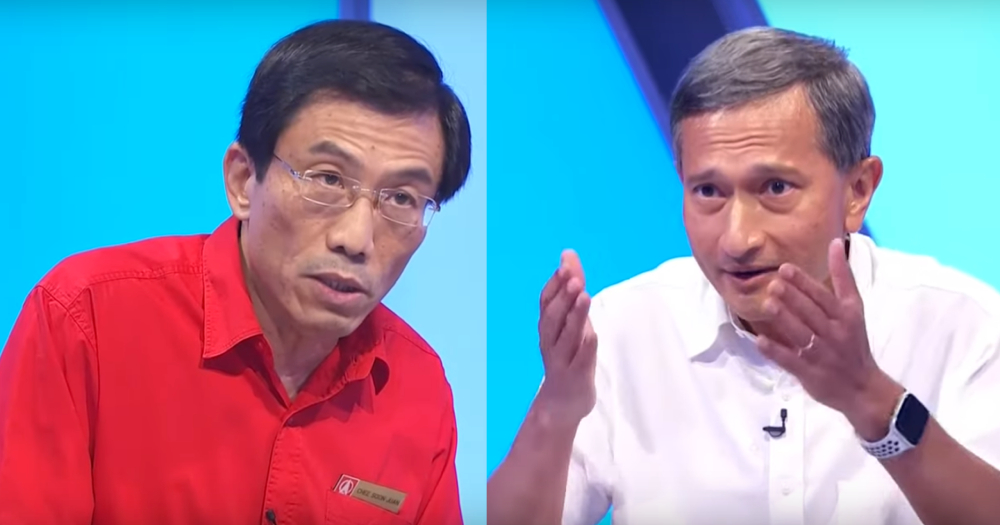 (Singapore, July 2, 2020) After Dr. Vivian Balakrishnan from Singapore's ruling People's Action Party and the chief of a major opposition party crossed swords in yesterday's political debate, the island country's Deputy Prime Minister has stood out.
During the hour-long debate that was televised in the evening, Dr. Balakrishnan, who is also the city state's foreign minister, and Singapore Democratic Party (SDP) chief Chee Soon Juan had a heated exchange around whether or not the Government targets a population of 10 million.
The other two participants of the debate were Jamus Lim from the Workers' Party (WP) and Francis Yuen from the Progress Singapore Party (PSP).
During the first Round of the debate, Chee, the only representative that is the leader of his political party, addressed Vivian by raising a pointed criticism of the PAP: "We've got to stop this foolishness of continuing to bring in foreign workers, especially foreign PMETs, when we have more than 100,000 unemployed people in Singapore."
PMETs refer to the professional, manager, executive, and technician.
Chee said that both Vivian and him had come from the same school, Anglo-Chinese School, and that they both learned the value of serving others before self.
He then challenged Vivian to state categorically whether the PAP wanted to raise the population to 10 million or not, something which Chee said Singaporeans are "deadly worried about."
To that, Vivian responded by saying just on the same day, the Prime Minister's Office has issued a statement "advising people like [Chee] not to indulge in falsehoods."
When Chee tried to interject and say that Finance Minister Heng Swee Keat "came up" with the idea, Vivian shot back, "That's a cheap shot, Dr Chee."
Vivian said that Singapore wouldn't even have 6.9 million, much less a population of 10 million.
Today, Deputy Prime Minister Heng Swee Keat clarified in a Facebook post that he did not say that Singapore should plan to increase its population to 10 million people, nor did he mention the figure.
He explained that, in fact, the Singapore population is likely to be significantly below 6.9 million by 2030.
He said he was asked at a Nanyang Technological University (NTU) student union ministerial forum in 2019 about Singapore's Population White Paper.
"In my response, I mentioned that former chief planner Liu Thai Ker had publicly said that we should go for an even higher number," he said, noting that our population size was not just about physical space, but also about social space and how we can preserve a sense of togetherness.
"Let me be clear: the Government has never proposed or targeted for Singapore to increase the population to 10 million. And if we look at today's situation, our population is likely to be significantly below 6.9 million by 2030," the DPM said.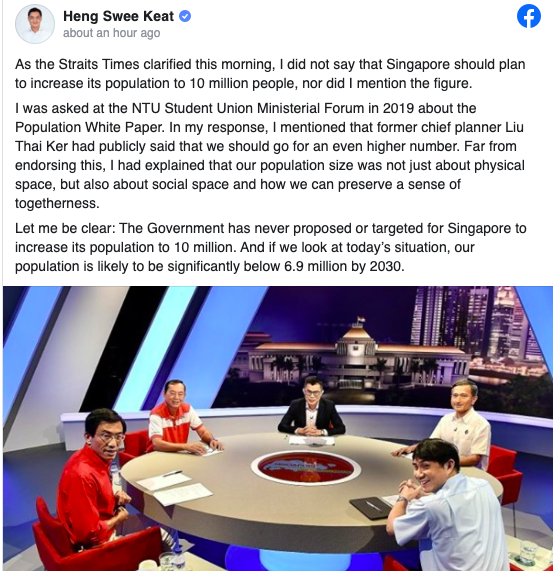 Yesterday's political debate was the first of a series called "Singapore Votes 2020 – The Political Debate" before the July 10 polling day of the general election. On that day, some 2.65 million Singaporeans will cast their votes to elect the 93 members of parliament from all the 31 contested constituencies.