(Singapore 8 May 2023)  As Singapore's rental rises fastest in the world, its pain is trickling down to young singles and same-sex couples, causing some of them to vote for the opposition party, according to a Bloomberg report that was published today.
Rents for private apartments and public housing surged about 32% and 27% respectively in March from a year earlier, though landlords often demand more. Thus, Singapore has topped New York with the world's fastest pace of rental growth for high-end properties.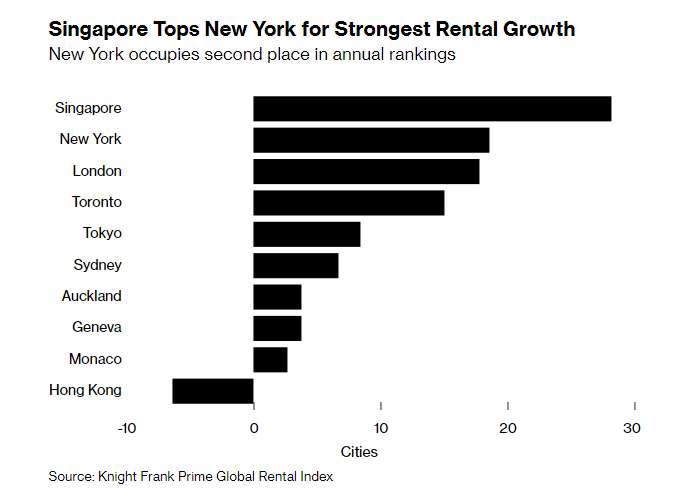 While the rental hikes have impacted expats more acutely since they are less likely to own homes, a survey last year showed that two in three Singaporeans between the ages of 22 to 29 are choosing to rent due to insufficient savings, the report said.
According to Cushman and Wakefield Plc., Singapore's subsidized housing program provides some refuge from the soaring prices. The median price of an HDB resale unit is just S$539,000, compared with S$1.48 million for a private condo.
Though popular, the flats have strict eligibility criteria. Singaporean families and married couples generally qualify for a new HDB apartment from age 21, while singles generally aren't eligible until they hit 35. That rules out unmarried buyers though young singles can tap into the resale market. Gay couples do not get the same benefits as those in recognized marriages, the report said.
According to government statstics issued in June of 2022, among residents 15 years over, some 29% were singles while some 62% were married.
Singapore's total population had fallen for the second straight year in 2021, down to 5.45 million from 5.69 million in 2020. This 4.1 per cent decrease was the largest year-on-year decline since 1950.
Last November, Singapore's parliament decriminalised sex between men, but, in a blow to the lesbian, gay, bisexual and transgender (LGBT) community, also amended the constitution to prevent court challenges that in other countries have led to the legalisation of same-sex marriage.
Prime Minister Lee Hsien Loong and his successor have ruled out any changes to the current legal definition of marriage as being between a man and a woman.
However, some of the city republic's opposition party members complained the housing policy disproportionately benefits couples.
Singapore has largely defied a global property slowdown as an influx of wealth from China and other countries fans the market. Home prices have jumped for 12 straight quarters, even as they decline in cities from Hong Kong to London, the report said.
Concerned about the negative impact of the rising rental and property price, the government announced a bold move overnight last month to double the stamp duty to 60% for foreigners buying homes, the highest levy among major global cities.
In a national address last week, Finance Minister Lawrence Wong — who is positioned to succeed Lee — acknowledged that prices have soared, but said incomes have kept pace.
"In Singapore, the prime minister has to be a real estate agent," he said. "So I'm learning and brushing up my skills."
For the PAP, solving the housing problem is crucial as the party navigates succession as Prime Minister Lee Hsien Loong, son of the nation's founding father, is preparing to hand power to the next generation of party leaders. The party had its worst showing in the 2020 vote despite winning 89% of parliamentary seats, prompting Lee to say that policies must reflect the younger generation's "significantly different life aspirations and priorities", the Bloomberg report said.